Interview by HP General Studies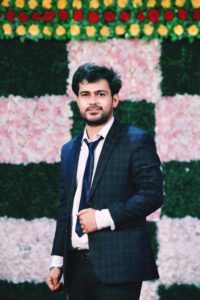 Candidate Profile:
Name

Abhishek Barwal

Rank in HAS

1

Roll No

20116003

Age

28

Marital Status

Unmarried

Total Attempts in HAS

4

Optional Subject

Horticulture

Gave earlier attempts with PSIR

Schooling Medium

English

College Medium

English

Medium Chosen for Mains Answers

English

Medium Chosen for Interview

English

Hometown/City

Mandi

Work Experience if any

a) 2 years at Tata power Delhi distribution limited.

b) Currently serving as HP Forest services (HPFS) officer at Shimla forest division.

Details of other competitive exams, including success and failures

a) Qualified AIEEE exam 2011 and got into NIT Hamirpur.

b) Qualified NDA exam 2011.

c) Failed in UPSC mains multiple times

d) Qualified HP FOREST SERVICES(HPFS) exam with 3rd rank.

Details of coaching/mock tests/postal material for this exam (if used)

Attended coaching for four months and left in between

No coaching for optional subject

Services preference

HAS only as I was already into HPFS.
Education:
| | |
| --- | --- |
| %age in class 10 | 90.83% |
| %age in class 12 | 86.8% |
| Graduation course and %age | B-TECH Electrical engineering (80%) |
| Name of college, city and passing out year | NIT HAMIRPUR 2015 |
| Post Graduation | Nil |
| Any other course | Nil |
| Hobbies and extra-curricular achievement | Trekking, long drives, cricket |
Introduction:
Ques: Tell us something about yourself, and your family, when and why did you enter in this field of competitive exams?
 Ans: I am an electrical engineer by graduation. My father has retired as District attorney from vigilance HQ Shimla and is currently re-employed as a legal advisor in a construction company. My mother is a house maker and my sister is posted as civil judge Dharamshala.
I started preparing for exams after resigning from my private job in 2018.
Ques: Typical day in your online life?
Whatsapp/Telegram: Used both to share/get relevant study material.
Online Study Websites/Apps: I Google searched a lot for mains notes.
Ques: What is your style of preparation and notes making?
I used to make very concise and micro notes of every mains topic so that they can be revised even one day before the examination.
Prelims (Paper-1): 
| | |
| --- | --- |
| Topic | Booklist/Strategy |
| Ancient History | NCERT and Tamilnadu board class 12 book. |
| Medieval History | NCERT |
| Modern History | Spectrum |
| Art & Culture | NCERT and Nitin Singhania (not much relevant for HAS) |
| Polity (Theory + Current) | Laxmikant and Indian express newspaper |
| Economy (Theory + Current) | Ncert and sriram ias notes |
| Science (Theory + Current) | NIL |
| Environment (Theory + Current) | Shankar IAS book |
| Geography of India | Ncert and atlas |
| Physical Geography | Ncert, Atlas and GC Leong |
| Geography of World | Ncert, Atlas and GC Leong |
| Current Affairs | Indian express(newspaper),Vision IAS pt365, gyanm magazine, gk today questionnaire of last 5 months. |
| Himachal GK | Jagmohan balokhra and jokta academy book |
| Himachal Pradesh Current Affairs | Random youtube videos |
 Prelims (Paper-2): 
| | |
| --- | --- |
| Topic | Booklist/Strategy |
| Reasoning | Nil |
| English | Nil |
| Maths | Nil |
| Communication | Nil |
Ques: Did you attend any 'mock tests'? Do you think they're necessary for success?
Ans: I solved prelims mock tests for first attempt but not after that. For mains, I attended vision IAS & Shankar IAS mains test series. Mock test are absolutely necessary to get good marks in mains.
Ques: Approximate no. of attempted answers vs. correct answers in Prelims: 
| | | | |
| --- | --- | --- | --- |
|   | Attempted questions | Correct | Official Score |
| GS | 95 | — | 140 |
| Aptitude | — | —- | 103.33 |
Mains: Compulsory language Paper:
| | |
| --- | --- |
| Compulsory language Paper | Your  preparation/Strategy/Booklist |
| English | 69 |
| Hindi | 55 |
Ques: Other observations/tips / comments on the length/difficulty level of compulsory language papers?
Ans: Hindi paper has become really difficult to attempt and hence needs proper preparation. This can be done through class 10 level Hindi textbooks.
Mains: Essay Paper:
Ques: How did you prepare for the essay paper?
Ans: I made short notes of all the probable topics e.g. essay on women, health, S&T, artificial intelligence, social media etc and made ready stats & figures to be put in essay beforehand.
Ques: Which essays did you write and what key points did you include in it?
Ignorance and neglect of health and hygiene: a human disaster.

Artificial intelligence: related social threats.
Mains: General Studies (Paper-1):
| | |
| --- | --- |
| Topic/Unit | How did you prepare/Booklist |
| History perspective of Indian Culture heritage | NCERT and nitin singhania |
| World History | NCERT and YouTube |
| History of Himachal | Jagmohan Balokhra and Jokta academy book |
| Disaster Management | Only IAS notes and google search |
| Indian Geography | NCERT |
| Geography of Himachal Pradesh | Jagmohan Balokhra and jokta academy book |
| Indian Society | Vision ias notes and google search |
| Ethics/Gandhian Thoughts | Google search |
| Society and Culture of HP | Jagmohan Balokhra and jokta academy book |
Mains: General Studies (Paper-2):
| | |
| --- | --- |
| Topic/Unit | How did you prepare/Booklist |
| Constitution of India | Laxmikant and vision IAS notes |
| Polity of Himachal Pradesh | Jagmohan Balokhra and jokta academy book |
| Governance in India | Only IAS notes and vision IAS notes |
| Governance in HP | Jagmohan Balokhra and jokta academy book |
| Social Issues | Vision IAS notes and google search |
| International Relations | Vision IAS magazine and Shubhra Ranjan  notes |
| International Institutions | Vision IAS magazine and Shubhra Ranjan notes |
| Cybercrime/Drug menace/Socio-Economic development of HP | Google search |
Mains: General Studies (Paper-3):
Topic/Unit

How did you prepare/Booklist

Indian Economy

Sriram

IAS notes and only IAS notes

Schemes and Important Institutions of the World

Google search

Economy of HP

Google search and Jagmohan Balokhra

Science and Technology

Google search

Energy Sector of India

Only IAS notes

Science and Technology/IT/Biodiversity in HP

Jokta academy mains book and google search

Environment Science

Google and vision IAS notes

Agriculture and Horticulture

Economic survey and google

Tourism Sector in HP

HP tourism website
Ques: How was your experience with the 'fixed space' answer sheet?
Ans: Plain sheets are provided with enough space(half a page for 4 markers, one page for 8 markers and 3 pages for 20 markers) to write down a balanced answer.
Ques:  Did you write answers in bullet points or in paragraphs? Some players were claiming that they wrote the entire paper in bullet points, so it doesn't matter whether the examiner is asking 'examine, comment, discuss or xyz'. Simply write in bullets and points.
Ans: I wrote every question in bullet format. However, we need to understand the difference between key points such as examine, comment etc and write accordingly.
Ques: Did you follow the "introduction-body-conclusion" format? Because some mains-qualified candidates claim they simply wrote the points they could recall within the time, instead of bothering with proper introduction and conclusion.
Ans: I followed introduction-body-conclusion" format in 8 markers and 20 markers and answered 4 markers straight away.
Ques: I don't like asking following rudimentary questions, but these are the most frequently asked questions by new aspirants.
Did you use highlighter/sketch-pen in your answers? – 

No

Did you draw any diagram in any paper? – 

Yes, I drew as many diagrams (India map, world map etc) as I could.

If yes, did you draw diagram with pen/pencil? – 

pencil

Did you use ruler? – 

No

Did you write with Blue or Black pen? – 

 Mainly blue pen(Reynolds trimax) but also black pen for headings in 20 markers and optional subject.
 Mains: Optional Subject
Ques:  What's your optional subject and why did you choose it and not something else?
Ans: My optional was Horticulture. I wrote previous mains with political science earlier but switched to horticulture only to get more marks in the optional subject.
Ques: If a new player wants to pick your subject, would you advice for it or against it?
Ans: Horticulture is a difficult subject to understand for a new player and I found it very hard to grasp since I was not from the horticulture or forestry background. Although a person from horticulture or agriculture background should definitely go for it.
Ques: Essential book/resource list for the optional you have read:
Ans: TNAU notes, ANGRAU notes, vocational courses NCERTS of class 12 (pomology, olericulture, floriculture), random pdfs on Google.
Ques:  How much of internet-research / current affairs is necessary for this optional? OR can one simply rely on the books and be done with this subject?
Extensive internet research is required. However, the role of current affairs is limited in horticulture.
Ques: How many months did it take to finish the core optional syllabus?
Ans: 3 to 4 months.
Ques: How many days/ weeks before the exam, you started answer writing practice?
Ans: It should be done at least 8 months before mains.
Ques: Do you maintain self-notes for revision of optional? In which format- electronic or paper?
Ans: I made physical short notes of every subject ranging from GS to optional.
Ques: Your observation about the difficultly level of 2020 mains vs previous papers. And what precautions / rectifications are necessary in the future strategy for given optional subject?
Ans: Horticulture paper was on a tougher side as compared to previous years. The pattern was also different. Some questions checked the in depth learning in horticulture. One should be well versed with each topic before attempting the actual paper.
Before the Interview:
Ques: How did you prepare for the interview for college grad, hobbies, place of origin, and current affairs at national and international level?
Ans: I made the list of expected questions and practiced them before hand. I kept reading Indian express for current affairs.
Ques: Did you attend any mock interviews by coaching classes? How were they similar/different than official interview? Do you believe it is necessary to attend such mock interviews?
Ans: I attended two mock interviews . They are helpful in analyzing our weakness and strengths. I would recommend mock interviews for building necessary confidence.
Ques: Describe the formal-dress worn by you in interview.
Ans: Navy blue formal suit.
During the interview:
Ques: Who was the chairman of you interview board?
Ans: Sh Ajay Kumar IFS(retd)
Ques: How long was the interview?
Ans: 35 minutes
Ques: Please narrate your entire interview- what questions did they ask and what did you reply and other pleasant or uncomfortable experiences during the interview.
Ques: There were four members in the panel .chairman sir started with introduction.
Chairman:
What significant work have you done in forest services?

Why do you want to leave this prestigious service?

What would you prefer – development or forest conservation?

Environmental impact assessment.
Member 1:
National education policy.

Problems of higher education system.

Why Indian workforce lack skills?

Land acquisition act 2013 provisions.

Cheetah reintroduction plans of India.
Member 2:
Indian forest act 1927.

Forest conservation act 1980.

Difference between NEFT AND RTGS.

BHIM UPI

G7 G20 QUAD

Why India is a member of both BRICS and QUAD?
Member 3:
Agnipath(military recruitment) scheme pros and cons.

National herald case history.

What would you focus on if you become SDM?

Scope of tourism in himachal.

Difference between national newspaper and a regional newspaper.
Ques: Was your interview on the expected lines of what you had prepared or did they ask you totally unexpected questions? Was it a stress interview, did they ask any uncomfortable questions? If yes, how did you handle it?
Ans: It was on expected lines as I was expecting questions on forest areas and current affairs.
 Your mark sheet: 
| | |
| --- | --- |
| Subject | Marks Secured |
| Prelims (Paper-1) | 140 |
| Prelims (Paper-2) | 103.33 |
| Mains Subjects: |   |
| English | 69 |
| Hindi | 55 |
| Essay | 53 |
| General Studies -1 | 90 |
| General Studies -2 | 85 |
| General Studies -3 | 108 |
| Optional (P-1) | 80 |
| Optional (P-2) | 66 |
| Written Total | 482 |
| Interview | 119 |
| Final Score | 601 |
Career Backup Plan:
Ques: If you were not selected, what was your career backup plan?
Ans: I was already working as assistant conservator of forests in Himachal Pradesh forest services.
Ques: When were you going to "execute" that backup plan? (E.g. after __ number of failed attempts/ after I cross __ age/ after dad retires/ after girlfriend/boyfriend dumps me J etc.)
Ans: I already got into HPFS.
 Struggle of a Senior Player/Junior Player:
Ques: How did you survive through this mental prison of HAS and what're your words of wisdom to other senior players/Junior Players? If any specific inspirational incident(s), please share.
Ans: Since seats are very limited,there are high chances of failures in initial attempts. One should not loose hope after failures and should be continuously dedicated to his/her goal. One day or the other every dedicated person reaches to his goal.
Ques: What went wrong in your previous attempt? What changes did you make in this current attempt?
Ans: I think pictorial representation in mains was lacking. This time I drew many maps and diagrams in mains including optional subject.
Struggle of a Working Professional:
Ques: If you're a working professional, share some tips on how to manage studies with job?
Ans: I got into HPFS after HAS mains were over.
Grand Wisdom:
Ques: People know what books and syllabus points are to be prepared. But most of them lack consistency in their preparation. So, how do you keep study momentum going on? How do you fight against mood swings and distractions?
Ans: I used to wake up and exercise for first 20 minutes and do meditation thereafter for 20 minutes to maintain physical as well as mental health.
Ques: Through this struggle and success, what have your learned? What is the wisdom of life and competition? What is your message to the new aspirants/veteran aspirants?
Ans: There is no substitute to hard work and dedication. Whenever one feels cynical and de-motivated, one should always think about why he/she started the journey.
Ques: Many hardworking candidates have failed in Mains/Interview of HAS 2020. They're feeling cynical, hopeless and depressed- what is your message to them?
Ans: Hard work never goes in vain. We just have to keep hustling with full force and motivation till the goal is reached.
Credits: Family/Friends:
Ques: Behind every qualified candidate there are many people who stood by during those uncertain times when he/she was merely an 'aspirant'. Would you like to tell the world, who were those people in your case? Any specific incidence that you would like to share with the readers?
Ans: My parents never questioned my failures and always stood by me during failures. Further my sister and friends gave me the necessary motivation during the tough times which kept me moving through the choppy waters of failures and success.
 Ques: You are well aware of the sacred rule of conducting interview of qualified candidates- the last question must be about self-marketing. So, Did you use www.hpgeneralstudies.com  for your preparation and if yes, how did it help you? And you can even reply "No".

Ans: I used to refer to HP GK questionnaire in HP General Studies to gauge my level of preparation.
HP General Studies remarks:
Thank you Mr. Abhishek Barwal for giving us your precious time. Hopefully, this interview will help thousands of aspirants who have been preparing for the HAS exam.
HP General Studies wishes you a great future ahead.