Interview by HP General Studies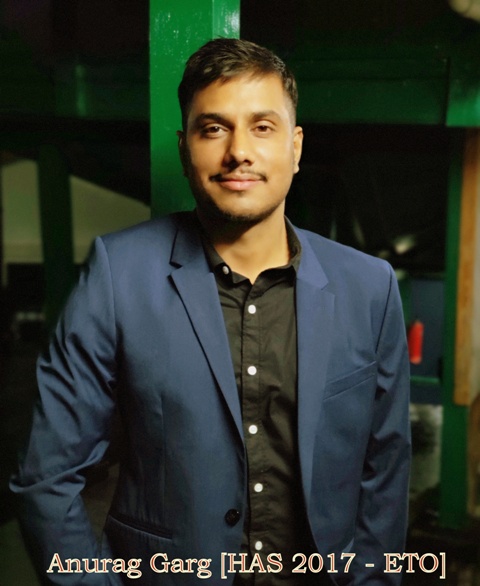 Candidate Profile:
Name
Anurag Garg
Rank in HAS
23
Roll No
27000629
Age
29
Marital Status
Single
Total Attempts in HAS
5 (3 HAS Mains)
Optional Subject
Political Science (2016 and 2017), Public Administration, Geography
Schooling Medium
Hindi
College Medium
English
Medium Chosen for Mains Answers
English
Medium Chosen for Interview
English
Hometown/City
Baijnath (Kangra)
Work Experience if any
 -NA-
Details of other competitive exams, including success and failures
HAS 2016 (written rank 16, Score Prelims 133, Mains 450 and Interview 83).

HP Allied Services 2016 (Prelims 145 marks, written rank 7, Written score 313, interview score 40)

UPSC mains 2 times.

Details of coaching/mock tests/postal material for this exam (if used)
Self
Services preference
HAS-Tehsildar-BDO-ETO
Education:
| | |
| --- | --- |
| %age in class 10 | 73 |
| %age in class 12 | 66 |
| Graduation course and %age | B.Tech. (Mechanical ) and 70% |
| Name of college, city and passing out year | Jawahar Lal Nehru Govt. Engg. College Sundernagar, Mandi (2012 Batch) |
| Post Graduation | NA |
| Any other course | NA |
| Hobbies and extra-curricular achievement | Non-Fictional books, Trekking, Guitar |
Introduction:
Ques. Tell us something about yourself, your family, when and why did you enter in this field of the competitive exam?
Ans. I belong to a middle-class family. After the completion of my graduation, I cracked GATE 2013 and wanted to pursue masters in engineering. Due to some unavoidable circumstance, I changed my mind to build a carrier in civil services.
Ques: Typical day in your online life?
Whatsapp/Telegram: -NA-
Online Study Websites/Apps: Followed InsightsonIndia website on a daily basis.
Ques: What is your style of preparation and notes making?
Ans: On a regular basis, I used to write down important topics and for static portion did revision regularly and practiced objective questions of different subjects from different sources e.g. I used to practice from Pratiyogita Darpan as it compiles different state's question paper. It helped me during my preliminary exam.
Prelims (Paper-1):
| | |
| --- | --- |
| Topic | Booklist/Strategy |
| Ancient History | R.S Sharma, NIOS Notes |
| Medieval History | Satish Chandra, NIOS Notes |
| Modern History | Bipin Chandra, Spectrum Rajiv Ahir , Chronical Special edition |
| Art & Culture | NIOS NOTES, InisghtsonIndia Module |
| Polity (Theory + Current) | Laxmikant, InsightonIndia Module |
| Economy (Theory + Current) | Ramesh Singh, InsightsonIndia Module, Newspaper most important |
| Science (Theory + Current) | NCERT (9th, 10th ), InsightsonIndia Module, Previous UPSC pre-questions |
| Environment (Theory + Current) | InsightsonIndia Module, Current topics, Majid Hussain for Environment |
| Geography of India | Majid Hussain Geography on India NCERT (9TH TO 12TH) ,Pfmis notes for selective topics |
| Physical Geography | GC Leong Physical Geography |
| Geography of World | Oxford World Atlas, Mrunal's website for UPSC mains, NCERT |
| World history | Vajiram notes on world history, Mrunal website |
| India after Independence | Ramchandra Guha's India after Gandhi. |
| Current Affairs | InsightsonIndia website on a daily basis |
| Himachal GK | JM Balokhra, Mian Goverdhan Singh,  Jokta Academy book, |
| Himachal Pradesh Current Affairs | Weekly current affairs on HPGerenalStudies website, Giriraj newspaper |
Prelims (Paper-2):
| | |
| --- | --- |
| Topic | Booklist/Strategy |
| Reasoning | – |
| English | – |
| Maths | – |
| Communication | – |
Ques: Did you attend any 'mock tests'? Do you think they're necessary for success?
Ans: No. I didn't.
Ques: Approximate no. of attempted answers vs correct answers in Prelim 2017:
| | | | |
| --- | --- | --- | --- |
| | Attempted questions | Correct | Official Score |
| GS | | | 128.5 |
| Aptitude | | | 82 |
Mains: Compulsory language Paper:
Ques: Other observations /tips/comments on the length/difficulty level of compulsory language papers in HAS-2017?
Ans: English paper was a bit difficult this time. The focus should be on letter writing and précis. Scoring passing marks is no big deal.
Mains: Essay Paper:
Ques. How did you prepare for the essay paper?
Ans: No special preparation for the essay. GS covers the content required for the essay. Heed should be given on the structure of the essay and language. Some tips on the essay which I found helpful are the following:
Divide the essay into a paragraph, then start your essay with irony or with some quote and elaborate it. In the second paragraph give a brief introduction of the topic and further elaborate the topic keeping in mind the socio-economic and political dimension of the topic. Try to insert some quote or try to give an example related to the national level, state level, and more important local level.
Next, critically examine the topic and in the last paragraph give your views and link the irony or quote that is used at the beginning of the essay to justify. One thing maintains continuity and also avoids extreme data as checker is a generalist, not a specialist.
Ques. Which essays did you write and what key points did you include in it?
Ans: 
Essay on Small Scale Industry.
Agriculture Sector.
Mains: General Studies (Paper-1):
Topic/Unit
How did you prepare?/Booklist
History perspective of Indian Culture heritage
NIOS notes as they are freely available on the website. Follow current content daily for more clarity like a module on InsightsonIndia on Art and Culture.
World History
Vajiram notes and Mrunal website.

For UPSC world history, Norman Lowe is a good book.

History of Himachal
JM Balokhra, Mian Goverdhan Singh,  Jokta Academy book,
Disaster Management
Disaster Management Act 2005 and its structure. Follow the current topic on the disaster. Yojana magazine on disaster management. World initiative on disaster for e.g. Sendai, Hyogo and Delhi conference. Type of disaster and its resilience and management.
Indian Geography
Majid Hussain Geography on India,  NCERT (9TH TO 12TH), Pfmis notes for selective topics
Geography of Himachal Pradesh
JM Balokhra, Mian Goverdhan Singh, JOKTA Academy Book
Indian Society
Internet and newspaper. Try to link your knowledge with society and its associated problems.
Ethics/Gandhian Thoughts
Mrunal website, InsightsonIndia website. For ethics and Gandhian thoughts, my experiment with truth is a good book. Besides HAS, this will help you in other exams like Naib-Tehsildar and Allied Preliminary exam where special mention of this topic is given regarding Gandhi.
Society and Culture of HP
JM Balokhra, Mian Goverdhan Singh,  Jokta Academy book, Giriraj newspaper for related topics.
Mains: General Studies (Paper-2):
| | |
| --- | --- |
| Topic/Unit | How did you prepare?/Booklist |
| Constitution of India | Laxmikant |
| The polity of Himachal Pradesh | JM Balokhra, Mian Goverdhan Singh,  Jokta Academy book, |
| Governance in India | Newspaper, Govt. websites, daily current affairs |
| Governance in HP | Govt. website and Giriraj newspaper |
| Social Issues | Newspaper and internet |
| International Relations | Newspapers, internet, InsightsonIndia. |
| International Institutions | Internet and newspaper. Follow current topics related to it and try to link the static and current content for quality answer writing. |
| Cybercrime/Drug menace/Socio-Economic development of HP | Government websites, govt. initiatives from Giriraj and hpipr website and newspaper. |
Mains: General Studies (Paper-3):
| | |
| --- | --- |
| Topic/Unit | How did you prepare?/Booklist |
| Indian Economy | Ramesh Singh and newspaper. Mostly content asked is current so once you clear the basic concept from Ramesh Singh. Follow newspaper for refining the concept. |
| Schemes and Important Institutions of the World | Internet and newspaper |
| Economy of HP | JM Balokhra, Mian Goverdhan Singh,  Jokta Academy book, Giriraj for current. |
| Science and Technology | NCERT (9TH 10TH ), newspaper, InsightsonIndia module on science. |
| Energy Sector of India | Internet and newspaper |
| Science and Technology/IT/Biodiversity in HP | Departmental websites, Giriraj newspaper for the current scenario, Different policies of HP regarding the topic. |
| Environment Science | Majid Hussain, NIOS notes, Shankar IAS, InsightsonIndia modules, newspaper. |
| Agriculture and Horticulture | Internet and newspaper |
| Tourism Sector in HP | Different HP govt. policies on tourism, Giriraj for latest govt. initiatives, hpipr website. |
Ques: How was your experience with the 'fixed space' answer sheet?
Ans: Frankly speaking, It was difficult for me to elaborate and give a quality answer in the fixed space. Many a time I exceeded the space. What I feel if your content is impressive, it doesn't matter you exceed or not.
Ques: Did you write answers in bullet points or in paragraphs? Some players were claiming that they wrote the entire paper in bullet points, so it doesn't matter whether examiner is asking 'examine, comment, discuss or XYZ'. Simply write in bullets and points.
Ans: It depends on the questions and marks allotted. E.g. 4 marks questions demands answer directly what has been asked, so it is better to write in bullet format. For 8 and 20 marks, I followed paragraph and bullet format combine wherever needed.
Ques: Did you follow the "introduction-body-conclusion" format? Because some mains-qualified candidates claim they simply wrote the points they could recall within the time, instead of bothering with proper introduction and conclusion.
Ans: Yes, I did. In introduction try to give some history related to the question asked, then write the answer and some govt. initiative related to it. In the end, if it is asked to critically analyze give positive and negative aspect and way forward and if it is asked to simply elaborate then explain the answer with some example. Always try to put in an example in your answer and try to link current content with your answer. It will give you an edge and quality in the answer. Eg: last year a question was asked, "what is Pradhan Mantri Gramin Sadak Yojana"? Though the question was simple. I started it by giving some history like "when it started"? "What are its objectives?" and in the last, I wrote, "recently Himachal Pradesh Govt. want its criteria for hill state should be relaxed as our villages are dispersed in nature". HP govt. want its criteria for the hilly state should be reduced to 100 from 250 households. So do practice to insert the current content related to the topic. Give more time to current affairs. Static reading doesn't give you an edge. Always try to link current affairs with the static part.
I don't like asking following rudimentary questions, but these are the most frequently asked questions by new aspirants.
Ques: Did you use highlighter/sketch-pen in your answers?
Ans: No, I think it is not possible to manage question paper in time. Only at the end highlight important points with a black pen if time permits otherwise if the quality is maintained no need of any highlighter.
Did you draw any diagram in any paper? – Wherever asked only. I think it is not possible to draw a diagram where the answer sheet has a line format.
If yes, did you draw a diagram with pen/pencil? – Pencil
Did you use a ruler? – No
Did you write with Blue or a Black pen? – Blue pen only. In the end, use a black pen for highlighting some important points.
Mains: Optional Subject:
Ques: What's your optional subject and why did you chose it and not something else?
Ans: I have given UPSC with political science 2 times and H.A.S three times with political science in a new format and when there were two subjects I chose Public Administration and Geography as optional subjects.
Ques: If a new player wants to pick your subject, would you advise for it or against it?
Ans: Political science is a very dynamic subject and everything depends upon the interest of the candidate. Honestly speaking, in H.A.S. there is no normalization of the subject like in UPSC. You may score well in UPSC but in H.A.S uncertainty prevails particularly for arts subjects. So it is better if a candidate has a science background go for science-based subjects. It will give you an edge over others.
Essential book/resource list for the optional you have read?
Ans: Subhra Ranjan notes are sufficient for political science. For International relations, Subhra Ranjan notes plus if you have time go for Samuel P. Huntington, "The clash of civilizations". Also, follow current affairs related to International relations.
Ques: How much of internet-research / current affairs is necessary for this optional? OR can one simply rely on the books and be done with this subject?
Ans: Honestly speaking, in today's world everything is available on the internet. It is up to you how to utilize it. As I said earlier, the subject is very dynamic and you cannot simply rely on books so the internet is a must.
Ques: How many months did it take to finish the core optional syllabus?
Ans: Initially, it took me around 6 months with revision and genuinely it takes 6 months for any optional. After years of preparation and giving mains it doesn't take much time to complete the optional. Only thing is how to relate the current content every year, a little effort is required here.
Ques: How many days/ weeks before the exam, you started to answer writing practice?
Ans: Answer writing was a routine affair throughout the year.
Ques: Do you maintain self-notes for revision of optional? In which format- electronic or paper?
Ans: Self notes for current related topics in paper format.
Ques: Your observation about the difficulty level of 2017 mains vs previous papers. And what precautions/rectifications are necessary for the future strategy for given optional subject?
Ans: If you have concept clarity and practice you will not find much difficulty in the exam.
Before the Interview: 
Ques: How did you prepare for the interview for college grad, hobbies, place of origin, and current affairs at the national and international level?
Ans: I didn't prepare for college graduation subjects. For current affairs, the newspaper is sufficient. My observation is that if you prepare for hobby/hobbies then I don't think that it is your hobby in reality.
Ques: Did you attend any mock interviews by coaching classes? How were they similar/different than official interview? Do you believe it is necessary to attend such mock interviews?
Ans: No I didn't attend. 
During the interview:
Ques: Who was the chairman of your interview board?
Ans: Rtd. Maj. Gen. D.V.S. RANA
Ques: How long was the interview?
Ans: 30 minutes
Ques: Please narrate your entire interview- what questions did they ask and what did you reply and other pleasant or uncomfortable experiences during the interview.
Ans: I have appeared in the interviews in front of D.V.S. Rana thrice. He focuses mainly on geopolitics. Some of the questions board asked were; agriculture issue and way forward on Himachal perspective, G20, women empowerment, G7, natural farming, ZBNF (Zero Budget Natural Farming), Teesta water dispute, Bodoland issue, Women Rajya Sabha member from Himachal till date. Pradhan Mantra Grameen Yojana. Previous year questions asked were electric mobility, Kaladan Project, Zero Budget Natural Farming, South China sea, central govt. initiative for tackling vehicle pollution, the role of SDM in the model code of conduct, tributaries of Satluj river, Bassi Hydro project, and Horticulture potential in Himachal Pradesh.
Ques: Was your interview on the expected lines of what you had prepared or did they ask you totally unexpected questions? Was it a stress interview, did they ask any uncomfortable questions? If yes, how did you handle it?
Ans: Yes, it was on the expected lines. As I have faced three interviews in the commission, I didn't find it a stress interview rather the panel was very cordial.
Your mark sheet:
| | |
| --- | --- |
| Subject | Marks Secured |
| Prelims (Paper-1) |  128.5 |
| Prelims (Paper-2) | 82 |
| Mains Subjects: | |
| English | 52 |
| Hindi | 52 |
| Essay | 61 |
| General Studies -1 | 101 |
| General Studies -2 | 70 |
| General Studies -3 | 103 |
| Optional (P-1) | 61 |
| Optional (P-2) | 68 |
| Written Total |  464 |
| Interview |  65 |
| Final Score |  529 |
Career Backup Plan:
Ques: If you were not selected, what was your career backup plan?
Ans: No backup plan.
Ques: When were you going to "execute" that backup plan? (E.g. after __ number of failed attempts/ after I cross __ age/ after dad retires/ after girlfriend/boyfriend dumps me etc.)
Ans: NA
The struggle of a Senior Player/Junior Player:
Ques: How did you survive through this mental prison of HAS and what're your words of wisdom to other Senior Players/Junior Players? If any specific inspirational incident(s), please share.
Ans: I had been preparing for civil services since 2013. One thing I learned from my experience is that if your efforts are honest you will get through sooner or later. Perseverance, patience and hard work is the key to success.
Ques: What went wrong in your previous attempt? What changes did you make in this current attempt?
Ans: I appeared in the interview three times in HP Public Service Commission but could not manage to score good marks in the interview despite being scoring good marks in the written exam.
The struggle of a Working Professional:
Ques: If you're a working professional, share some tips on how to manage studies with job?
Ans: NA
Grand Wisdom:
Ques: People know what books and syllabus points are to be prepared. But most of them lack consistency in their preparation. So, how do you keep study momentum going on? How do you fight against the mood swings and distractions?
Ans: Consistency is the key to success. I focused on target based study. Try to learn new things daily even it is not related to topics. Follow your passion. I used to go to trekking with friends and used to play guitar to manage my mood.
Ques: Through this struggle and success, what have you learned? What is the wisdom of life and competition? What is your message to the new aspirants/veteran aspirants?
Ans: There is a very fine line between success and failure. Success is not something you have achieved. Always make targets on a regular basis.
Ques: In 2017, Many hardworking candidates have failed in Mains/Interview of HAS-2017. They're feeling cynical, hopeless and depressed- what is your message to them?
Ans: If you are honest with yourself one day you will achieve your goal. I also passed through this trauma.
Credits: Family/Friends: 
Ques: Behind every qualified candidate there are many people who stood by during those uncertain times when he/she was merely an 'aspirant'. Would you like to tell the world, who were those people in your case? Any specific incidence that you would like to share with the readers?
Ans: The list is countless who stood before me during the journey of my preparation. My family, friends and above all the Almighty God helped me a lot to reach the club.
Ques: You are well aware of the sacred rule of conducting an interview of qualified candidates- the last question must be about self-marketing. So, Did you use www.hpgeneralstudies.com for your preparation and if yes, how did it help you? And you can even reply "No".
Ans: As I have already mentioned, I used to follow weekly current affairs on HP General Studies website and the most interesting thing I'll tell you is that I have been a part of HP General Studies team as a core member since its inception/foundation.
HP General Studies remarks:
Thank-you Mr. Anurag Garg for giving us your precious time. Hopefully, this interview will help thousands of aspirants who have been preparing for HAS exam. 
We wish you a great future ahead.
Note to the readers:
You can contact Mr. Anurag Garg through his social media accounts for any query or guidance regarding the civil services exam. 
Click here to connect him on Facebook