Interview by HP General Studies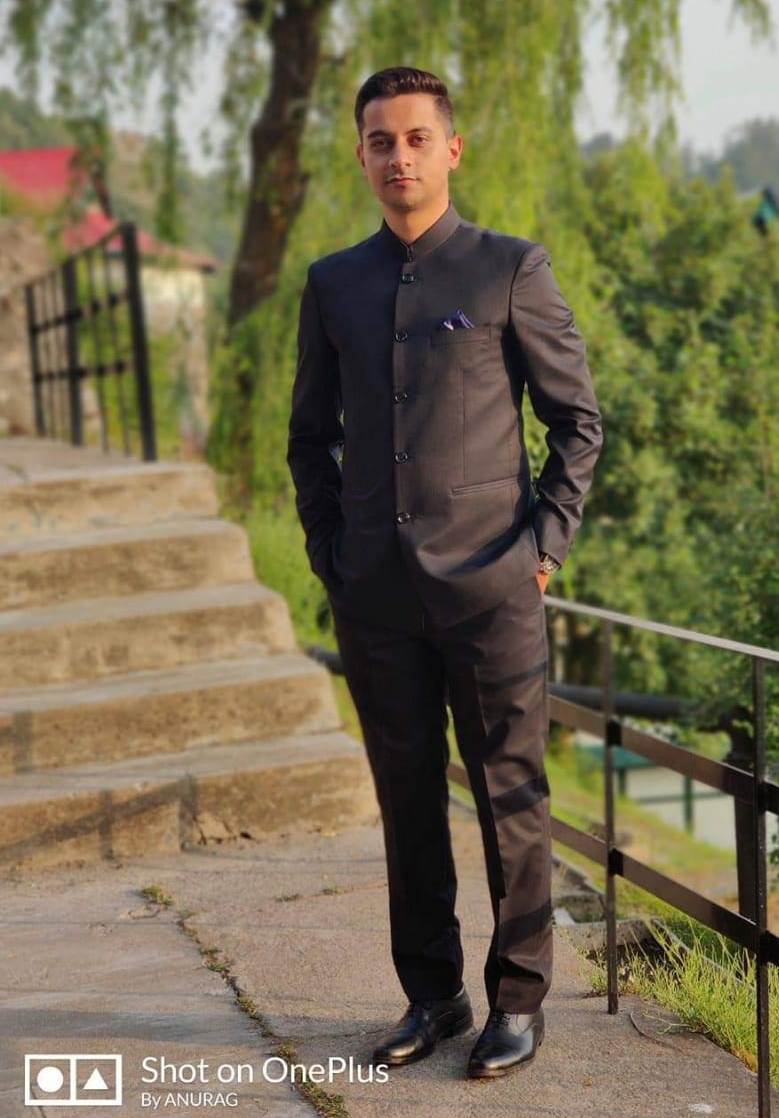 Candidate Profile:
Name
Ashish Chauhan
Rank in HAS
22
Roll No
15000055
Age
27
Marital Status
Unmarried
Total Attempts in HAS
4
Optional Subject
Geography
Schooling Medium
English
College Medium
English
Medium Chosen for Mains Answers
English
Medium Chosen for Interview
English
Hometown/City
Nohradhar (Sirmaur)
Work Experience if any
1 year with a Software company in Bangalore
Details of other competitive exams, including success and failures
CDS (written qualified), UPSC-CAPF (written qualified), UPSC-CS (wrote 3 mains)
Details of coaching/mock tests/postal material for this exam (if used)
GS-KSG

Optional-Neetu mam (Direction IAS)

Services preference
HAS>HPS>Tehsildar>BDO>DFSC>ETO>AR
Education:
| | |
| --- | --- |
| %age in class 10 | 77 |
| %age in class 12 | 81 |
| Graduation course and %age | B.TECH-CSE,69% |
| Name of college, city and passing out year | VELLORE INSTITUTE OF TECHNOLOGY, TAMIL NADU,2014 |
| Post Graduation | NA |
| Any other course | NA |
| Hobbies and extra-curricular achievement | Playing guitar, reading novels |
Introduction: 
Ques: Tell us something about yourself, your family, when and why did you enter in this field of competitive exams?
Ans: I am Ashish Chauhan, basically from village Nohradhar, living in Paonta Sahib for the last 18 years, love trekking, playing and listening to the music. My father is a retired bank employee (AGM), and my mother is a female health worker. I have a younger brother who is currently pursuing his LLB from HPU.
I started preparing for civil services in 2015 after I quit my job.
I always had a zeal to work for a common man, to be among people, helping them out in solving their issues. Mr. Anil Chauhan (HAS 2012) from my village and his success story about how laborious he was and still is, also made an indelible impression on me.
My father also used to motivate me since my 10th class to go for arts and prepare later on for civil services (though I took my own decision and took non-medical as my stream in 11th). After my engineering, my family also motivated me for the same.
Ques: Typical day in your online life?
Whatsapp/Telegram and other Online Study Websites/Apps:
I mostly follow those websites which help me supplement my studies.
There are some telegram groups (e.g.HPAS, UPSC preparation, geography optional, etc) that I      used to visit once in a while for keeping myself updated with the trend and current issues coming up.
Telegram is also a very useful source of online material, magazines(which of course is free of cost hence becomes more so beneficial).
I used to send my GS and optional answers to my known selected friends via Whatsapp.
I would also like to extend special thanks to this website (hpgeneralstudies.com) which helped me in completing my Himachal portion of the syllabus.
Ques: What is your style of preparation and notes making?
Ans: I am not very much fond of making notes but yes, I used to make notes of some important data, quotes, best models, etc. that come up time and again in editorials and other sources.
Prelims (Paper-1):
Topic
Booklist/Strategy
Ancient History
Tamil Nadu board
Medieval History
Tamil Nadu board
Modern History
Spectrum(Rajiv Ahir)
Art & Culture
Nitin Singhania+ VISION IAS
Polity (Theory + Current)
Laxmikant+ VISION IAS
Economy (Theory + Current)
Sriram IAS classroom material+ VISION IAS
Science (Theory + Current)
VISION IAS current affairs
Environment (Theory + Current)
VISION IAS+ ShankarIAS book
Geography of India
Optional
Physical Geography
Optional
Geography of World
Optional
Current Affairs
VISION IAS
Himachal GK
Helios academy 360,

hpgeneralstudies.com

Himachal Pradesh Current Affairs
Budget, Economic Survey
Prelims (Paper-2):
| | |
| --- | --- |
| Topic | Booklist/Strategy |
| Reasoning | Did not prepare |
| English | Did not prepare |
| Maths | Did not prepare |
| Communication | Did not prepare |
Ques: Did you attend any 'mock tests'? Do you think they're necessary for success?
Ans: Yes, I did attend and they are indeed very helpful in one's preparation. It acts like a mirror and shows the strengths and weaknesses of the person. Also, mock tests help us to keep up with the time limit and prepare us for any sort of surprises that may come up in actual exam Hall!
Ques: Approximate no. of attempted answers vs. correct answers. in Prelim 2017:
| | | | |
| --- | --- | --- | --- |
| | Attempted questions | Correct | Official Score |
| GS | 87 | 67 | 119 |
| Aptitude | 90 | 70 | 127 |
Mains: Compulsory language Paper:
| | |
| --- | --- |
| Compulsory language Paper | Your  preparation/Strategy/Booklist |
| English | Didn't prepare |
| Hindi | Didn't prepare |
Ques: Other observations/tips/ comments on the length/difficulty level of compulsory language papers in HAS-2017?
Ans: These papers are very basic and in my opinion don't really need any specific preparations. Still, to be at the safer side it would be recommendable to go through last year's question papers and read Hindi newspaper to get fluent with the Hindi language (this is especially for all of those who have been out of touch with Hindi for a very long time).
Mains: Essay Paper: 
Ques: How did you prepare for the essay paper?
Ans: Read UPSC essay toppers' test copies and attempted a few test series and got them corrected, tried to write a few on my own on basic and concurrent themed topics.
Ques: Which essays did you write and what key points did you include in it? 
Use and abuse of internet
Agrarian distress in India
Points to remember while attempting an essay:
First, make skeleton outline of essay at the last page of the answer sheet(jot down major pointers that come up in your mind)
use of black and blue pen(black pen for subheads)
use of diagrams, flow charts, etc (if need be)
Mains: General Studies (Paper-1): 
| | |
| --- | --- |
| Topic/Unit | How did you prepare/Booklist |
| History perspective of Indian Culture heritage | Nitin Singhania |
| World History | Insight IAS notes, (Baliyan sir) |
| History of Himachal | Hp180, hpgenerealstudies.com |
| Disaster Management | Hp180 |
| Indian Geography | My optional |
| Geography of Himachal Pradesh | Hp180, hpgeneralstudies.com |
| Indian Society | Vision IAS material |
| Ethics/Gandhian Thoughts | Lukman IAS notes |
| Society and Culture of HP | Hp180, hpgeneralstudies.com |
Mains: General Studies (Paper-2):
| | |
| --- | --- |
| Topic/Unit | How did you prepare/Booklist |
| Constitution of India | Laxmikant |
| The polity of Himachal Pradesh | Hp180, hpgeneralstudies.com |
| Governance in India | Didn't prepare separately |
| Governance in HP | Same as above |
| Social Issues | Current affairs |
| International Relations | Newspaper(The Hindu, Indian Express) |
| International Institutions | Ias4sure prelims value addition material |
| Cybercrime/Drug menace/Socio-Economic development of HP | Hp180 |
Mains: General Studies (Paper-3): 
| | |
| --- | --- |
| Topic/Unit | How did you prepare/Booklist |
| Indian Economy | Current affairs, Sriram IAS handouts |
| Schemes and Important Institutions of the World | Current affairs |
| Economy of HP | Hp180, hpgeneralstudies.com |
| Science and Technology | Visionias current affairs |
| Energy Sector of India | Current affairs |
| Science and Technology/IT/Biodiversity in HP | Economic survey,hp180,hpgeneralstudies.com |
| Environment Science | Current affairs |
| Agriculture and Horticulture | Hp180, current affairs |
| Tourism Sector in HP | Hp180, hpgeneralstudies.com |
Ques: How was your experience with the 'fixed space' answer sheet?
Ans: It was good for me actually, it restricted me to write relevant points and saved my time on other questions.
Ques: Did you write answers in bullet points or in paragraphs? Some players were claiming that they wrote the entire paper in bullet points, so it doesn't matter whether the examiner is asking 'examine, comment, discuss or XYZ'. Simply write in bullets and points.
Ans: I wrote in a mix of two. Where I had an ample amount of content, I wrote in pointers but where I had less content, I went with the paragraph style.
Ques: Did you follow the "introduction-body-conclusion" format? Because some mains-qualified candidates claim they simply wrote the points they could recall within the time, instead of bothering with proper introduction and conclusion.
Ans: In 4 and 8 markers I did not dwell much into writing apt intro and conclusion, rather I focussed on the main body part, but in 20 markers, in my opinion, it would be prudent to write in introduction, body and conclusion style. That would make your answer look complete and also it will be easy for you to fill up the space given to write the answer.
I don't like asking following rudimentary questions, but these are the most frequently asked questions by new aspirants.
Did you use a highlighter/sketch-pen in your answers? – NO
Did you draw any diagrams in any paper? – NO (except of course geography questions)(but it would be better if you use)
If yes, did you draw a diagram with a pen/pencil? – NA
Did you use a ruler? – NO
Did you write with a Blue or a Black pen? – In GS only with blue, but in the essay and optional, both pens used
Mains: Optional Subject
Ques: What's your optional subject and why did you chose it and not something else?
Ans: Geography: I found it more interesting and scientific.
Ques: If a new player wants to pick your subject, would you advice for it or against it?
Ans: A big NO. Given the kind of downfall, geography has seen both in HPAS and UPSC, I would recommend to chose something else as your optional.
Ques: Essential book/resource list for the optional you have read:
NCERTs 10th to 12th
(I think for HPAS, this would suffice) also, go through last year's question papers because the same questions are repeated time and again.
Ques: How much of internet-research / current affairs is necessary for this optional? OR can one simply rely on the books and be done with this subject?
Ans: For paper 2 you need to be updated with the current issues going on in the field of geography.
Ques: How many months did it take to finish the core optional syllabus?
Ans: Been writing UPSC mains with this optional subject for the last 3 years, so a quick revision was needed…but to prepare geography optional FOR HAS,1 month is more than enough.
Ques: How many days/ weeks before the exam, you started answer writing practice?
Ans: This was my regular practice, throughout the year (except during some days in between).
Ques: Do you maintain self-notes for revision of optional? In which format- electronic or paper?
Ans: Yes, short notes (paper format).
Ques: Your observation about the difficulty level of 2017 mains vs previous papers. And what precautions/rectifications are necessary for the future strategy for a given optional subject?
Ans: In my opinion, HPAS mains is a very easy stage (the easiest one). I did not find the paper too tough. There wasn't much of a difference in difficulty level this year vis-a-vis last year's papers.
Before the Interview: 
Ques: How did you prepare for the interview for college grad, hobbies, place of origin, and current affairs at the national and international level?
Ans: I was regular with my current affairs, searched about my hobbies, places I have mentioned in my form. I sent details to some of my friends to frame questions on the same, which gave me an expected question bank of around 200 questions.
Ques: Did you attend any mock interviews by coaching classes? How were they similar/different than official interview? Do you believe it is necessary to attend such mock interviews?
Ans: I attended the mock interview of KSG institute (though the questions asked were mainly on national and international issues on the lines if UPSC interview).I think it is advisable to give at least one mock interview before going for an actual interview.
Ques: Describe the formal-dress worn by you in the interview.
Ans: Navy blue suit, white plain shirt, striped tie, black Oxford leather shoes.
During the interview: 
Ques: Who was the chairman of your interview board?
Ans: Maj. Gen. DVS Rana [Retd.]
Ques: How long was the interview?
Ans: Roughly 25 min
Ques: Please narrate your entire interview- what questions did they ask and what did you reply and other pleasant or uncomfortable experiences during the interview.
Asked about 2g fuel, how is that different from 3g fuel?
Sources of 2g fuel.
Schemes of GOI for 2g fuel.
Roles and responsibilities of an MLA.
My take on Article 370 and the reasons for the same.
Why Himachal is called an economically weak state? Reasons for the same.
What is a nuclear triad?
Major flashpoints at the border with China.
Recent incidents of the transgression of the border by PLA.
How many times have I written UPSC mains and HPAS mains?
Any weakness of yours that you would like to overcome in the future that would help you to become a better administrator?
What would be your vision statement throughout your career?
Ques: Was your interview on the expected lines of what you had prepared or did they ask you totally unexpected questions? Was it a stress interview, did they ask any uncomfortable questions? If yes, how did you handle it?
Ans: Much of the interview was on the expected lines.
Your mark sheet:
| | |
| --- | --- |
| Subject | Marks Secured |
| Prelims (Paper-1) | 119 |
| Prelims (Paper-2) | 127 |
| Mains Subjects: | |
| English | 55 |
| Hindi | 77 |
| Essay | 73 |
| General Studies -1 | 72 |
| General Studies -2 | 98 |
| General Studies -3 | 88 |
| Optional (P-1) | 55 |
| Optional (P-2) | 60 |
| Written Total | 446 |
| Interview | 83 |
| Final Score | 529 |
Career Backup Plan:
Ques: If you were not selected, what was your career backup plan?
Ans: Back to the software industry.
Ques: When were you going to "execute" that backup plan? (E.g. after __ number of failed attempts/ after I cross __ age/ after dad retires/ after girlfriend/boyfriend dumps me J etc.)
Ans: This was my last attempt.
The struggle of a Senior Player/Junior Player:
Ques: How did you survive through this mental prison of HAS and what're your words of wisdom to other senior players/Junior Players? If any specific inspirational incident(s), please share.
Ans: Ups and downs will be there during this preparation, this is a common thing. Failing, again and again, doesn't really matter, what really matters that you fail better every next time. Every person experiences different kinds of pressure but the one who fights these valiantly is the one who succeeds at last. So I would recommend to all aspirants to not think too much about failed attempts but to think about the knowledge you have gathered during your preparation, the kind of personality you have developed during this phase. Enjoy this journey.
I would like to quote one couplet here:
मंजिल मिल ही जाएगी भटकते हुए ही सही,
गुमराह तो वो है जो घर से निकले ही नहीं ।
So keep up with the hard work and my best wishes to all the aspirants!
Ques: What went wrong in your previous attempt? What changes did you make in this current attempt?
Ans: Honestly, I didn't do much of the changes this year. The only thing I worked upon was to focus on presenting my answers beautifully. Used a black pen for the first time to give heads and subheads, focussed on handwriting, etc.
The struggle of a Working Professional:
Ques: If you're a working professional, share some tips on how to manage studies with a job?
Ans: NA
Grand Wisdom:
Ques: People know what books and syllabus points are to be prepared. But most of them lack consistency in their preparation. So, how do you keep study momentum going on? How do you fight against the mood swings and distractions?
Ans: Watch movies, call up your friends, hang out with them, take daybreak in a week, read some other books (novels in my case).
Ques: Through this struggle and success, what have you learned? What is the wisdom of life and competition? What is your message to the new aspirants/veteran aspirants?
Ans: Success is not final, failure is not fatal, it is the courage to continue that counts! – (Winston Churchill)
Ques: Many hardworking candidates have failed in Mains/Interview of HAS-2017. They're feeling cynical, hopeless and depressed- what is your message to them?
Ans: Keep up the good work guys! Apna Time Aayega!
Credits: Family/Friends:
Ques: Behind every qualified candidate, there are many people who stood by during those uncertain times when he/she was merely an 'aspirant'. Would you like to tell the world, who were those people in your case? Any specific incidence that you would like to share with the readers?
Ans: My college friends and my family.
Ques: You are well aware of the sacred rule of conducting the interview of qualified candidates- the last question must be about self-marketing. So, Did you use www.hpgeneralstudies.com for your preparation and if yes, how did it help you? And you can even reply "No".
Ans: Yes used it! HELPED ME TO PREPARE FOR INTERVIEW HOLISTICALLY, BE IT ABOUT HIMACHAL OR NATIONAL AND INTERNATIONAL ISSUES. I would like to extend a word of thanks to the whole team who have been working day in and out to help aspirants like us. Best of luck to the whole team!
HP General Studies remarks:
Thank-you Mr. Ashish Chauhan for giving us your precious time. Hopefully, this interview will help thousands of aspirants who have been preparing for HAS exam. 
We wish you a great future ahead.