Interview by HP General Studies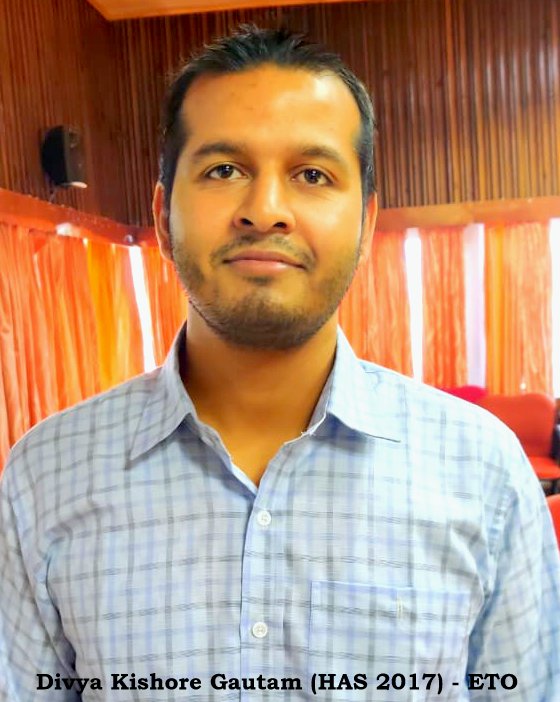 Candidate Profile:
| | |
| --- | --- |
| Name | DIVYA KISHORE GAUTAM |
| Rank in HAS/ Post | 21/ ETO |
| Roll No | 15001751 |
| Age | 27 |
| Marital Status | UNMARRIED |
| Total Attempts in HAS | 02 |
| Optional Subject | POLITICAL SCIENCE |
| Schooling Medium | ENGLISH |
| College Medium | ENGLISH |
| Medium Chosen for Mains Answers | ENGLISH |
| Medium Chosen for Interview | ENGLISH |
| Hometown/City | NALAGARH, DISTT SOLAN |
| Work Experience if any | 03 YEARS AT HP STATE COOPERATIVE BANK LTD |
| Details of other competitive exams, including success and failures | CDS, AFCAT, ALLIED, IBPS-CLERICAL,NT |
| Details of coaching/mock tests/postal material for this exam (if used) | NONE |
| Services preference | HAS>DC (FCS&CA)>TEHSILDAR>BDO>ETO |
Education:
| | |
| --- | --- |
| %age in class 10 | 69 |
| %age in class 12 | 61 |
| Graduation course and %age | B.TECH (69) |
| Name of college, city and passing out year | HIET-KALA-AMB (HPU), 2013 |
| Post Graduation | NA |
| Any other course | NA |
| Hobbies and extra-curricular achievement | NONE |
Introduction:
Ques: Tell us something about yourself, your family, when and why did you enter in this field of competitive exams?
Ans: I come from a middle-class family. The Indian army was my dream service but a couple of failures at SSB and need for a stable job pushed me to explore the field of competition.
Ques: Typical day in your online life?
Whatsapp/Telegram: I barely use these apps.
Online Study Websites/Apps: The Hindu, Indian Express, Vision IAS, RSTV on Youtube, Unacademy, study iq etc.
Ques: What is your style of preparation and notes making?
Ans: In my first attempt I stumbled at PRE, so I tried to cover each and every topic with respect to PRE as well MAINS. For this, I went through the Previous Year Question (PYQs).
For notes making, since I was in a job while preparing for the exam I didn't prepare any notes except for NCERTS.
Prelims (Paper-1): 
| | |
| --- | --- |
| Topic | Booklist/Strategy |
| Ancient History | NONE |
| Medieval History | NONE |
| Modern History | Spectrum |
| Art & Culture | NCERTS 11TH CLASS |
| Polity (Theory + Current) | Laxmikanth + Vision monthly |
| Economy (Theory + Current) | NCERT 11,12 + Vision monthly |
| Science (Theory + Current) | NCERTS 6-10, Vision monthly |
| Environment (Theory + Current) | Shanker IAS book + vision monthly |
| Geography of India | NCERTS 11, 12 |
| Physical Geography | NCERTS 11, 12 |
| Geography of World | NCERTS 11, 12 |
| Current Affairs | VISION IAS MONTHLY, Daily news tracking |
| Himachal GK | Himachal Darpan, Mian Govardhan Singh |
| Himachal Pradesh Current Affairs | HP government websites(I use to check them once in a week) |
  Prelims (Paper-2):
| | |
| --- | --- |
| Topic | Booklist/Strategy |
| Reasoning | NONE |
| English | NONE |
| Maths | PYQs |
| Communication | NONE |
Ques: Did you attend any 'mock tests'? Do you think they're necessary for success?
Ans: I didn't attend because of the time crunch but I think they help.
Ques: Approximate no. of attempted answers vs. correct answers. in Prelim 2017:
| | | | |
| --- | --- | --- | --- |
| | Attempted questions | Correct | Official Score |
| GS | | | 128.67 |
| Aptitude | | | 97.33 |
Mains: Compulsory language Paper:
| | |
| --- | --- |
| Compulsory language Paper |  Your  preparation/Strategy/Booklist |
| English | Only PYQs |
| Hindi | PYQs, HP Board Hindi Grammar, I also consulted some Hindi teachers since I was petrified of Hindi. |
Ques: Other observations/tips/comments on the length/difficulty level of compulsory language papers in HAS-2017?
Ans: My motive was to score passing marks in these both papers which I managed somehow. Moreover, I don't think there was much difference in HAS-2017 and PYQs.
Mains: Essay Paper:
Ques:  How did you prepare for the essay paper?
Ans: GS syllabus covers essay paper so there is no need for special preparation for the essay but one should have a look at PYQs and try to write an essay on topics keeping in mind the time frame. The theme of constructive criticism should flow through essay.
Mains: General Studies (Paper-1): 
Mains: General Studies (Paper-2):
| | |
| --- | --- |
| Topic/Unit | How did you prepare?/Booklist |
| Constitution of India | Laxmikanth |
| The polity of Himachal Pradesh | HP Govt Online Portals |
| Governance in India | Vision IAS monthly |
| Governance in HP | Hp govt online portals |
| Social Issues | Couldn't find much |
| International Relations | Vision IAS monthly, RSTV |
| International Institutions | Wikipedia, PSIR was my optional |
| Cybercrime/Drug menace/Socio-Economic development of HP | HP govt online portals but nothing much was available |
 Mains: General Studies (Paper-3): 
| | |
| --- | --- |
| Topic/Unit | How did you prepare?/Booklist |
| Indian Economy | Sriram IAS Economy book |
| Schemes and Important Institutions of the World | Sriram IAS Economy book |
| Economy of HP | Economic survey |
| Science and Technology | Vision IAS monthly |
| Energy Sector of India | Wikipedia |
| Science and Technology/IT/Biodiversity in HP | Govt portals |
| Environment Science | Shanker IAS |
| Agriculture and Horticulture | Internet |
| Tourism Sector in HP | Survey and budget |
Ques: How was your experience with the 'fixed space' answer sheet?
Ans: It is very difficult to cover all aspects of the question in fixed space but then its same for all so no issues with it.
Ques: Did you write answers in bullet points or in paragraphs? Some players were claiming that they wrote the entire paper in bullet points, so it doesn't matter whether examiner is asking 'examine, comment, discuss or XYZ'. Simply write in bullets and points.
Ans: See I tried to attempt the question in the way it was demanded, for example, if a discussion was demanded I discussed it and so on. So it varies from person to person because ultimately it depends upon checker.
Ques: Did you follow the "introduction-body-conclusion" format? Because some mains-qualified candidates claim they simply wrote the points they could recall within the time, instead of bothering with proper introduction and conclusion.
Ans: No I didn't follow this format.
I don't like asking following rudimentary questions, but these are the most frequently asked questions by new aspirants.
Ques: Did you use highlighter/sketch-pen in your answers?  – NO
Ques: Did you draw any diagram in any paper? – NO
Ques: If yes, did you draw a diagram with pen/pencil? – NA
Ques: Did you use a ruler? – I had one but didn't use it.
Ques: Did you write with Blue or a Black pen? – Blue
Mains: Optional Subject
Ques: What's your optional subject and why did you chose it and not something else?
Ans: Political science and International relations. I chose it because I was interested in international relations moreover Polity has considerable overlap in GS 2.
Ques: If a new player wants to pick your subject, would you advise for it or against it?
Ans: I would advise against it. Humanity subjects are brutally slaughtered each year, but then it's my opinion.
Essential book/resource list for the optional you have read:
Paper 1:
Part A: Andrew Heywood books on Political theory and Ideology. Some people advised me to refer Shubra mam's notes but without elaborated discussion, I  couldn't comprehend them so I followed Andrew Heywood books.
Part B: M Laxmikanth was the main source, some help from the internet was also taken.
Paper 2 :
Part A: IGNOU MA political science books (available online in PDF format)
Part B: World Constitution by Vishnoo Bhagwan
Ques: How much of internet-research / current affairs is necessary for this optional? OR can one simply rely on the books and be done with this subject?
Ans: Internet is a very important source for this exam and simply relying on books will be a blunder.
Ques: How many months did it take to finish the core optional syllabus?
Ans: To be honest, I don't remember but I carried it alongside GS preparation.
Ques: How many days/ weeks before the exam, you started answer writing practice?
Ans: No writing practice was done by me.
Ques: Do you maintain self-notes for revision of optional? In which format- electronic or paper?
Ans: As I already mentioned that I was a working professional so note making was a time taking a task for me but I used to highlight the pdf which later on saves the time.
Ques: Your observation about the difficulty level of 2017 mains vs previous papers. And what precautions/rectifications are necessary for the future strategy for given optional subject?
Ans: As far as optional is concerned, I think political science paper 1 was a bit difficult than 2016 paper. Moreover, I scored only 57 in paper 1 so I'm not the right person give any input as far as precautions and rectifications are concerned.
Before the Interview: 
Ques: How did you prepare for the interview for college grad, hobbies, place of origin, and current affairs at the national and international level?
Ans: I watched a lot of mock interviews on Youtube. Secondly, I closely followed national and international developments in a duration of 6 months prior to the interview. I mentioned my hobby as watching movies and prepared all aspects of it.
Ques: Did you attend any mock interviews by coaching classes? How were they similar/different than official interview? Do you believe it is necessary to attend such mock interviews?
Ans: No, I didn't.
During the interview:
Ques: Who was the chairman of your interview board?
Ans: Retd. Maj. Gen. DVS Rana
Ques: How long was the interview?
Ans: 18-20 minutes
Ques: Was your interview on the expected lines of what you had prepared or did they ask you totally unexpected questions? Was it a stress interview, did they ask any uncomfortable questions? If yes, how did you handle it?
Ans: Some questions related to current affairs were on expected lines and some were not. It was not a stress interview.
Your mark sheet:
| | |
| --- | --- |
| Subject | Marks Secured |
| Prelims (Paper-1) | 128.67 |
| Prelims (Paper-2) | 97.33 |
| Mains Subjects: |   |
| English | 58 |
| Hindi | 59 |
| Essay | 70 |
| General Studies -1 | 95 |
| General Studies -2 | 66 |
| General Studies -3 | 100 |
| Optional (P-1) | 57 |
| Optional (P-2) | 73 |
| Written Total | 461 |
| Interview | 70 |
| Final Score | 531 |
Career Backup Plan:
Ques: If you were not selected, what was your career backup plan?
Ans: I was already in service.
Ques: When were you going to "execute" that backup plan? (E.g. after __ number of failed attempts/ after I cross __ age/ after dad retires/ after girlfriend/boyfriend dumps me J etc.)
Ans: NA
Struggle of a Senior Player/Junior Player:
Ques: How did you survive through this mental prison of HAS and what're your words of wisdom to other senior players/Junior Players? If any specific inspirational incident(s), please share.
Ans: No such words of wisdom.
Ques: What went wrong in your previous attempt? What changes did you make in this current attempt?
Ans: In the first attempt I failed at preliminary so worked more comprehensively keeping Mains in mind. Rest I have already told.
Struggle of a Working Professional:
Ques: If you're a working professional, share some tips on how to manage studies with a job?
Ans: I think the exam is all about consistency, so try to maintain that in spite of all the odds. Try to maximize your productivity in morning hours. Utilize your Sundays and holidays well. There are no holidays for you, keep that in mind. Do not bring office work at home. Take care of your health. That's all.
Grand Wisdom:
Ques: People know what books and syllabus points are to be prepared. But most of them lack consistency in their preparation. So, how do you keep study momentum going on? How do you fight against the mood swings and distractions?
Ans: Mood swings and distractions is a matter of 5 to 10 minutes. If you overcome them within this much time then you will sail smoothly otherwise same old story. In such situations, I used to listen to a song or two or talk to my friends, family, etc. The point is to keep the mental burden and frustration at bay.
Ques: Through this struggle and success, what have you learned? What is the wisdom of life and competition? What is your message to the new aspirants/veteran aspirants?
Ans: I'm still learning the subtleties of life, please spare me from this question.
Credits: Family/Friends:
Ques: Behind every qualified candidate, there are many people who stood by during those uncertain times when he/she was merely an 'aspirant'. Would you like to tell the world, who were those people in your case? Any specific incidence that you would like to share with the readers?
Ans: List of credits is quite long. My parents, brothers, other family members by name, friends from college, friends from different walks of my life,  friends from the workplace, most importantly my immediate colleagues at the workplace who stood like a rock with me throughout my preparation. Last but not least the almighty God who gave me a clean shot at this exhausting exam.
Ques: You are well aware of the sacred rule of conducting an interview of qualified candidates- the last question must be about self-marketing. So, Did you use www.hpgeneralstudies.com for your preparation and if yes, how did it help you? And you can even reply "No".
Ans: Yes, I use it for my preparation. It was quite helpful when it comes to a pre-point of view. Some topics for mains are also covered by this website. One good thing about this website is that all the PYPs are available at one place which saves one's time while in preparation.
HP General Studies remarks:
Thank-you Mr. Divya Kishore Gautam for giving us your precious time. Hopefully, this interview will help thousands of aspirants who have been preparing for HAS exam. 
We wish you a great future ahead.