Interview by HP General Studies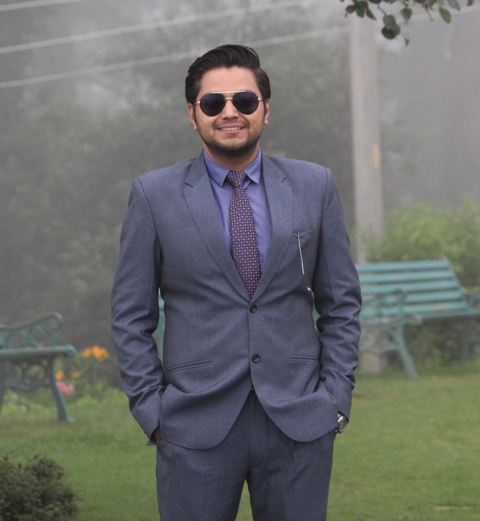 Candidate Profile:
| | |
| --- | --- |
| Name | GUNJEET SINGH CHEEMA |
| Rank in HAS | 9TH |
| Roll No | 15000040 |
| Age | 30 |
| Marital Status | SINGLE |
| Total Attempts in HAS | 3 |
| Optional Subject | POLITICAL SCIENCE |
| Schooling Medium | ENGLISH |
| College Medium | ENGLISH |
| Medium Chosen for Mains Answers | ENGLISH |
| Medium Chosen for Interview | ENGLISH |
| Hometown/City | JAWALI, KANGRA |
| Work Experience if any | INFOSYS |
| Details of other competitive exams, including success and failures | UPSC (4 ATTEMPTS, WRITTEN MAINS 4 TIMES) |
| Details of coaching/mock tests/postal material for this exam (if used) | N.A |
| Services preference | HAS only |
Education:
%age in class 10

85.6

%age in class 12

84.8

Graduation course and %age

72.3

Name of college, city and passing out year

GOVT ENGINEERING COLLEGE, BATHINDA, 2010

Post Graduation

N.A

Any other course

N.A

Hobbies and extra-curricular achievement

1. RECEIVED COMMENDATION LETTER FROM DC MANDI FOR WORK DONE IN GETTING DIST. DECLARED AS CLEANEST IN INDIA -RURAL HILLS AND PLAINS.

2. 2ND PRIZE IN SKIT AND MIME COMPETITION AT UNIVERSITY YOUTH FEST

HOBBIES:

1.LISTENING SUFI MUSIC 2.TRAVELING 3.WATCHING DOCUMENTARIES
Introduction: 
Ques: Tell us something about yourself, your family, when and why did you enter in this field of competitive exams?
Ans: My Father has retired as an engineer from India Railways, my mother is a homemaker and my elder sister is settled in Canada.
As I was working in Infosys I felt the lack of connect, it was like working for a faceless entity. Although I enjoyed the technical aspect of the software industry but I yearned for human interface and zeal for doing something for the public. This motivated me to prepare for civil services.
Ques: A typical day in your online life?
Whatsapp/Telegram: I was very much active on social media, telegram channels were the source of material gathering.
Online Study Websites/Apps: CivilsDaily, mrunal.org
Ques: What is your style of preparation and notes making?
Ans: I didn't make notes because I believe one must subscribe to smart ways of preparation where the use of highlighters, underlines and gist booklets of various subjects shall suffice and save time. Also as I was working so most of the time I used to get was in the early morning and after office hours, for example, I used to read the newspaper while on the go or in between break time of office hours.
Prelims (Paper-1):
Topic
Booklist/Strategy

Ancient History

Old NCERT( RS Sharma)

Now, this module shall not directly come in Mains but that doesn't mean it should be ignored. It's needed to make a base for the whole History module especially understanding culture module

Medieval History

Old NCERT( Satish Chandra)

Similarly, the Gyan goes here also like in Ancient that is should be done with a medium level priority i.e some amount of fair idea must be there can't be skipped as a whole.

Modern History

History of Modern India – Spectrum

I am not mentioning here Bipin Chandra, although I have read it because for HPAS Spectrum is more than enough. What one can do is watch YouTube videos to cement the chronology of events and make a picture trail for better remembrance.

Art & Culture

· Indian Art & Culture – Nitin Singhania

(THE ONLY BOOK)

Now my experience with art and culture says that "SKY IS THE LIMIT" thus we should only focus on covering basics as highlighted by NITIN SINGHANIA sir book and actually pray that you get the desired results. I have observed many aspirants wasting precious time in doing a Ph.D. over this module. One should always look for various images and certain Wikipedia pages as they read along with Nitin Sir's notes.

Polity (Theory + Current)

Indian Polity – M. Laxmikanth /

Here (Must have book)




THE ONLY BIBLE YOU WILL NEED TO MASTER THIS MODULE. But the key is every time you read this book it appears to give more information thus cementing this book in your memory is a must.

Economy (Theory + Current)

Basic Economy lectures from Mrunal.org this shall clear the basic concepts.

The Indian Economy-by Sanjiv Verma (Selected Read-Only)

Economic Survey and Budget

Now I prefer to always read free to available concise Eco-Survey and Budget available over the internet ( VisionIAS, etc)

Science (Theory + Current)

Now General Science is again one module that has low ROI. So how do you cover the basics? I already had a science background thus I followed

1. gktoday notes on General Science.

2. Crash Course Channel on YouTube (only out of sheer interest and time pass)

For Non-Science background:

1. Science and Technology: For Civil Services Preliminary and Main Examinations

But then remember in my opinion the focus has shifted to more current based Science and Tech questions rather than old basic questions.

Environment (Theory + Current)

· Environment – Shankar IAS  

(Must have book)

The Only Bible you should be doing to have a fair idea about this module after this only specific current affairs updates required.

Geography of India

Best and exam-oriented mode to cover this module according to me is Geography module by Mrunal.org (Geography Lecture series by Ms.Rajtanil Solanki)

Top it up with notes from PMFIAS WEBSITE

More than sufficient to cover Geography Mains and Prelims.

I am not mentioning conventional NCERTs because I found the above-mentioned sources adequate.

Physical Geography

-DO-

Geography of World

-DO-

Current Affairs

Newspaper: The Tribune, Giriraj (For Himachal)

Any standard monthly current affair booklet for eg. VISIONIAS notes

Any website like GKTODAY

Himachal GK

This is one of the most asked questions is from where to cover Himachal? Now here I would like to mention few books which I followed and let me be honest here this module was not a strong forte of mine but my preparation was enough to get me a score and hit rate of 70-80% in examinations.

1. Know Your State: Arihant: Short, Concise and must have quick reference type material

2. Himachal Pradesh by HK Mitoo published by NBT. Fantabulous book gives you a fair idea and often prelims question are picked directly from this source.

3. Any HPAS coaching center's compendium: This will supplement your base of HP GK while filling the gaps left during your self-preparation.

4. Wonderland by Balokhra: I have a very different opinion about this book as it's written not for competition purposes but boast itself as an Encyclopedia. Therefore only gap-filling selective reading required. For example, the Geography module of Himachal is covered well.

Following is sectoral coverage, a brief idea Only.

History: Combination of books mentioned above and Internet

Geography: Wikipedia and Wonderland

Economics: Economic Survey and Budget

Culture: Mitoo+Balokhra+Internet

Current Affairs:

Now I found it not worth my time to make HP current affairs notes from Newspaper, therefore, you can choose any monthly tit-bits current affairs booklet specific to HP which you get at bus stand bookstores or any academy you find worthy of subscribing to.

Many people who prepare for UPSC often overlook to bridge the gap to clear HPAS because they ignore the specific nature of the Preliminary examination.

1. Preparing factual data such as Himachal Budget and Survey

2. Preparing Current affairs such as the latest Awards, Oscars or any trivial information which they seem unworthy but are required to be done.

Also, I have seen many aspirants putting maximum efforts in this module of HP Current affairs while ignoring other modules. This is a sin, pure crime. Here we need to develop smart strategies for example

1. Using monthly current affairs titbits types for HP Current affairs rather than making useless notes.

2. Budget and Economic Survey amounts to roughly 40% of HP Current affair. Thus full grip and command over this portion.

Himachal Pradesh Current Affairs

-DO-
Prelims (Paper-2):
Topic
Booklist/Strategy

Reasoning

Actually never prepared for this paper but I would suggest not taking this paper lightly. Follow any specific book like

RS Aggarwal

etc and command confidence.

English

-DO-

Maths

-DO-

Communication

-DO-
Ques: Did you attend any 'mock tests'? Do you think they're necessary for success?
Ans: Not attended any Mock test might give you a fair idea of how you are writing but then it depends upon "Who is setting the paper and more importantly who is checking and giving you the feedback".
Mains: Compulsory language Paper:
| | |
| --- | --- |
| Compulsory language Paper | Your  preparation/Strategy/Booklist |
| English | Not prepared |
| Hindi | Not prepared |
Ques: Other observations/tips/ comments on the length/difficulty level of compulsory language papers in HAS-2017?
Ans: One must not be overlooking these papers if they are not confident.
Mains: Essay Paper: 
Ques: How did you prepare for the essay paper?
Ans: I had practiced a few essays, prepared list of handy quotes and referred UPSC toppers attempted essays for idea regarding structure and content flow in an essay.
Ques: Which essays did you write and what key points did you include in it?
Use and Abuse of Internet
Agrarian Distress in India.
Mains: General Studies (Paper-1):
| | |
| --- | --- |
| Topic/Unit | How did you prepare/Booklist |
| History perspective of Indian Culture heritage | As discussed in Prelims Strategy |
| World History | NCERT Books and Mrunal |
| History of Himachal | As discussed in Prelims Strategy |
| Disaster Management | Vision IAS + updates from latest developments Internet |
| Indian Geography | As discussed in Prelims Strategy |
| Geography of Himachal Pradesh | As discussed in Prelims Strategy |
| Indian Society | Vajiram Notes |
| Ethics/Gandhian Thoughts | Internet |
| Society and Culture of HP | The Wonderland |
Mains: General Studies (Paper-2):
| | |
| --- | --- |
| Topic/Unit | How did you prepare/Booklist |
| Constitution of India | M.Laxmikant |
| The polity of Himachal Pradesh | Wonderland |
| Governance in India | Vision 365 Mains and Online reading |
| Governance in HP | Online reading + Tribune |
| Social Issues | The Hindu + Vision 365 Mains |
| International Relations | Vision 365 Mains |
| International Institutions | Shankar IAS compendium on International Institutes |
| Cybercrime/Drug menace/Socio-Economic development of HP | Online Reading |
Mains: General Studies (Paper-3):
| | |
| --- | --- |
| Topic/Unit | How did you prepare/Booklist |
| Indian Economy | Mrunal lectures + Vision 365 |
| Schemes and Important Institutions of the World | Vision 365 Mains |
| Economy of HP | Economic Survey + Budget |
| Science and Technology | Vision 365 Mains + Online reading |
| Energy Sector of India | Official Govt websites |
| Science and Technology/IT/Biodiversity in HP | Official Govt websites+ Various Institutes booklets |
| Environment Science | Shankar IAS |
| Agriculture and Horticulture | Shankar Agriculture and Online reading |
| Tourism Sector in HP | Online Reading |
Ques: How was your experience with the 'fixed space' answer sheet?
Ans: I think it's good because we don't have to worry about jumping the word limit and it forces us to be on the point. Thus usual Intro-Body-Conclusion format only works in 20 markers. In a nutshell "Answer to the point" becomes automatically easily.
Ques: Did you write answers in bullet points or in paragraphs? Some players were claiming that they wrote the entire paper in bullet points, so it doesn't matter whether the examiner is asking 'examine, comment, discuss or XYZ'. Simply write in bullets and points.
Ans: Again due to limited space scope of maneuvering is limited. I preferred bullet-style answers in most of answers. But in long answers, I usually mix paragraphs and bullet points.
Ques: Did you follow the "introduction-body-conclusion" format? Because some mains-qualified candidates claim they simply wrote the points they could recall within the time, instead of bothering with proper introduction and conclusion.
Ans: Only in 20 markers as space is enough.
Ques: I don't like asking following rudimentary questions, but these are the most frequently asked questions by new aspirants.
Did you use a highlighter/sketch-pen in your answers? – No

Did you draw any diagrams in any paper? – Yes

If yes, did you draw diagram with a pen/pencil? – Pen

Did you use a ruler? – No

Did you write with a Blue or a Black pen? – Blue
Mains: Optional Subject
Ques: What's your optional subject and why did you chose it and not something else?
Ans: Political Science as it was of interest to me.
Ques: If a new player wants to pick your subject, would you advice for it or against it?
Ans: Yes, definitely as this subject helps in GS2 and Essays. But again the hearsay that humanities subjects are no rewarded well, so one must take its chances after due deliberations.
Ques: Essential book/resource list for the optional you have read:
Ans: Shubra Ranjan Notes, IGNOU notes selectively, JS Arora
Ques: How much of internet-research / current affairs is necessary for this optional? OR can one simply rely on the books and be done with this subject?
Ans: Current knowledge is required to boost your answer, but the paper is mostly static unlike UPSC Political Science optional.
Ques: How many months did it take to finish the core optional syllabus?
Ans: 3-4 Months
Ques: How many days/ weeks before the exam have you started answer writing practice?
Ans: Actually 1 month before that also just idea because of paucity of time.
Ques: Do you maintain self-notes for revision of optional? In which format- electronic or paper?
Ans: Mix of notes and underline portion in the study material.
Ques: Your observation about the difficulty level of 2017 mains vs previous papers. And what precautions/rectifications are necessary for the future strategy for a given optional subject?
Ans: The first paper of a new pattern was difficult in the sense because of the "Surprise factor". But as this format matures candidates are able to decode the mechanism of new pattern effectively. Regarding the level of questions, we can observe quality questions that require an in-depth study.
Regarding Optional: Golden Rule is to revise and write previous year papers.
Before the Interview:
Ques: How did you prepare for the interview for college grad, hobbies, place of origin, and current affairs of national and international level?
Ans: Prepared detailed Assessment of myself: That is going into details about information pertaining to me, for example, I completed my 10th from Sri Aurobindo International Public School thus I read about Sri Aurobindo also. Read newspapers especially Himachal specific and International affairs. As I was working prepared well enough about my job specifics questions.
Ques: Did you attend any mock interviews by coaching classes? How were they similar/different than official interview? Do you believe it is necessary to attend such mock interviews?
Ans: I didn't attend any mock interviews.
Ques: Describe the formal-dress worn by you in the interview.
Ans: Blue Suit with a white shirt and formal tie.
During the interview: 
Ques: Who was the chairman of your interview board?
Ans: Maj Gen (retd.) DVS Rana
Ques: How long was the interview?
Ans: 25-30 Min
Ques: Please narrate your entire interview- what questions did they ask and what did you reply and other pleasant or uncomfortable experiences during the interview.
Ans: I was asked questions based on my current job of BDO, international affairs, roles and responsibilities of SDM, Budget in detail.
Ques: Was your interview on the expected lines of what you had prepared or did they ask you totally unexpected questions? Was it a stress interview, did they ask any uncomfortable questions? If yes, how did you handle it?
Ans: Interview was very interesting as it was quite particular in the details. For example, International relations questions required detailed pin-point answers. The budget question was factual rather conceptual. But one must keep his/her cool and answer with the confidence only those questions which you are sure about. Any topic coming as a bouncer may be politely declined" with "Sorry Sir/Madam". Remember interviews are "Personality tests" rather "Knowledge test", so its ok not to know everything.
Your mark sheet:
| | |
| --- | --- |
| Subject | Marks Secured |
| Prelims (Paper-1) | 118 |
| Prelims (Paper-2) | 125 |
| Mains Subjects: |   |
| English | 56 |
| Hindi | 54 |
| Essay | 71 |
| General Studies -1 | 102 |
| General Studies -2 | 76 |
| General Studies -3 | 97 |
| Optional (P-1) | 73 |
| Optional (P-2) | 67 |
| Written Total | 486 |
| Interview | 80 |
| Final Score | 566 |
Career Backup Plan:
Ques: If you were not selected, what was your career backup plan?
Ans: I was already in service as Block Development Officer (BDO).
Ques: When were you going to "execute" that backup plan? (E.g. after __ number of failed attempts/ after I cross __ age/ after dad retires/ after girlfriend/boyfriend dumps me J etc.)
Ans: This was surely my last attempt at HAS because last year also I had qualified mains with good marks but could not get desired HAS/HPS because of fewer interview marks. Surely the process was frustrating but I could make such decisions because I was already in services.
The Struggle of a Senior Player/Junior Player:
Ques: How did you survive through this mental prison of HAS and what're your words of wisdom to other senior players/Junior Players? If any specific inspirational incident(s), please share.
Ans: I think the primary focus is to see if the process is becoming your life because it often happens that we tend to shut the outside world only to regret later. Hard work is good but at what expense? Sacrifice is good but how far and for how many? Thus balance needs to be restored. Don't let the process consume you, it shall be very frustrating in case of failure, on the other side take this just as another exam. So we need to focus on getting optimal results as soon as possible. I believe that it's not intelligence that gets you the desired result but it's your sheer commitment towards your goal including consistency and hard work which gets you through. Very important to analyse your strength and weaknesses, course correction is must if we are not getting the desired results. For example, failing once in an exam and again following the same strategy shall most probable deliver failure only therefore constant self-evaluation is required.
Ques: What went wrong in your previous attempt? What changes did you make in this current attempt?
Ans: I think my Optional Geography last time didn't deliver the intended marks, so I changed the optional to Political Science.
The Struggle of a Working Professional:
Ques: If you're a working professional, share some tips on how to manage studies with a job?
Ans: Working professionals must keep in mind firstly not to compromise or do injustice to your current assignment in any way this shall keep you mentally free and a bit satisfied. Track pocket time that is reading while traveling, in between breaks, using electronic media to the most. Also pushing a little extra in the morning or nights. Choosing study material with optimal results in less time (for example reading summary Economic survey rather than bare format).
Grand Wisdom:
Ques: People know what books and syllabus points are to be prepared. But most of them lack consistency in their preparation. So, how do you keep study momentum going on? How do you fight against the mood swings and distractions?
Ans: There is no straight answer to this. Everyone must device their own tools. For example, I used to listen to motivational music or play games on my laptop. Also, I am a NETFLIX addict.
Ques: Through this struggle and success, what have you learned? What is the wisdom of life and competition? What is your message to the new aspirants/veteran aspirants?
Ans: I think I have answered this above in detail.
Ques: Last year many hardworking candidates have failed in Mains/Interview of HAS-2017. They're feeling cynical, hopeless and depressed- what is your message to them?
Ans:
Tu ShaheeN hai parwaaz hai kaam tera Tere saamne aasmaN aur bhee hain – Iqbal
तू शाहीन है परवाज़ है काम तेरा तेरे सामने आसमां और भी है –इकबाल
Never Give Up!! Life is much more than this or any exam.
Credits: Family/Friends:
Ques: Behind every qualified candidate there are many people who stood by during those uncertain times when he/she was merely an 'aspirant'. Would you like to tell the world, who were those people in your case? Any specific incidence that you would like to share with the readers?
Ans: My family and all those who believed me when I thought I didn't want to even take this exam.
Ques: You are well aware of the sacred rule of conducting the interview of qualified candidates- the last question must be about self-marketing. So, Did you use www.hpgeneralstudies.com for your preparation and if yes, how did it help you? And you can even reply "No".
Ans: Absolutely I browsed the website for various topics, if specifically remembering I think "fairs and festival" was the first topic I grasped from this site. I wish this site to grow manifold in the future.
HP General Studies remarks:
Thank-you Mr. Gunjeet Singh Cheema for giving us your precious time. Hopefully, this interview will help thousands of aspirants who have been preparing for HAS exam. 
We wish you a great future ahead.