Interview by HP General Studies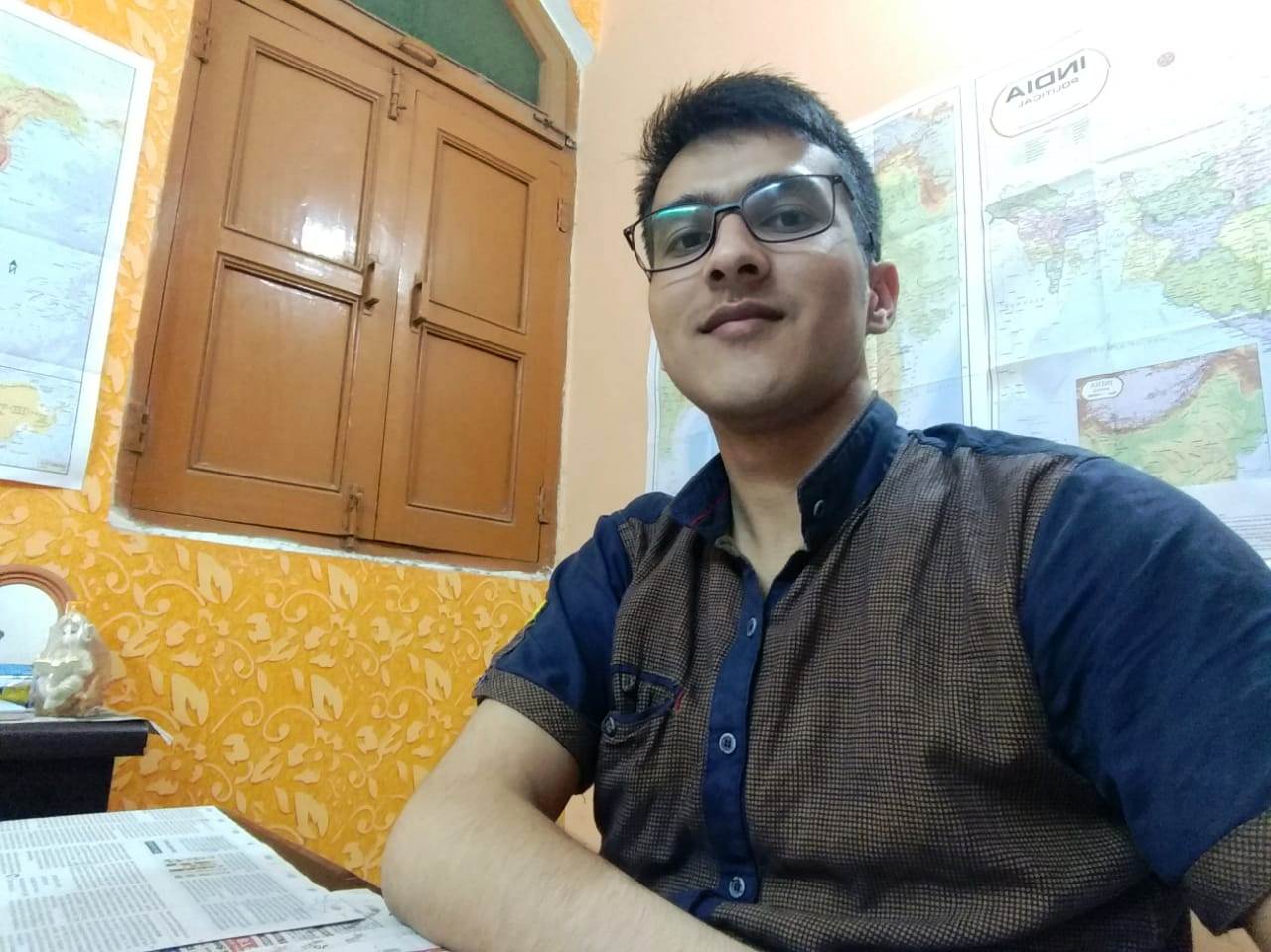 Candidate Profile:
Name
Hem Raj
Rank in HAS
14
Roll No
11604765
Age
22 years
Marital Status
Unmarried
Total Attempts in HAS
1
Optional Subject
Geography
Schooling Medium
Hindi (upto Class X), English (after class X)
College Medium
English
Medium Chosen for Mains Answers
English
Medium Chosen for Interview
There is no such choice in the interview form of HPAS. However, the interview board informed me to answer in any medium (English or Hindi ) as per convenience. So I answered some questions in English and others in Hindi.
Hometown/City
Karsog ( Distt Mandi )
Work Experience if any
none
Details of other competitive exams, including success and failures
1. NDA written qualified ( 2014)

2. JEE Mains qualified ( 2014)

Details of coaching/mock tests/postal material for this exam (if used)
I relied mostly on self-study and the internet in my preparation. I didn't join any coaching institute for this examination but I used the online material of some institutes ( VISION IAS , INSIGHTSONINDIA, etc) available free of cost on the internet.
Services preference
HPAS > BDO>TO
Education:
%age in class 10
92
%age in class 12
93.2
Graduation course and %age
Civil Engineering ( B.Tech ), 8.55 CGPA
Name of college, city and passing out year
National Institute of Technology Hamirpur, Hamirpur ( HP), 2018
Post Graduation
none
Any other course
none
Hobbies and extra-curricular achievement
 1. Reading self-improvement books ( e.g. The Power of Habit, 5 Second Rule, etc)

2. Solving Rubik cube

3. Movies Buff, Old and new Bollywood songs
Introduction:
Ques: Tell us something about yourself, your family, when and why did you enter in this field of competitive exams?
Ans: Honestly, there is nothing much which I can tell and describe about myself and I think it's not that important also. But for the convenience of aspirants so that they can relate to my strategy and background, here I briefly describe myself.  I am a proud son of a family of farmers. My grandparents are farmers, my father is a farmer and my mother is an Anganwadi worker.
I belong to a rural village background where I was born and grown-up. Like many other villages of our state, my village is quite backward, linked to the town via a kuchha road, having poor internet connectivity and most importantly no newspaper reach there. If you want to take some print outs, you need to travel 15 km to town from my village.
Entering into civil services was always in the back of my mind during my schooling but I was not aware of how to enter into services. The only thing I knew was that a graduation degree is a must before taking this exam.  Therefore I decided to pursue graduation in engineering and then go for civil services. During my final year of B tech, I realized that time has come to take important decisions for the future. I decided not to join the campus placement process and prepare dedicatedly for the civil service exam. There were strong reasons for entering into civil services which motivated me throughout the entire circle of this examination.
On a daily basis, we see a lot of things around us that are not appropriate. We often wish to correct them. Civil services give you the institutional authority to correct them. Civil services give a golden opportunity to serve the poor and repay our debt to society. These reasons motivated me to sail through this competitive examination.
Ques: Typical day in your online life?
Ans: Almost 50% of my preparation was through online sources. These include newspapers, current affairs magazines, other notes, etc. I used to spend 4-5 hours online on average on a daily basis.
Whatsapp/Telegram: I used these apps mostly to collect relevant study material, for answer writing practice and for interview preparation.
Online Study Websites/Apps: I frequently visited/used these websites/Apps:
https://www.insightsonindia.com/
Ques: What is your style of preparation and notes making?
Ans: Preparation guided by the right strategy, consistency, and hard work, constant motivation and smartness are key to crack this exam. My style of preparation strategy includes the following steps:
Step 1: Planning:
Well thought decision of entering into civil services.
Proper selection of optional subject
Proper selection of booklist or study material
Holistic strategy to tackle all three stages of exam: pre, main and interview
Analyze trends of previous years and take up previous year question papers.
Final call on every little or big decision in your preparation should be yours only.
Step 2: Reading:
You have to read a lot. There is no other option. The range of syllabus is diverse and therefore diverse reading is a must.
Before entering the examination hall, you should master your planned booklist.
Your reading must be productive and meaningful. Don't just read for the sake of reading. Focus on the input-output ratio. eg reading medieval history for 2 months is a foolish idea, you would hardly get 2-3 questions in a paper that too beyond from areas beyond your scope of reading.
Don't read unnecessary and irrelevant stuff for this exam. Strictly follow the syllabus.
After every complete round of reading, test your level of preparation by solving previous year papers (PYQ) or test series of any good institute.
In successive rounds of reading, correct your mistakes and don't switch the study material.
Step 3: Writing
You can't crack this exam just by reading, reading, and reading. What you write in mains papers that decide your entry into the final list. Therefore, ignoring answer writing practice can cost you miserably.
If you can write what you read that means you understood the topic. Therefore write what you read. Solve topic wise previous year questions.
Adhere to the word limit and increase your speed limit.
Don't write vague and irrelevant answers. Just be concise, precise and to the point.
A neat and clean write up with a good presentation would fetch you more marks. So write in points or small paragraphs, use diagrams and flowcharts if suitable.
After assessment of your answers, correct your mistakes on a daily basis.
Step 4: Revision
This is a year-long exam. So what you read today isn't there in your mental stock after a few weeks. So revise the stuff you read. For better revision note making is the key.
Note making: Before making notes, you should know the importance of making notes so watch this video. Video: Click Here
Following tips should be kept in mind :
Don't make notes of everything, this is time-consuming. Only bulky sources should be reduced in note form eg monthly current affairs magazines, economic survey, budget, and books. Books like Spectrum, Laxmikant, NCERTs are very concise already so don't make notes of these books.
Notes should be very precise, short and symbolic so that you can revise them just before the exam.
First complete one reading of the material and then make notes out of it in the second reading.
Please don't waste your time in beautifying and perfecting your notes. Whatever you make just strict to it.
This way, before I went to write the mains examination, I had limited, crisp, short and concise notes on each topic of the syllabus. This helped me to score well in mains.
So in nutshell, I repeated this circle of preparation: PLAN >READ>WRITE>REVISE>…2nd cycle….3rd cycle.
Prelims (Paper-1):
Topic
Booklist/Strategy
Ancient History
Old NCERT by RS Sharma + new NCERT ClassXII
Medieval History
NCERT Class XII
Modern History
NCERT Class XII + Spectrum
Art & Culture
Nitin Singhania's book
Polity (Theory + Current)
NCERT Class XI + Laxmikanth ( for static ), The Hindu and Vision monthly magazine (for current)
Economy (Theory + Current)
NCERT Class XI + NCERT class XII ( macroeconomics only ) + Sriram IAS notes, Mrunal's videos.

The Hindu, Vision monthly magazine, Budget and economic survey ( updated)

Science (Theory + Current)
Since my background is science, so I practically read nothing for this section. I focused only on current affairs in this section.

Reading NCERT 6 to 10th class might be helpful for non-science background aspirants.

Environment (Theory + Current)
Shankar IAS notes + Vision monthly magazine and The Hindu
Geography of India
NCERT Class XI, XII, Khullar (selective)
Physical Geography
NCERT Class XI, XII, GC Leong ( part-1 )
Geography of World
Current Affairs
The Hindu and Vision monthly magazine
Himachal GK
Mian Govardhan Singh's book
Himachal Pradesh Current Affairs
Budget, economic survey
 Prelims (Paper-2):
| | |
| --- | --- |
| Topic | Booklist/Strategy |
| Reasoning | ——— |
| English | ——— |
| Maths | ——— |
| Communication | ——— |
My background is engineering so I was sure to clear this paper without any special preparation. Further, this paper is of qualifying nature so I did not read anything special for this paper. However, this is not recommended for new aspirants who are preparing. You should solve some previous year papers before taking the actual exam.
Even for those, who find this paper difficult, they should prepare really well for this paper despite being of qualifying nature.
Ques: Did you attend any 'mock tests'? Do you think they're necessary for success?
Ans:  No, I didn't. I think mock tests can be helpful in correcting your mistakes and score better in the actual exam. Both in prelims and mains, mock tests can be immensely helpful. But they aren't necessary. If you can't afford if no coaching center is nearby … no need to worry.
In mock tests, some second person (institute) identify your mistakes and shortcomings, and you pay for it. So why don't you do it yourself and save your money? This is very much possible and I did the same thing. I did my almost entire preparation in my village where 95% of people don't know what is HAS, forget coaching and mock tests.
So mock tests are neither necessary nor sufficient to clear this exam.
Ques: Approximate no. of attempted answers vs. correct answers. in Prelim 2019:
| | | | |
| --- | --- | --- | --- |
| | Attempted questions | Correct | Official Score |
| GS | Around 80 | Around 70 | 134 |
| Aptitude | Around 50 | Around 46 | 89 |
Mains: Compulsory language Paper:
| | |
| --- | --- |
| Compulsory language Paper | Your  preparation/Strategy/Booklist |
| English | No special strategy. Just solved 2 previous year papers just before exam day. |
| Hindi | No special strategy. Just solved 2 previous year paper just before exam day. |
Ques: Other observations/tips/comments on the length/difficulty level of compulsory language papers in HAS-2018?
Ans: Please don't ignore these papers completely. This year also some candidates failed in these papers despite having good marks in other papers. Don't master these papers but be sure to score what is required ( atleast40%).
Mains: Essay Paper: 
Ques: How did you prepare for the essay paper?
Ans: I wrote a few essays on previous year topics mostly on Sundays. I believe a good essay consists of 2 parts :
Good content: For this part, you don't need to worry much. Once the syllabus of GS papers is finished, you would have sufficient content to write an essay.
Apart from this, I collected some quotes of great personalities to include in my essays.
Good presentation: Every serious candidate write good content therefore this part makes a significant difference in the final score in this paper. I worked to improve this aspect of my essays.
Some tips on presentation:
Using a variety of pens doesn't make the presentation good. I used blue pen only. You may use more than once, it's completely optional.
Essays are generally written in paragraph form not pointwise like GS papers. I wrote in paragraphs.
You may use headings or without headings, it's optional. I didn't use any headings in my essay.
You should choose the topic on which you have sufficient and good content to write.
After the selection of the topic, don't just jump to write your essay. Take 20-25 minutes to brainstorm and organize your points and prepare a rough draft before writing the actual essay.
The introduction and conclusion of your essay should be unique and catchy to attract the attention of the examiner. I used quotes and stories for the same.
Your essay should look like flowing river water. Therefore, the connection between the preceding and succeeding paragraphs is very important.
The language used should be simple, precise and to the point. Don't use slangs, difficult and technical phrases in your essay. Even if used, please define that term first.
Overall, your essay should be of an administrator's write up not of a Ph.D. scholar or expert.
Ques: Which essays did you write and what key points did you include in it?
Ans:
Kashmir – A bone of contention for India
Knowledge bereft of character is dangerous
Mains: General Studies (Paper-1):
Mains: General Studies (Paper-2):
| | |
| --- | --- |
| Topic/Unit | How did you prepare/Booklist |
| Constitution of India | Laxmikanth |
| Polity of Himachal Pradesh | Mian Goverdhan Singh' book |
| Governance in India | Current Affairs ( Vision Notes ) |
| Governance in HP | Internet + Economic Survey of HP |
| Social Issues | Vision Current Affairs |
| International Relations | Vision Current Affairs |
| International Institutions | Vision Current Affairs |
| Cybercrime/Drug menace/Socio-Economic development of HP | Internet + Economic Survey |
Mains: General Studies (Paper-3):
| | |
| --- | --- |
| Topic/Unit | How did you prepare/Booklist |
| Indian Economy | Sriram IAS notes + Current Affairs |
| Schemes and Important Institutions of the World | Current Affairs |
| Economy of HP | Economic survey of HP + Budget |
| Science and Technology | Currrent Affairs |
| Energy Sector of India | Internet |
| Science and Technology/IT/Biodiversity in HP | Internet |
| Environment Science | ShankarIAS |
| Agriculture and Horticulture | Vision notes |
| Tourism Sector in HP | Internet |
Most of the study material of Prelim is also useful for mains.
Ques: How was your experience with the 'fixed space' answer sheet?
Ans: Fixed space answer sheets compel you to write with caution. So, answer writing practice help a lot here.
Ques: Did you write answers in bullet points or in paragraphs? Some players were claiming that they wrote an entire paper in bullet points, so it doesn't matter whether the examiner is asking 'examine, comment, discuss or XYZ'. Simply write in bullets and points.
Ans: I wrote both in paragraphs and bullet points form as per the requirement of questions. I think every suffix used in questions ( examine, comment, etc ) has a different meaning and purpose and there can't be equal treatment of all. So, it matters.
Ques: Did you follow the "introduction-body-conclusion" format? Because some mains-qualified candidates claim they simply wrote the points they could recall within the time, instead of bothering with proper introduction and conclusion.
Ans: Again format of the answer depends upon the type of question. In 20 marks question, I used this format. But in 8 marks or 5 marks, this format isn't suitable sometimes. But, a good introduction and conclusion fetch you more marks.
Ques: I don't like asking the following rudimentary questions, but these are the most frequently asked questions by new aspirants. 
Did you use highlighter/sketch-pen in your answers?-  No
Did you draw any diagram in any paper? –  Yes, in almost all GS papers + optional.
If yes, did you draw a diagram with a pen/pencil? – Pen
Did you use a ruler? – No
Did you write with a Blue or a Black pen? – Blue
Mains: Optional Subject
Ques: What's your optional subject and why did you chose it and not something else?
Ans: Geography. This subject is very interesting and also has overlap with GS papers. So I selected this subject. The selection of optional subjects is a very important decision in this preparation. So please consult toppers or someone who knows the current pattern of optional.
Ques: If a new player wants to pick your subject, would you advice for it or against it?
Ans:  Geography is very good optional. But you have to put in a lot of hard work to score well in this subject. Also, the syllabus is too vast. Now the choice is yours.
Ques: Essential book/resource list for the optional you have read:
Ans: 
Nittu Singh Class notes
Ques: How much of internet-research / current affairs is necessary for this optional? OR can one simply rely on the books and be done with this subject?
Ans: Current Affairs along with theory form a very important part of this optional. One cant rely on books only. Nowadays questions are being asked more on current affairs.
Ques: How many months did it take to finish the core optional syllabus?
Ans: 4 months / 6 hours a day.
Ques: How many days/weeks before the exam, you started answer writing practice?
Ans: I did answer writing before prelims also. After that also till mains daily.
Ques: Do you maintain self-notes for revision of optional? In which format- electronic or paper?
Ans:  Yes. In both formats.
Ques: Your observation about the difficulty level of 2018 mains vs previous papers. And what precautions/rectifications are necessary for the future strategy for given optional subject?
Ans:  Questions asked were not direct like previous papers. Also, I would rate the difficulty level somewhat higher than previous papers. Please cover each topic of the syllabus carefully, don't leave anything and focus on current affairs.
 Before the Interview:
Ques: How did you prepare for the interview for college grad, hobbies, place of origin, and current affairs at the national and international level?
Ans: I made short notes on these things along with a daily newspaper.
Ques: Did you attend any mock interviews by coaching classes? How were they similar/different than official interview? Do you believe it is necessary to attend such mock interviews?
Ans: No.
Ques: Describe the formal-dress worn by you in the interview.
Ans: Sky blue Trouser and blazer, white shirt, maroon tie, black shoes.
During the interview:
Ques: Who was the chairman of your interview board?
Ans: Mr. DVS Rana
Ques: How long was the interview?
Ans:  Approx. 30 min
Ques: Please narrate your entire interview- what questions did they ask and what did you reply and other pleasant or uncomfortable experiences during the interview.
Ans: It was a great and enjoyable experience. I am not able to narrate but here is a little description about it. There were 4 members on the interview board. The board was very cordial. The range of questions asked was mostly opinion based and of personal nature. I was asked questions on topics like current affairs, international relations, defence, agriculture, and education sectors.
Yes, there were uncomfortable moments. I want to convey to new aspirants that it's perfectly fine to be uncomfortable in the interview room but you should be able to manage the things right. Sometimes they deliberately make you uncomfortable to test your personality so it's an opportunity to show your personality skills.
Ques: Was your interview on the expected lines of what you had prepared or did they ask you totally unexpected questions? Was it a stress interview, did they ask any uncomfortable questions? If yes, how did you handle it?
Ans: Yes, it was on expected lines. I was asked a lot of questions about stuff I had filled in the interview form. No, it wasn't a stress interview, in fact, the interview board was very cordial.
Yes, they asked uncomfortable questions. Those questions, I didn't know, I apologized not to answer them.
 Your mark sheet: 
| | |
| --- | --- |
| Subject | Marks Secured |
| Prelims (Paper-1) | 134 |
| Prelims (Paper-2) | 89 |
| Mains Subjects: | |
| English | 42 |
| Hindi | 60 |
| Essay | 53 |
| General Studies -1 | 97 |
| General Studies -2 | 91 |
| General Studies -3 | 108 |
| Optional (P-1) | 69 |
| Optional (P-2) | 65 |
| Written Total | 483 |
| Interview | 110 |
| Final Score | 593 |
Career Backup Plan:
Ques: If you were not selected, what was your career backup plan?
Ans: I had kept no 2nd option knowingly. This is a personal decision of an individual whether to keep a backup option or not.
The struggle of a Senior Player/Junior Player:
Ques: How did you survive through this mental prison of HAS and what're your words of wisdom to other senior players/Junior Players? If any specific inspirational incident(s), please share.
Ans: I think this preparation isn't a mental prison. It can be good or worse than that depending upon the aspirant. But one should treat it in a positive sense. The examination is a yearlong process and very exhausting so keeping yourself motivated throughout is a tough job. There are occasions where you feel low, disheartened and demotivated. Here comes the role of family, friends and selected candidates like us to guide and rejuvenate such aspirants.
I personally learnt a lot through this examination. I take this as a blessing. This time was undoubtedly tough but the experience is a reward.
For seniors players: You are here because you have done some mistakes in your previous attempts. Accept them and correct them. Make a revised plan for the next attempt. Execute it well and you would be on the other side of the table.
For junior players: Strategize your plan of action, keep yourself motivated and do consistent hard work. It is difficult but doable. If I can crack this exam in 1st attempt then anyone of you can do so.
Grand Wisdom:
Ques: People know what books and syllabus points are to be prepared. But most of them lack consistency in their preparation. So, how do you keep study momentum going on? How do you fight against the mood swings and distractions?
Ans: Consistency is the key to success not only in this exam but in any field of life. But being consistent with a hectic preparation schedule is a very tough job. Mood swings and distractions are common and applicable to every aspirant. To maintain consistency in your preparation I recommend the following:
Your idea of entering into services should be crystal clear, why this exam? If you have a meaningful answer to this question that will keep your spirit up in odd situations.
Please restrict your social spread to a minimum number of reliable people (family and close friends) around you during preparation. Avoid people whose only job on this planet is to demotivate, distract, discourage and dishearten others.
Don't make small foolish excuses to yourself otherwise, you would face bad consequences. Be honest to yourself and give your 100%.
Take small breaks to say one day in a week to rejuvenate yourself.
Meditation or pursuing a hobby can be a good way to manage things.
You are not a machine so don't be hard to yourself. Results are not in your hand but all efforts in the right direction is what you should impart to the fullest. No aspirant is isolated from distractions and that's perfectly fine. But early you learn to manage your things better it is for you. You will have an edge over other aspirants.
Ques:  Through this struggle and success, what have you learned? What is the wisdom of life and competition? What is your message to the new aspirants/veteran aspirants?
Ans: Undoubtedly this examination is a tough journey and when the journey is tough you learn many important lessons as experiences. This journey taught me a lot of learnings about people and things around me and life in general. These lessons would help me throughout my life to navigate in the right direction.
Message: I strongly believe in the concept of sthitaaprajana. In bhagvatageeta, Krishna told Arjuna to be stithaprajana. Sthitaprajana means that success and failure are not two separate things. Where there is success there is definitely a long list of failures. Therefore in success, we should not cross limits of enjoyment and in failures we should not doubt our capacity and ourselves.
Therefore in life, there is a continuous series of successes and failures as a whole. We should not waste our precious time counting failures and successes in life. Keep rebouncing to life challenges. Just live it with pride and respect.
Ques: Last year many hardworking candidates have failed in Mains/Interview. They're feeling cynical, hopeless and depressed- what is your message to them?
Ans: It is no doubt painful when your efforts don't yield desired outcomes. But life as a whole is a spectrum of many small and big failures and successes and it's a continuous phenomenon. This failure in this exam should not stop your life. Please get used to this pattern of failures and successes. After every failure, your attitude should be to accept it, assess yourself and bounce back with double force. Sometimes in life, you have to take a few steps back and then make a big jump forward. So, take this failure in a positive sense to improve yourself and surely there is no need to be hopeless and depressed.
Credits: Family/Friends:
Ques: Behind every qualified candidate, there are many people who stood by during those uncertain times when he/she was merely an 'aspirant'. Would you like to tell the world, who were those people in your case? Any specific incidents that you would like to share with the readers?
Ans:  No doubt, cracking examination like this requires the backend support of a lot of people. Mentioning a few names wouldn't do justice here because there is a long list of them including family, teachers, friends, relatives and many more. But undoubtedly my mother was first among all, who was there to inspire me always, rejuvenate me when I felt demotivated. She put in so much backend efforts that it was like her exam, not mine.
You are well aware of the sacred rule of conducting interviews of qualified candidates- the last question must be about self-marketing. So, Did you use www.hpgeneralstudies.com for your preparation and if yes, how did it help you? And you can even reply "No".

Ans: Yes , I had limited time to cover my HP portion of GS papers. Therefore I covered many topics of this part from your website. HP General Studies is a good platform and I personally appreciate your efforts and recommend new aspirants to make use of your website in their preparation.
HP General Studies remarks:
Thank-you Mr. Hem Raj for giving us your precious time. Hopefully, this interview will help thousands of aspirants who have been preparing for the HAS exam. 
We wish you a great future ahead.
For HAS/HPAS guidance or queries, you can Join Mr. Hem Raj on his Telegram Channel Purehost.

Link Here: https://telegram.me/HASguidance
Stay updated with us:

Click here to join our Telegram Channel