Interview by HP General Studies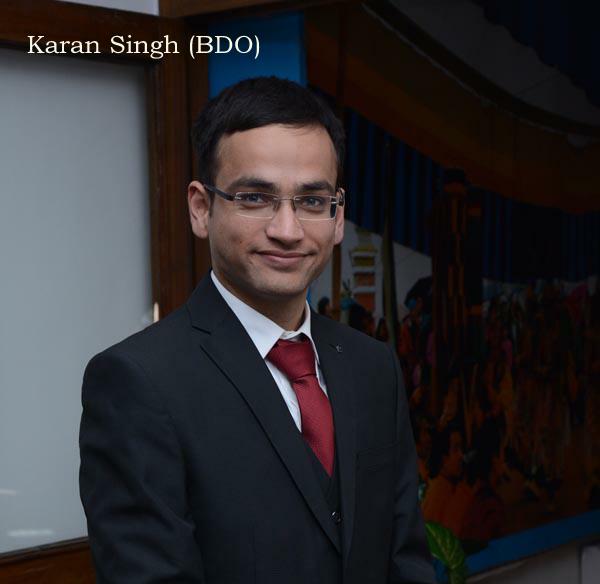 Candidate Profile:
Name
Karan Singh
Rank in HAS
30
Roll No
11008964
Age
27
Marital Status
Unmarried
Total Attempts in HAS
3; 1st mains and interview
Optional Subject
Economics
Schooling Medium
English
College Medium
English
Medium Chosen for Mains Answers
English
Medium Chosen for Interview
English
Hometown/City
Ghumarwin, Bilaspur
Work Experience if any
Worked as SBI PO-Mumbai circle(2016 batch); Quit in 2017
Details of other competitive exams, including success and failures
UPSC CSE-2 Mains;

SBI PO-Final Selection;

NYKS DYC/Assistant Director- Final Selection;

HPPSC Assistant Professor (Economics)-Gave interview, not selected;

Qualified UGC NET-JRF, HPPSC SLET in 2016

Details of coaching/mock tests/postal material for this exam (if used)
Khan Study Group(KSG) foundation course;

HPAS Mains test series and Value Addition material by Mr Ramankant Sharma

Services preference
HPAS>Tehsildar>BDO>ETO>DFSC>AR
Education:
| | |
| --- | --- |
| %age in class 10 | 84.67 |
| %age in class 12 | 93.25 |
| Graduation course and %age | B.A.(H) Economics-58.80 |
| Name of college, city and passing out year | Hindu College, University of Delhi-2012 |
| Post Graduation | M.A. Development Economics- South Asian University, New Delhi |
| Any other course | – |
| Hobbies and extra-curricular achievement | Watching movies and TV Series; Traveling |
Introduction: 
Ques: Tell us something about yourself, your family, when and why did you enter in this field of competitive exams?
Ans: I belong to a middle-class family and have been brought up mainly in Shimla city as my parents who were both in government service were posted here since 1997. I started my preparation for competitive exams after I decided not to pursue a career in academics in 2015 as I came to believe that civil services are a more direct and effective way to serve the society.
Ques: A typical day in your online life?
Whatsapp/Telegram: Didn't use for study purpose.
Online Study Websites/Apps: freeupscmaterial.org
Ques: What is your style of preparation and notes making?
Ans: I try to cover a given topic from a single source and make multiple revisions of the same. I don't generally prepare notes but I did prepare notes for some very specific units of HPAS Mains (e.g.-land reform legislations in HP) and my optional subject. While making notes, I try to summarize the material into multiple headings followed by points which are easier to remember.
Prelims (Paper-1):
| | |
| --- | --- |
| Topic | Booklist/Strategy |
| Ancient History | Tamilnadu ncert-class 11 |
| Medieval History | Tamilnadu ncert-class 11 |
| Modern History | Spectrum |
| Art & Culture | Didn't study |
| Polity (Theory + Current) | M Laxmikanth + Vision IAS PT 365 |
| Economy (Theory + Current) | Sriram IAS notes+ Vision IAS PT 365 |
| Science (Theory + Current) | Vision IAS PT 365 |
| Environment (Theory + Current) | Shankar IAS book + Vision IAS PT 365 |
| Geography of India | Class 11 NCERT |
| Physical Geography | Class 11 NCERT+ G.C. Leong |
| Geography of World | Oxford Atlas + G.C. Leong |
| Current Affairs | Vision IAS PT 365+ Economic Survey of India + Budget speech |
| Himachal GK | Small HP GK book by HG Publications (not recommended, Himachal Darpan is much better as I came to know later) |
| Himachal Pradesh Current Affairs | Economic Survey of HP + HP Budget speech+ Amar Ujala newspaper daily reading |
Prelims (Paper-2):
| | |
| --- | --- |
| Topic | Booklist/Strategy |
| Reasoning | Didn't prepare |
| English | Didn't prepare |
| Maths | Didn't prepare |
| Communication | Didn't prepare |
Ques: Did you attend any 'mock tests'? Do you think they're necessary for success?
Ans: I practiced around 35 mock tests of reputed UPSC CSE coaching institutes (freely available on many online websites); and around 12 mock tests for HPAS Mains. In my opinion, mocks are very important for prelims and especially for mains; in fact, a lack of answer writing practice was the main reason for my failure in 2 UPSC mains examination.
Ques: Approximate no. of attempted answers vs. correct answers. in Prelim 2017:
| | | | |
| --- | --- | --- | --- |
| | Attempted questions | Correct | Official Score |
| GS | 75 | 62 | 118 |
| Aptitude | Around 80 | Didn't check | 128 |
Mains: Compulsory language Paper:
| | |
| --- | --- |
| Compulsory language Paper | Your  preparation/Strategy/Booklist |
| English | Didn't Prepare |
| Hindi | Hindi Vyakaran and Rachna by HG Publication |
Ques: Other observations/tips/comments on the length/difficulty level of compulsory language papers in HAS-2017?
Ans: Both English and Hindi paper were moderate in terms of difficulty.
Mains: Essay Paper: 
Ques: How did you prepare for the essay paper?
Ans: No specific preparation apart from preparing a list of quotes on 7-8 generic topics.
Ques:  Which essays did you write and what key points did you include in it?
Ans: Indo-Pak relations and Agrarian distress.
Mains: General Studies (Paper-1):
Mains: General Studies (Paper-2):
Mains: General Studies (Paper-3): 
| | |
| --- | --- |
| Topic/Unit | How did you prepare/Booklist |
| Indian Economy | Same as prelims |
| Schemes and Important Institutions of the World | Same as prelims |
| Economy of HP | Economic Survey of HP+Budget Speech+Himachal by Nidhi Soni |
| Science and Technology | Self Notes using the internet |
| Energy Sector of India | Self Notes using the internet |
| Science and Technology/IT/Biodiversity in HP | Himachal by Nidhi Soni |
| Environment Science | Same as prelims |
| Agriculture and Horticulture | Himachal by Nidhi Soni |
| Tourism Sector in HP | Himachal by Nidhi Soni |
Ques: How was your experience with the 'fixed space' answer sheet?
Ans: My experience was pleasant as the fixed space helps in time management (one cannot write too much in a single question even if you know the question very well). It also gives a level playing field to candidates who prioritize quality over quantity.
Ques: Did you write answers in bullet points or in paragraphs? Some players were claiming that they wrote the entire paper in bullet points, so it doesn't matter whether examiner is asking 'examine, comment, discuss or XYZ'. Simply write in bullets and points.
Ans: I try to use bullet points as much as possible. However, if I don't know a specific question very well, I use paragraph; I also write some questions I know well in paragraph so that the lack of quality in paragraph answers is not apparent to the examiner, so in the end my answer sheet usually ends up being 60:40 (bullet point answers: paragraph answers).
Ques: Did you follow the "introduction-body-conclusion" format? Because some mains-qualified candidates claim they simply wrote the points they could recall within the time, instead of bothering with proper introduction and conclusion.
Ans: I followed this format mainly in the 20 marks questions and in the optional papers. It is hard to use it in 4 and 8 markers as following it there in the fixed writing space can sometimes mean that you get away from the requirement of the question.
I don't like asking following rudimentary questions, but these are the most frequently asked questions by new aspirants.
Did you use highlighter/sketch-pen in your answers? – No
Did you draw any diagram in any paper? – Flow charts in some questions
If yes, did you draw a diagram with pen/pencil? – Pen
Did you use a ruler? – No
Did you write with Blue or a Black pen? – Black pen
Mains: Optional Subject
Ques: What's your optional subject and why did you chose it and not something else?
Ans: Economics-have studied it for 9 years (school+college+university).
Ques: If a new player wants to pick your subject, would you advise for it or against it?
Ans: I would advise against it; it can be time-consuming for a newcomer.
Ques: Essential book/resource list for the optional you have read:
Ans: Pretty much followed Abhimanyu Gehlot Sir's strategy to the word:
Here's the link to his well-explained booklist
https://reluctanteconomistblog.wordpress.com/econ-p1/
https://reluctanteconomistblog.wordpress.com/econ-p2/
Ques: How much of internet-research / current affairs is necessary for this optional? OR can one simply rely on the books and be done with this subject?
Ans: Current affairs, especially the economic survey and budget, are indispensable for Paper 2; relying on books can mean that you will miss out around 70% of the questions. However, Paper 1 is 100% book based.
Ques: How many months did it take to finish the core optional syllabus?
Ans: 2.5 months in my 1st UPSC mains attempt; 2 months in 2nd; 25 days in 1st HPAS(2017) Mains
Ques: How many days/ weeks before the exam, you started answer writing practice?
Ans: Didn't practice answer writing for optional.
Ques: Do you maintain self-notes for revision of optional? In which format- electronic or paper?
Ans: Paper-based self notes for selected units.
Ques: Your observation about the difficulty level of 2017 mains vs previous papers. And what precautions/rectifications are necessary for the future strategy for given optional subject?
Ans: The difficulty level in Paper 1 was higher as a lot of unconventional, application-based questions which were unexpected in HPAS were asked this time. However, Paper 2 was a cakewalk this time. A precaution for the future would be covering every topic of the syllabus well and not relying solely on the past year question papers.
Before the Interview:
Ques: How did you prepare for the interview for college grad, hobbies, place of origin, and current affairs at the national and international level?
Ans: I followed the news diligently for current affairs and also read the latest Vision IAS monthly magazines. I read Himachal Darpan for HP static GK and place of origin information. No specific preparation for hobbies, college grad.
Ques: Did you attend any mock interviews by coaching classes? How were they similar/different than official interview? Do you believe it is necessary to attend such mock interviews?
Ans: I attended two mock interviews-one at Raman Academy and one at Jokta Academy. Both mock interviews were pleasant experiences and provided me confidence for the official interview. The official interview was a bit more 'uncomfortable' as more grilling questions were asked. Mock interviews can be helpful for those candidates who are not well aware of the shortcomings in their DAF, current affairs and specific personality traits, given that they have sufficient time and inclination to work on the suggestions.
Ques: Describe the formal-dress worn by you in the interview.
Ans: Formal Suit with a tie.
During the interview: 
Ques: Who was the chairman of your interview board?
Ans: Major General (Retd) DVS Rana Sir
Ques: How long was the interview?
Ans: Around 40 minutes.
Ques: Please narrate your entire interview- what questions did they ask and what did you reply and other pleasant or uncomfortable experiences during the interview.
Ans: The questions revolved around the following themes:
My personal profile
India's internal and external security.
HP's Economy
Specific questions on topics such as GST, PMAY, etc.
Ques: Was your interview on the expected lines of what you had prepared or did they ask you totally unexpected questions? Was it a stress interview, did they ask any uncomfortable questions? If yes, how did you handle it?
Ans: The interview was on expected lines; the panel did put pressure on several occasions; in my opinion, I handled it well and continued answering their questions with composure.
Your mark sheet:
| | |
| --- | --- |
| Subject | Marks Secured |
| Prelims (Paper-1) | 118 |
| Prelims (Paper-2) | 128 |
| Mains Subjects: |   |
| English | 63 |
| Hindi | 64 |
| Essay | 50 |
| General Studies -1 | 74 |
| General Studies -2 | 83 |
| General Studies -3 | 97 |
| Optional (P-1) | 75 |
| Optional (P-2) | 74 |
| Written Total | 453 |
| Interview | 70 |
| Final Score | 523 |
Career Backup Plan:
Ques: If you were not selected, what was your career backup plan?
Ans: Return to a career in academics.
Ques: When were you going to "execute" that backup plan? (E.g. after __ number of failed attempts/ after I cross __ age/ after dad retires/ after girlfriend/boyfriend dumps me J etc.)
Ans: If I had failed till June 2020.
The struggle of a Senior Player/Junior Player:
Ques: How did you survive through this mental prison of HAS and what're your words of wisdom to other senior players/Junior Players? If any specific inspirational incident(s), please share.
Ans: I believe that preparing for Civil services is mainly a test of your mental strength than your intellect as with hard work and composure, just about anyone can crack this exam. I had my fair share of ups and downs during the preparation-challenges such as the inner voice that keeps asking 'are you good enough?', societal pressures, phases where the productivity dips greatly, etc, which are almost common for all candidates who prepare for this exam were my companions as well as a small group of loyal college-time friends as well as support from the family made my journey easier but ultimately it was confidence in my ability that paid off.
Ques: What went wrong in your previous attempt? What changes did you make in this current attempt?
Ans: The most significant roadblock I faced was the HPAS prelims as I did not prepare HP GK well enough in the previous attempts. I couldn't prepare HP GK well enough this time as well for prelims but I made sure that I was more composed in the exam hall this time and attempted lesser questions than in previous attempts (75 instead of 90+). As for the mains, this was my first HPAS mains but I learnt from my previous experience in UPSC mains and practiced answer writing thoroughly.
The struggle of a Working Professional:
Ques: If you're a working professional, share some tips on how to manage studies with a job?
Ans: I quit my job to prepare full time for UPSC in 2017.
Grand Wisdom:
Ques: People know what books and syllabus points are to be prepared. But most of them lack consistency in their preparation. So, how do you keep study momentum going on? How do you fight against the mood swings and distractions?
Ans: I faced significant difficulty in maintaining this consistency. The only tip I can offer here is that make realistic study targets so as to keep frustration away e.g.- I made study plans of 5 hours a day during times when the exam was far off which increased automatically when the exam got closer. Talking to a close group of friends and family members (who are your well wishers) at regular intervals can also help remind you what is at stake and keep the momentum going. As for the mood swings and distractions, there is no universal formula to keep them at bay, my personal coping mechanism was to spend time watching movies and tv-series whenever I felt down.
Ques: Through this struggle and success, what have you learned? What is the wisdom of life and competition? What is your message to the new aspirants/veteran aspirants?
Ans: My learning is that the ultimate goal of life is 'happiness' and not cracking xyz exam or something else. There are countless people in top jobs such as IAS, CEO, etc who are unhappy and at the other end of the spectrum-many people who barely have two square meals a day but are very happy. So while ambition is not bad, it should not become a cause of unhappiness; also, the sacrifices that go into realizing the ambition should not be so great that success does not bring adequate happiness. Finally, don't put your life on hold/forget to live while preparing for the exam, because we don't know what the future holds and as poets say therein lies the foremost marvel of life
Ques: In 2017, Many hardworking candidates have failed in Mains/Interview of HAS-2017. They're feeling cynical, hopeless and depressed- what is your message to them?
Ans: The HPAS exam and for that matter, UPSC CSE is highly unpredictable and you can never be sure of success. All that we can do is work hard and keep doing so till we attain the desired result. While all this is easy to say, I know with a personal experience that it is very hard to bounce back after failure in mains/interview. Taking small breaks from preparation to do what one loves can help to bounce back stronger.
Credits: Family/Friends:
Ques: Behind every qualified candidate, there are many people who stood by during those uncertain times when he/she was merely an 'aspirant'. Would you like to tell the world, who were those people in your case? Any specific incidence that you would like to share with the readers?
Ans: As I mentioned above, my family and my small group of friends were my rock pillars. A special mention and thanks also goes to Mr. Ramankant Sharma who is a very hard working and sincere teacher and helped me to great effect through his HPAS mains test series and value-added material.
Ques: You are well aware of the sacred rule of conducting an interview of qualified candidates- the last question must be about self-marketing. So, Did you use www.hpgeneralstudies.com for your preparation and if yes, how did it help you? And you can even reply "No".
Ans: I came to know about this website just before the interview and used it to glance over the HP current affairs. It is a great initiative and can prove to be very useful for aspirants.
HP General Studies remarks:
Thank-you Mr. Karan Singh for giving us your precious time. Hopefully, this interview will help thousands of aspirants who have been preparing for HAS exam. 
We wish you a great future ahead.