Interview by HP General Studies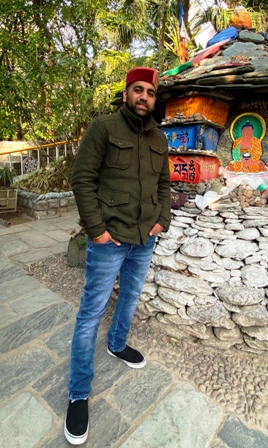 Candidate Profile:
Name
PRATYUSH CHAUHAN
Rank in HAS
11th
Roll No
80501314
Age
28
Marital Status
Happily Married 🙂
Total Attempts in HAS
3rd
Optional Subject
Anthropology
Schooling Medium
English
College Medium
English
Medium Chosen for Mains Answers
English
Medium Chosen for Interview
English
Hometown/City
Hamirpur
Work Experience if any
1. Trainee Officer in Merchant navy- 1.5 years

2. Infosys- 4 Months

3. Assistant Director / Project Manager, Department of Industries, Govt of HP- 3 years 7 months

Details of other competitive exams, including success and failures
1. IBPS PO 2016: Got Punjab National Bank but didn't join

2. Failed IAS Main Exam 2016 and 2017 and IFS Main Exam 2017

3. Cleared HPPSC Project Manager DIC 2016

4. Cleared HP Subordinate Allied Services Mains twice but didn't appear for interview both times

5. Cleared NT Pre, didn't appear for main

6. Qualified GATE 2014 with 96 percentile

7. NDA Medical Out

8. IGNOU OPENNET Exam for Merchant Navy All India Rank 3

Details of coaching/mock tests/postal material for this exam (if used)
Self-study
Services preference
1.HAS 2.BDO 3.DTO 4.ARCS 5.ETO 6.TO 7.TEHSILDAR
Education:
| | |
| --- | --- |
| %age in class 10 | 86.8 |
| %age in class 12 | 78 |
| Graduation course and %age | B.Tech in ECE ; 80% |
| Name of college, city and passing out year | Jaypee University of Information Technology Waknaghat, 2014 |
| Post Graduation | M.Tech in Signal Processing and Control Engineering, NIT Hamirpur, 2016 |
| Any other course | Diploma in Nautical sciences, Training Ship Chanakya, Indian Maritime University (Mumbai Campus) |
| Hobbies and extra-curricular achievement | Reading about latest technologies, hiking, trekking, listening to music, watching movies and TV series, Member of winning team at SPL Cricket league at NIT Hamirpur, |
Introduction:
Ques: Tell us something about yourself, your family, when and why did you enter in this field of competitive exams?
Ans: Hi Everyone! I am Pratyush Chauhan.I am from Hamirpur. My early schooling happened in different places in HP and 10th and 12th is from DAV Hamirpur. After 12th, I joined TS Chanakya as Trainee Navigating Officer Cadet but unfortunately due to some family issues, I had to leave the course midway. Thereafter, I did my BTech in ECE from JUIT Waknaghat and joined Infosys after completion. In graduation, I had planned to prepare for civil services but wanted some backup plan to be in place first, as there is a lot of uncertainty in civil services. At Infosys, the atmosphere was not what I had expected. I had appeared for GATE earlier and got a seat at NIT Hamirpur. So, I left Infy and joined MTech. There, I simultaneously prepared for competitive exams. I wrote my first HPAS and IAS Mains in 2016 but couldn't clear both. However, in the final year, I was selected as Project Manager DIC. I also got selected as PO in PNB but opted for state govt. services. Currently, I am preparing for HPAS and IAS along with the job. I am also a Chartered Engineer and Member of The Institution of Engineers (India). Both my grandfather and father retired from govt service. My mother is currently in service. My wife is also serving as AE, PWD in Uttarakhand.
Ques: Typical day in your online life?
I read The Hindu online; prepare current affairs from different websites.
Whatsapp/Telegram: I use Telegram for study materials.
Online Study Websites/Apps: I use insights and gktoday for preparation.
Ques: What is your style of preparation and notes making?
Ans: I prepare notes for current affairs and important topics from a mains point of view. I refer to standard books for the static part.
Prelims (Paper-1):
| | |
| --- | --- |
| Topic | Booklist/Strategy |
| Ancient History | Tamil Nadu Board History book/NCERT Old Syllabus |
| Medieval History | Tamil Nadu Board History book/NCERT Old Syllabus |
| Modern History | Spectrum's Modern India |
| Art & Culture | Tamil Nadu Board History book/ NCERT Old Syllabus |
| Polity (Theory + Current) | M. Laxmikanth's Indian Polity |
| Economy (Theory + Current) | Sriram IAS Economy notes and Mrunal's Videos |
|  Science (Theory + Current) | Lucent's GK |
| Environment (Theory + Current) | Shankar IAS Environment book |
| Geography of India | NCERT 11th and 12th Geography |
| Physical Geography | NCERT 11th and 12th Geography |
| Geography of World | NCERT 11th and 12th Geography |
| Current Affairs | Gktoday and insights |
| Himachal GK | Jokta Academy's HP GK Book |
| Himachal Pradesh Current Affairs | Newspapers/Internet |
 Prelims (Paper-2):
| | |
| --- | --- |
| Topic | Booklist/Strategy |
| Reasoning | R S Agarwal |
| English | No particular book |
| Maths | R S Agarwal |
| Communication | No particular book |
Ques: Did you attend any 'mock tests'? Do you think they're necessary for success?
Ans: Not anything special for HPAS but solved some IAS previous year papers.
Ques: Approximate no. of attempted answers vs. correct answers. in Prelim 2019:
| | | | |
| --- | --- | --- | --- |
| | Attempted questions | Correct | Official Score |
| GS | Around 80 | – | 136.00 |
| Aptitude | Around 75 | – | 145.33 |
Mains: Compulsory language Paper:
| | |
| --- | --- |
| Compulsory language Paper | Your preparation/Strategy/Booklist |
| English | UPSC Previous year papers + English Grammar |
| Hindi | UPSC Previous year papers + Hindi grammar |
Ques: Other observations/tips/comments on the length/difficulty level of compulsory language papers in HAS-2018?
Ans: Compulsory papers are not much demanding but need a bit of effort. They can't be ignored completely. One must go through Previous year papers and Hindi grammar must be prepared well.
Mains: Essay Paper: 
Ques: How did you prepare for the essay paper?
Ans: Essay requires dedicated effort. Everyone writing mains can write 1000 words on any topic but a good essay needs planning and articulation. I went through UPSC toppers sample answer sheets to get ideas on how to write a good essay. It certainly helped me in mains.
Ques: Which essays did you write and what key points did you include in it?
Ans: I wrote on Skilling Youth and Electoral reforms. Since I am currently in Industries Dept, I had data and information on various schemes for skilling and employment generation and linked it to Make in India, Digital India, etc. For Electoral reforms, I quoted some commissions, provisions of RPA 1950,1951, etc.
Mains: General Studies (Paper-1):
| | |
| --- | --- |
| Topic/Unit | How did you prepare/Booklist |
| History perspective of Indian Culture heritage | Tamil Nadu Board History book/Internet |
| World History | NCERT book |
| History of Himachal | Jokta Academy HP GK, Blokhra |
| Disaster Management | Nothing in particular |
| Indian Geography | NCERTbooks |
| Geography of Himachal Pradesh | Jokta Academy HP GK, Blokhra |
| Indian Society | Covered in Anthropology optional |
| Ethics/Gandhian Thoughts | Internet |
| Society and Culture of HP | Jokta Academy HP GK, Blokhra |
Mains: General Studies (Paper-2):
Mains: General Studies (Paper-3):
| | |
| --- | --- |
| Topic/Unit | How did you prepare/Booklist |
| Indian Economy | Current affairs, internet |
| Schemes and Important Institutions of the World | Current affairs, internet |
| Economy of HP | Jokta Academy HP GK, Blokhra, Economic Survey of HP |
| Science and Technology | Current affairs, internet |
| Energy Sector of India | Current affairs, internet |
| Science and Technology/IT/Biodiversity in HP | Current affairs, internet |
| Environment Science | Shankar IAS Environment book, Current affairs, internet |
| Agriculture and Horticulture | Current affairs, internet, Jokta Academy HP GK, Blokhra |
| Tourism Sector in HP | Jokta Academy HP GK, Blokhra |
Ques: How was your experience with the 'fixed space' answer sheet?
Ans: I like the fixed space concept. My experience with IAS mains also helped me to handle what to write in these fixed spaces in less time. Since everyone has the same amount of space, one needs to be exact in what needs to be written.
Ques: Did you write answers in bullet points or in paragraphs? Some players were claiming that they wrote an entire paper in bullet points, so it doesn't matter whether the examiner is asking 'examine, comment, discuss or XYZ'. Simply write in bullets and points.
Ans: I used a mixture of both. It depends on what question has been asked rather than simply using bullet points for all questions. However, around 70-80% of my answers were in point format.
Ques: Did you follow the "introduction-body-conclusion" format? Because some mains-qualified candidates claim they simply wrote the points they could recall within the time, instead of bothering with proper introduction and conclusion.
Ans: Except for 4 markers, I tried to use the "introduction-body-conclusion" format in all answers.
Ques: I don't like asking the following rudimentary questions, but these are the most frequently asked questions by new aspirants. 
Did you use highlighter/sketch-pen in your answers? – NO
Did you draw any diagram in any paper? – Yes, diagrams, flowcharts, blocks all can give an edge to your answers. – I used them frequently in my answers.
If yes, did you draw a diagram with a pen/pencil? – Mostly pen.
Did you use a ruler? – NO
Did you write with a Blue or a Black pen? – Black for headings, Blue for body
Mains: Optional Subject
Ques: What's your optional subject and why did you chose it and not something else?
Ans: I opted Anthropology this time. Earlier I had written mains with Geography.
But it was not enough to put me in the final list. Anthropology involves a bit of the ancient history of mankind and some biology which can get good marks if proper diagrams and figures are used. I didn't do well in paper II of optional probably because, I didn't practice writing anthropology answers for paper II.
Ques: If a new player wants to pick your subject, would you advice for it or against it?
Ans: Yes. Anthropology involves the ancient history of mankind and human biology which can get good marks if proper diagrams and figures are used. The society portion is also very interesting. You cannot be bored while going through it.
Ques: Essential book/resource list for the optional you have read:
Ans: Since I changed optional this year, I was only able to go through handwritten notes of Sosin maam. I read them cover to cover 2-3 times before mains. I downloaded pdf versions of some books and read some topics from them.
Ques: How much of internet-research / current affairs is necessary for this optional? OR can one simply rely on the books and be done with this subject?
Ans:  IMHO the Internet is indispensable for civil services. 1-2 websites for current affairs and important articles are necessary to have an advantage over others.
Ques: How many months did it take to finish the core optional syllabus?
Ans: 3-4 months
Ques: How many days/weeks before the exam, you started answer writing practice?
Ans: No special practice but had written IAS/IFS last year so I was comfortable with writing.
Ques: Do you maintain self-notes for revision of optional? In which format- electronic or paper?
Ans: No.
Ques: Your observation about the difficulty level of 2018 mains vs previous papers. And what precautions/rectifications are necessary for the future strategy for given optional subject?
Ans: The questions were almost identical to last year. There were people in mains who had guessed accurately what questions will come in GS papers. So, I think the questions need to be checked if they are being repeated. Analytical questions were very less and people who had mugged up previous year papers did well this time. Also, I think there is no point in asking 20 markers. UPSC pattern in GS should be followed by HPPSC. For anthro, I think more efforts are needed in paper II as it is more dynamic.
Before the Interview:
Ques: How did you prepare for the interview for college grad, hobbies, place of origin, and current affairs at the national and international level?
Ans: My Wedding was in the same week as the interviews so I prepared only my DAF; had some examples ready for everything in the DAF. Nothing much beyond that.
Ques: Did you attend any mock interviews by coaching classes? How were they similar/different than official interview? Do you believe it is necessary to attend such mock interviews?
Ans: No. I was busy at my wedding preparations. So, I didn't get much time for interview preparation. My interview was on the same day as my reception; I had to get the Interview Date changed. It was postponed by a day.
Ques: Describe the formal-dress worn by you in the interview.
Ans: I wore a blue-colored formal suit.
During the interview:
Ques: Who was the chairman of your interview board?
Ans: Maj. Gen.(Retd.) DVS Rana was chairing the board along with 3 other members.
Ques: How long was the interview?
Ans: 30-35 minutes
Ques: Please narrate your entire interview- what questions did they ask and what did you reply and other pleasant or uncomfortable experiences during the interview.
Ans: The chairman greeted me and directed to take a set. He congratulated me for the wedding. Thereafter, he asked questions relating to the merchant navy and the Indian navy. Then he directed the expert to ask questions. He asked questions on the Indian economy and related sectors. The questions were too deep for a general interview, I had the general idea about some and said sorry for the rest. 😛 He asked 7-8 questions and then passed on to the next member.
She was very interested in technology and I had a great discussion on AI and job loss associated with it. The Chairman had to intervene and stop the member. The Next Member was oriented towards Govt. initiatives towards SC/ST/OBC and differently-abled persons. She asked about different schemes run by HP Govt regarding the upliftment of these special categories of people.
The Chairman asked some more on International relations, Indian in UN Security Council as a permanent member, etc. The interview went for around 30-35 minutes.
Ques: Was your interview on the expected lines of what you had prepared or did they ask you totally unexpected questions? Was it a stress interview, did they ask any uncomfortable questions? If yes, how did you handle it?
Ans: I had hoped that the interview would revolve around My DAF only but that was not the case. There were unexpected questions. But for the personality test, One doesn't need to know all the answers. From that point of view, it was a great discussion.
 Your mark sheet:
| | |
| --- | --- |
| Subject | Marks Secured |
| Prelims (Paper-1) | 136 |
| Prelims (Paper-2) | 145.33 |
| Mains Subjects: |   |
| English | 52 |
| Hindi | 57 |
| Essay | 62 |
| General Studies -1 | 93 |
| General Studies -2 | 97 |
| General Studies -3 | 100 |
| Optional (P-1) | 74 |
| Optional (P-2) | 52 |
| Written Total | 478 |
| Interview | 130 |
| Final Score | 608 |
Career Backup Plan:
Ques: If you were not selected, what was your career backup plan?
Ans: I was already serving as Assistant Director/Project Manager in the Department of Industries. I would have appeared again if not selected this time.
Ques: When were you going to "execute" that backup plan?
Ans: Backup plan was perfectly in place.
The struggle of a Senior Player/Junior Player:
Ques: How did you survive through this mental prison of HAS and what're your words of wisdom to other senior players/Junior Players? If any specific inspirational incident(s), please share.
Ans: Success, for most, takes time. Just remember the reason why you first had a thought to join the services. If the reason is true, you'll find the strength to go on even after failures. Smart work and discipline in studies is a must. Find your rhythm and stick to it.
Ques: What went wrong in your previous attempt? What changes did you make in this current attempt?
Ans: I didn't practice writing. I had left questions in almost all papers. So the overall score was low. My optional also didn't work that year. For IAS, I had gone through answer scripts and strategies of previous toppers. I tried to copy the same in HPAS. I practiced answer writing and attempted all questions. I changed my optional too. I scored well but not excellent. I think that put me in the final list this year.
The struggle of a Working Professional:
Ques:  If you're a working professional, share some tips on how to manage studies with a job?
Ans: I was fortunate enough to be posted in my home district so I had the luxury of avoiding daily chores which tend to eat up time if posted somewhere else. I always carried books and laptops to the office and in free time I used to prepare current affairs from websites or revised static GK or solved a test series. I never involved myself in office politics. My office staff was also very cordial and accommodated me a lot. I made it a habit of going to the NIT Library after 5 pm and studied there till 9 pm. On holidays, I used to spend my entire day at the library with my study group. My suggestion would be to find the right time to study and stick to it without fail. It may be in the morning or evening or late at night. Whatever timing you choose, stick to it, whether it is 2 hours or 4 hours, It doesn't matter. Discipline and perseverance are the keys to success.
Grand Wisdom:
Ques: People know what books and syllabus points are to be prepared. But most of them lack consistency in their preparation. So, how do you keep study momentum going on? How do you fight against the mood swings and distractions?
Ans: Fortunately, I was surrounded by persons who were either in govt services or preparing for competitive exams. This environment certainly helped me to get over distractions and mood swings.  We prepared together so we were able to keep the momentum going. My family remained supportive throughout the failures and in between, I had found my soon to be better half who understood me and was there every time when I felt down. So, I sailed calmly through.
Ques:  Through this struggle and success, what have you learned? What is the wisdom of life and competition? What is your message to the new aspirants/veteran aspirants?
Ans: From my experiences, I can say that if you have decided to do something, the motivation to achieve it must come from within yourself. Discipline and perseverance in studies will sail you through, sooner or later. Have faith and carry on.
Ques: Last year many hardworking candidates have failed in Mains/Interview. They're feeling cynical, hopeless and depressed- what is your message to them?
Ans: Just remember why you first started this journey. Find motivation within yourself. You have achieved a feat reaching this stage. Have faith in yourself and start again.
Credits: Family/Friends:
Ques: Behind every qualified candidate, there are many people who stood by during those uncertain times when he/she was merely an 'aspirant'. Would you like to tell the world, who were those people in your case? Any specific incidents that you would like to share with the readers?
Ans: I am here only because of the support of my family. I thank my parents for continuously supporting me throughout the years. I thank my lovely wife Ritika for understanding me and putting up with me during odd hours of studying. I promise I'll make it up to you for so many canceled weekend trips and plans J. I also wish to thank my brothers from different mothers Lucky and Pankaj. I had a ball preparing with them in my MTech days. I also thank my study circle "Faulad IAS" 😛 at Central Library, NIT Hamirpur-Dheeraj, Pulkit Bhai, Abhinandan, Karan, Govind Goli, Naveen Banyal, Vijay, Shikhar, Anuj who are also preparing for various examinations for helping in different ways during the preparation. Our Mock interview session was so much fun. I wish you all grand success in life.
You are well aware of the sacred rule of conducting interviews of qualified candidates- the last question must be about self-marketing. So, Did you use www.hpgeneralstudies.com for your preparation and if yes, how did it help you? And you can even reply "No".

Ans: Yes. For Pre, I used www.hpgeneralstudies.com. The HP related questions were very useful.
HP General Studies remarks:
Thank-you Mr. Pratyush Chauhan for giving us your precious time. Hopefully, this interview will help thousands of aspirants who have been preparing for the HAS exam. 
We wish you a great future ahead.
Stay updated with us:

Click here to join our Telegram Channel