Interview by HP General Studies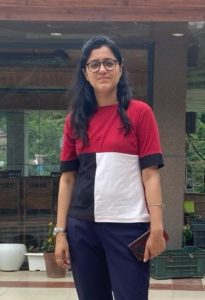 Candidate Profile:
Name

Rashmi Sharma

Rank in HAS

6th

Roll No

20129215

Age

36

Marital Status

Married

Total Attempts in HAS

3

Optional Subject

Sociology

Schooling Medium

Hindi + English

College Medium

English

Medium Chosen for Mains Answers

English

Medium Chosen for Interview

English (though they asked in Hindi as well)

Hometown/City

Mandi

Work Experience if any

12 Years

Details of other competitive exams, including success and failures

Long list of failures and successes!!! Interestingly I don't remember most of them now.

Details of coaching/mock tests/postal material for this exam (if used)

Coaching for 2 months later dropped

Prelims : Test series HP Generalstudies , Downloaded Subject specific Test papers (UPSC)

Mains Test Series : Raman Academy, Referred to Previous year Solved Mains Questions from CivilsTap

Services preference

HPAS – HPS  – District Controller – BDO – AR
Education:
%age in class 10

70%

%age in class 12

69%

Graduation course and %age

73%

Name of college, city and passing out year

IEET Baddi, 2007

Post Graduation

NA

Any other course

NA

Hobbies and extra-curricular achievement

1. Mentioned in DAF: watching old Hindi Movies

2. Few More( which I didn't mention)  Love to watch Movies (in any language), Wildlife Documentaries(Animal Planet), Criminal investigations (Discovery), Thriller, investigation and Haunting Shows
Introduction:
Ques: Tell us something about yourself, your family, when and why did you enter in this field of competitive exams?
About Me: Born and brought up in Mandi. I completed B.Tech (Computer Science) in 2007 and joined my first company (UST Global) as Software Engineer in 2008 January (Kerala).   Later switched to Infosys Chandigarh in 2010 and worked there till 2020 as Technical Test Lead.
About Family: My Father is retired as Chief Manager from State Bank of India. My mother is retired as Language Teacher (Hindi). My elder sister is Veterinary officer and younger brother is Mechanical Engineer. My husband Surya Sharma works in HPSEB as Senior Executive Engineer.
I have 5 year old son, Rudraksh.
WHY did I Choose Civil services?  Bahut saare….. One of them – I was looking for a change and explored several areas related to higher education, job switch, foreign settlement etc. Then someone suggested civil services. I researched a lot about the exam and services. I liked their area of work which ultimately led me here.
Ques: Typical day in your online life?
Ans: Studied mostly from online sources. Most of my notes are in electronic format.
Whatsapp: Used for entertainment only
Telegram: For Prelims Test papers
Online Study Websites/Apps:
hgeneralstudies.com : For solved previous year Question papers ( extremely helpful)
Mrunal Youtube videos and notes: For Modern and World History, Economy, Culture and Answer writing related videos.
VisionIAS website : Current Affairs, PT365 and Test Copies of Toppers.
InsightOnIndia: Daily Static and Currents Quiz
ADD247 App : MCQs daily
Evernote App : For storing my e- notes.

Himachal govt. website for Mains topics eg, Economic survey, tourism policy etc.

Several other website during mains preparation
Ques:  What is your style of preparation and notes making?
Ans: I read mostly through online sources and Books. I am not very comfortable with the idea of notes making (for everything). I did prepare few notes but only for those topics which were not available easily.
Prelims (Paper-1):
Topic
Booklist/Strategy

Ancient History

Lucent

Medieval History

Lucent

Modern History

Spectrum

Art & Culture

Not prepared for Prelims

Polity (Theory + Current)

Lakshmikant

Economy (Theory + Current)

NCERT+ Sriram IAS Economy notes

Science (Theory + Current)

Lucent

Environment (Theory + Current)

Shankar IAS + Internet

Geography of India

NCERT + MCQs Book

Physical Geography

NCERT + MCQs Book

Geography of World

NCERT + MCQs Book

Current Affairs

Hindu/ Daily Analysis

VisionIAS Monthly, PT365, Gyanam Magazine ( soft copies)

Youtube Videos : Daily/Monthly videos on Current Affairs MCQs

Himachal GK

Akash Darpan + Jokta GK Book + Balokhra

Himachal Pradesh Current Affairs

Tribune/AmarUjala
Prelims (Paper-2):
| | |
| --- | --- |
| Topic | Booklist/Strategy |
| Reasoning | Previous Year Question Papers(2010 -2020) + Internet |
| English | Previous Year Question Papers(2010 -2020) + Internet |
| Maths | Previous Year Question Papers(2010 -2020) + Internet |
| Communication | Previous Year Question Papers(2010 -2020) + Internet |
My approach: I searched topics (asked in PYQPs) on Google and referred to related Youtube videos. Most of questions asked in CSAT are repeated in several other exams related to RRB/Railway/NDA etc.
Ques: Did you attend any 'mock tests'? Do you think they're necessary for success?
Solve as many as possible Mock tests or PYQPs or Subject specific tests.
Ques: Approximate no. of attempted answers vs. correct answers. in Prelims:
| | | | |
| --- | --- | --- | --- |
| | Attempted questions | Correct | Official Score |
| GS | 75-77 | — | 109.33 |
| Aptitude | 40-47 | — | 70 |
Note:  I don't remember the exact questions I attempted. However, I was able to clear pre with minor margin as you can notice. I couldn't prepare well for my pre exam due to some issues, however  practice done in last 2-3 years helped me.
Mains: Compulsory language Paper:
| | |
| --- | --- |
| Compulsory language Paper | Your  preparation/Strategy/Booklist |
| English | Previous Year Question Papers(2010 -2020) + Internet |
| Hindi | Previous Year Question Papers(2010 -2020) + Internet |
Ques: Other observations/tips/comments on the length/difficulty level of compulsory language papers?
Most of the questions asked were similar to the ones asked in previous years.

I again relied on the internet and youtube for relevant topics asked in previous year exams.

Not difficult if you at least spend 7 days before Prelims. As there is not much time left after Prelims.
Mains: Essay Paper:
Ques: How did you prepare for the essay paper?
 Ans: Firstly, I read essays written by previous year toppers. Then I noted down topics from HPAS PYQPs. Picked one Topic from the list and collected data according to that. Started writing in different formats. Chose one format at the end. Practiced several essays before exam.
Ques: Which essays did you write and what key points did you include in it?
Ignorance and neglect of Health and Hygiene: A Human Disaster

India's Role in Contemporary International Politics
 Note: I don't remember the key points now. But I'll provide my notes where above topics – Health and International relations were covered. So you can get idea what I would have written.
Mains: General Studies (Paper-1): 
Topic/Unit
How did you prepare/Booklist

History perspective of Indian Culture Heritage

Culture Notes from Mrunal's site (ppt )  + Nitin Singhania's handwritten Notes ( e- notes downloaded) + NIOS

World History

VisionIAS World History Notes + Mrunal's World History Videos

History of Himachal

Jokta HP Mains Book + Balokhra + Internet

Disaster Management

Prepared Notes from Online sources:  unacademy  + NCERT Class 11 Geo

Indian Geography

NCERTs + Maps

Geography of Himachal Pradesh

Jokta HP Mains Book + Balokhra + Internet

Indian Society

Sociology notes and Currents Magazines

Anudeep Durishetty's Notes on society

Ethics/Gandhian Thoughts

My Notes  ( prepared from internet sources like Current affairs magazines, ARC report  and Test paper's notes )

Society and Culture of HP

Balokhra + Jokta HP Mains Book + My Short Notes
Mains: General Studies (Paper-2): 
Topic/Unit
How did you prepare/Booklist

Constitution of India

Lakshmikant

Polity of Himachal Pradesh

Jokta Mains Book

My Notes

Balokhra

Governance in India

Notes prepared ( ARC report crisp data)

Governance in HP

Jokta Mains Book

My Notes

Balokhra 

Social Issues

Internet + PT 365 – Social Issues

International Relations

Current Magazines + Drishti site information

Topper's Notes

My Notes

International Institutions

Internet + Current Magazines

Cyber crime/Drug menace/Socio-Economic development of HP

Jokta Mains Book

My Notes
Mains: General Studies (Paper-3): 
Topic/Unit
How did you prepare/Booklist

Indian Economy

Basic understanding: NCERT

Advance level : My Notes + Internet (Currents+ Data on websites) + Sriram IAS notes

Schemes and Important Institutions of the World

Internet+ Current Affairs

Economy of HP

Jokta Mains Book + My Notes + Economic Survey + Budget

Science and Technology

My Notes  (Source: Internet – eg, ISRO site + coaching institute ke article)

Energy Sector of India

My Notes  (Source: Internet)

Science and Technology/IT/Biodiversity in HP

Jokta Mains Book + Balokhra+ Internet

Environment Science

Shankar IAS

Agriculture and Horticulture

Some articles from Kurukeshtra Magazine + My Notes

Tourism Sector in HP

My Notes + Jokta Mains Book
Ques: How was your experience with the 'fixed space' answer sheet?
 Ans: Answer sheets provided this time had plenty of space for writing answers as per the need. Answer writing practice done before the exam helped me a lot. So fixed space doesn't bother you much, if you have practiced before.
Ques: Did you write answers in bullet points or in paragraphs? Some players were claiming that they wrote entire paper in bullet points, so it doesn't matter whether examiner is asking 'examine, comment, discuss or xyz'. Simply write in bullets and points.
Bullets or Paragraph: Bullet Points
I wrote answers in bullets mostly. As these not only make our answer more visible but also help us to avoid repetition.
 About Keywords: Important to understand
Keyword needs to be kept in mind while writing answer. I practiced beforehand so it didn't bother much during examination. Your mind &  hand automatically connects and help you to write  what is asked.
Ques: Did you follow the "introduction-body-conclusion" format? Because some mains-qualified candidates claim they simply wrote the points they could recall within the time, instead of bothering with proper introduction and conclusion.
 Ans: Yes, I mostly followed 'introduction-body-conclusion' format in papers. Optional for 4 markers due to time and space constraint. But must for 8 and 20 markers.
Ques: I don't like asking following rudimentary questions, but these are the most frequently asked questions by new aspirants.
Did you use highlighter/sketch-pen in your answers? – NO

Did you draw any diagram in any paper? – Few

If yes, did you draw diagram with pen/pencil? – Pencil (suggested)

Did you use ruler? – NO

Did you write with Blue or Black pen? – Blue. Black used for headings (Hindi, English and Essay) . I don't remember if I used Black for Optional paper.
Mains: Optional Subject
Ques: What's your optional subject and why did you chose it and not something else?
My optional: Sociology.
Why Chose Sociology: My father suggested that this subject can be easily covered in less time. However, being a science student, it took great time and effort (covering the syllabus, understanding the key topics and making notes). I revised it several times, referred to a number of sources and make an understanding of subject.
Why not Other Subject: I had 3 attempts only, so had to take safest route. (Interest vale subject baad mein padh lungi :P)
If a new player wants to pick your subject, would you advice for it or against it?
Advice: Apna dimaag lagao.
Benefits of having subject like Sociology: Syllabus can be covered in less time and easily available content.
How to choose optional:
Read about the scope of study/content in particular subject

Talk to someone who has an idea about the given subject

Talk to someone who has written an exam in the given subject

Check average marks scored in previous year Mains examination

Give general reading

Take idea from PYQPs and Check toppers Test Copies
Essential book/resource list for the optional you have read:
Sources List:
E-Notes / My Notes –  Online sources /NCERT/IGNOU/NIOS

Essential Sociology Book

UPSC Previous Year Mains Questions Book (*Most Important )

Sleepyclasses videos on Sociology
Ques: How much of internet-research / current affairs is necessary for this optional? OR can one simply rely on the books and be done with this subject?
Ans: Internet Research and Current Affairs are necessary for Optional. Books are not enough as if we see Paper 2 have some dynamic topics like Poverty, social evils, farmer's protests etc.
Ques: How many months did it take to finish the core optional syllabus?
Ans: It is difficult to calculate the exact months. However, Sociology takes less time due to easily available content like Toppers Short Notes, Videos etc. Important is to cover and make an understanding of the subject before prelims.
Ques: How many days/ weeks before the exam, you started answer writing practice?
Ans: I wrote only 2 answers of sociology during my preparation!!!.. I didn't take any test series for sociology optional. It is only one month before the mains when I asked CivilsTap regarding Sociology Test series. They provided me link of Solved Sociology Previous year Question papers. So I got idea on how to write answers. Also referred to UPSC toppers answer sheets.
Ques: Do you maintain self-notes for revision of optional? In which format- electronic or paper?
Ans: I prefer highlighting keywords in books itself. I prepared electronic notes for topics not covered in books and related to currents. Multiple revisions of books/notes train your mind to look at important information only and remember rest of the content by keywords.
Ques: Your observation about the difficultly level of 2020 mains vs previous papers. And what precautions/rectifications are necessary in the future strategy for given optional subject?
Ans: I found it similar to the pattern followed in previous years. Few topics were repeated, and few were from currents .Understanding of subject and multiple revisions can prepare us for anything unpredictable. (Baaki I won't find myself being the best person to advise regarding sociology)
Before the Interview:
Ques: How did you prepare for the interview for college grad, hobbies, place of origin, and current affairs at national and international level?
Ans: I prepared an excel with possible questions to be asked like personal details, job, places visited, Current topics etc. Essential – > Daily news paper reading , Online Sansad TV debates and attended Mocks.
Ques: Did you attend any mock interviews by coaching classes? How were they similar / different than official interview? Do you believe it is necessary to attend such mock interviews?
Ans: Yes, I attended several mocks. (As I was staying in Panchkula, Gharwaale har mock ke liye dhakel dete the :P)
Mocks are important as they help you to understand on how you process information and deliver it in stressful conditions.
Though nothing is necessary, but why to take a chance? Interview marks are added to your mains marks. Isliye isko bhi importance de do bhai!!!!
Ques: Describe the formal-dress worn by you in interview.
Ans: Formal dress/looks are an important part of your personality.
I wore Blue saree + Light blue blazer + Black Formal Heals
During the interview:
Ques: Who was the chairman of you interview board?
Ans: Sh.Ajay Kumar, IFS (Retd.) Chairman
Ques: How long was the interview?
Ans: 20-25 minutes
Ques: Please narrate your entire interview- what questions did they ask and what did you reply and other pleasant or uncomfortable experiences during the interview.
My Interview experience: Good. They asked me different set of questions (factual and opinion based).I had no uncomfortable experience during interview. I entered with a smile, maintained the same throughout the interview (as far as I remember) and left with smile J.
Below are the questions they asked:-
My profile: They asked me about My Job, What impact it can make in public services etc. + about my family. Economy: 5 trillion economy goal and how we can achieve it Reforms necessary for India, Labor reforms , Himachal Trade policy related, Tourism etc. My Dist. (Mandi): Why Chhoti Kashi, Temples, lakes, About significance of Mandi Shivratri, Food, culture etc. Women: Challenges of women in rural areas,SHG, How I will connect to them, issues with working women, Currents: Drone Policy of Himachal, 5G spectrum, Violence , secularism and religious issues, Kashmiri pandit's exodus and how will I tackle the situation Misc.: About Pahari Gandhi, Relevance of Festivals in Himachal.
Ques: Was your interview on the expected lines of what you had prepared or did they ask you totally unexpected questions? Was it a stress interview, did they ask any uncomfortable questions? If yes, how did you handle it?
Ans: Yes, it was totally on expected lines. I didn't consider any question as uncomfortable. Practice will help us to cover different areas in holistic manner.
Your mark sheet:
| | |
| --- | --- |
| Subject | Marks Secured |
| Prelims (Paper-1) | 109.33 |
| Prelims (Paper-2) | 70 |
| Mains Subjects: |   |
| English | 64 |
| Hindi | 60 |
| Essay | 53 |
| General Studies -1 | 87 |
| General Studies -2 | 75 |
| General Studies -3 | 114 |
| Optional (P-1) | 64 |
| Optional (P-2) | 56 |
| Written Total | 449 |
| Interview | 112 |
| Final Score | 561 |
Career Backup Plan:
Ques: If you were not selected, what was your career backup plan?
Ans: Kuch badhiya hi hota J!!!!!
Ques: When were you going to "execute" that backup plan? (E.g. after __ number of failed attempts/ after I cross __ age/ after dad retires/ after girlfriend/boyfriend dumps me J etc.)
Ans: I started executing my career plan after mains (December) as my three attempts were over. I got few opportunities suiting my skills. But decided not to join as I was waiting for the positive results.
Struggle of a Senior Player/Junior Player:
Ques: How did you survive through this mental prison of HAS and what're your words of wisdom to other senior players/Junior Players? If any specific inspirational incident(s), please share.
Ans: Mental – Stress, tension, and frustration can be tackled through our own strong will. Outer Circumstances cannot be changed so I changed my outlookJ. I faced several health issues and family problems during the preparation phase. Some were to such an extent that I left hope of clearing this exam in my last attempt. However, hard work done in past years helped me to clear this exam with comparatively less effort. Also, constant support of my Family and mentors.
Ques: What went wrong in your previous attempt? What changes did you make in this current attempt?
I consider my previous attempts as learning phases which helped me to understand the process better and ultimately leading towards success.
Read, write and Revise

Practice before exam

Take care of your Mental and Physical Health (which is suggested but not taken care)
Struggle of a Working Professional:
Ques: If you're a working professional, share some tips on how to manage studies with job?
Ans: > Choose a Mentor. > Set Daily, Weekly, Monthly, Yearly targets. > Make a timetable. > Follow it. > Engage with likeminded people. > Test your knowledge > Work on your Weaknesses > Check your Result
Grand Wisdom:
Ques: People know what books and syllabus points are to be prepared. But most of them lack consistency in their preparation. So, how do you keep study momentum going on? How do you fight against the mood swings and distractions?
Ans: I risked my career for something which was difficult to achieve. So I pushed myself hard.
Few TIPS:-
Lack consistency? Try doing something which you hate during your free time..Padhai easy lagegi J
Finding it difficult to keep your study momentum? Please discuss your goal (Clearing UPSC/HAS) with your neighbors/competitors and relatives. Why? Because they won't let you forget your goal J and keep asking about your future plans!!!!! That will definitely work!!!!!!!
Ques: Through this struggle and success, what have your learned? What is the wisdom of life and competition? What is your message to the new aspirants/veteran aspirants?
Ans: Sab Moh-Maya hai !!!!! Don't expect anyone to become guru after getting one success.
Ques: Many hardworking candidates have failed in Mains/Interview of HAS 2020. They're feeling cynical, hopeless and depressed- what is your message to them?
Ans: Lage Raho!!!!!
Credits: Family/Friends:
Ques: Behind every qualified candidate there are many people who stood by during those uncertain times when he/she was merely an 'aspirant'. Would you like to tell the world, who were those people in your case? Any specific incidence that you would like to share with the readers?
Ans: My entire family and my mentors.
Ques: You are well aware of the sacred rule of conducting interview of qualified candidates- the last question must be about self-marketing. So, Did you use hpgeneralstudies.com for your preparation and if yes, how did it help you? And you can even reply "No".

Ans: Thank you hpgeneralstudies!!!! I have already mentioned the usefulness of this platform for HPAS aspirants.
HP General Studies remarks:
Thank you Smt. Rashmi Sharma for giving us your precious time. Hopefully, this interview will help thousands of aspirants who have been preparing for the HAS exam.
HP General Studies wishes you a great future ahead.
 Below are the links to my notes:- ( Just take an idea )
Click on the given (blue) links and you'll be directed to EverNote Pages.
Study Plan
Currents
Essay
GS-1
HIMACHAL
Misc
Prelims Stuff
SOCIOLOGY