Interview by HP General Studies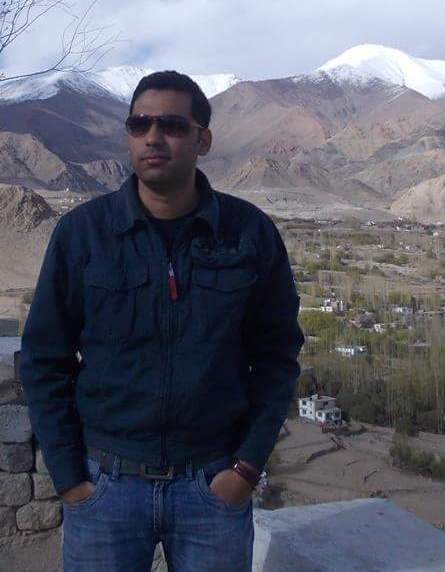 Candidate Profile:
Name
ROHIT KANWAR
Rank in HAS
Ex-Servicemen (Gen) Rank: 1
Roll No
20100184
Age
39
Marital Status
HAPPILY MARRIED 🙂
Total Attempts in HAS
3
Optional Subject
GEOGRAPHY
Schooling Medium
ENGLISH
College Medium
ENGLISH
Medium Chosen for Mains Answers
ENGLISH
Medium Chosen for Interview
ENGLISH/HINDI ( took permission to speak in Hindi while answering certain questions, communication skills much more important than the command on language)
Hometown/City
Kangra
Work Experience if any
Served Indian Navy for 15 years.
Details of other competitive exams, including success and failures
Cleared CGL but did not join.
Details of coaching/mock tests/postal material for this exam (if used)
Entirely self-study from books and the internet.

Only mock tests for mains and interview on my 3rd attempt at Jokta Academy, Chandigarh

Services preference
Only post of Tehsildar & Treasury officer under Gen Ex man of HP (opted Tehsildar)
Education:
%age in class 10
77% CBSE
%age in class 12
74.8% CBSE
Graduation course and %age
Electronics and Communication Engineering

AMIE (non-diploma stream)

Name of college, city and passing out year
AMIE ( Kolkata), 2012
Post Graduation
PG in business operations, Symbiosis, Pune
Any other course
—
Hobbies and extra-curricular achievement
—
Introduction:
Ques: Tell us something about yourself, your family, when and why did you enter in this field of competitive exams?
Ans: My ancestral roots are from Kangra but I have lived almost all my life in Pathankot till I joined the Indian Navy. Coming from a modest family background I was always good at academics since my mother herself was a teacher and she encouraged acquiring a good education. My father worked in MES and was mostly posted outside Pathankot. Even though after scoring good grades I could not get admission in my choice of stream in any engineering college, I double mindedly joined the defence forces.
The service life taught me a lot and it has engraved many qualities in me throughout my tenure. It was a privilege serving my country. Even after joining the Navy, I continued pursuing my B.E through A.M.I.E. It was quite a hard work for a good 6 years until I graduated in Elect&telecom engineering. When I was in service I was not too inclined towards another government job and thanks to my bad luck I was totally unaware of HAS because later I realized, I could have started preparing for the exams a bit earlier. In the meantime, I also acquired my P.G in business & administration from Symbiosis University, Pune.
It was only after my service ended that I came to know about this competitive exam. I honestly didn't have a particular ambition to crack this test, but since I had been self-studying all through my service I was ready to study tirelessly which was required for HAS. My better half was working already in an M.N.C, so monthly expenses were sorted and I could study full time staying at home. I never joined any coaching classes as there was already enough material in books and on internet.
Ques: Typical day in your online life?
Ans: Not much active of Whatsup/Telegram/Facebook.
I was never interested in social media so much of my online time was on news sites or occasionally Sufi music.
Online Study Websites/Apps: IAS BABA, UNACADEMY, VISION IAS. For prelims, I used mahendraguru.com. I did my prelim preparation on Evernote.
Ques: What is your style of preparation and notes making?
Ans: I believe in making notes in points and abbreviations. I kept on refining my notes with each revision and cutting down on the number of pages by memorizing pointers and making abbreviated words out of them. It helped me a lot in my answer writing.
Prelims (Paper-1):
| | |
| --- | --- |
| Topic | Booklist/Strategy |
| Ancient History | Nitin Singhania notes. |
| Medieval History | Didn't prepare. |
| Modern History | India's struggle for independence by Bipinchandra (good for mains) and history of modern India by Bipin Chandra (good for prelims). |
| Art & Culture | Nitin Singhania online notes. |
| Polity (Theory + Current) | Theory-Laxmikant, D.D Basu for preambles and good for answer writing, vison IAS monthly magazine for current affairs. |
| Economy (Theory + Current) | Basic-Mrunal notes, Current affairs- vision IAS. |
| Science (Theory + Current) | G.K Lucent and Arihant, Current affair- vision IAS. |
| Environment (Theory + Current) | All though vision IAS. |
| Geography of India | India, A comprehensive geography by D.R Khullar and geography of India, Savinder Singh. Basic- Mrunal lectures. |
| Physical Geography | Savinder Singh. |
| Geography of World | Atlas mapreading, G.K by Lucents, Arihant publications. |
| Current Affairs | Vision IAS, mahendraguru.com |
| Himachal GK | Reading Divya Himachal,www.himachalpr.gov.in |
| Himachal Pradesh Current Affairs | Divya Himachal and economic survey and budget on Himachal government sites. |
Prelims (Paper-2):
| | |
| --- | --- |
| Topic | Booklist/Strategy |
| Reasoning | R.S. Agrawal |
| English | Solved old question papers. |
| Maths | R.S Agrawal |
| Communication | Made notes from various online resources. |
Ques: Did you attend any 'mock tests'? Do you think they're necessary for success?
Ans: Yes. Mock tests help in refining your answer writing, vocabulary, and self-assessment in a controlled and monitored environment. I wrote a few mocks during my 3rd attempt mains (current attempt) at Jokta Sir's academy in Chandigarh.
Ques: Approximate no. of attempted answers vs. correct answers. in Prelim 2018:
| | | | |
| --- | --- | --- | --- |
| | Attempted questions | Correct | Official Score |
| GS | Around 60 | Don't remember | 90.67 |
| Aptitude | Around 65 | Don't remember | 118 |
Mains: Compulsory language Paper:
| | |
| --- | --- |
| Compulsory language Paper | Your  preparation/Strategy/Booklist |
| English | Practiced comprehensions online, solved old question papers. |
| Hindi | Solved old question papers,12th std Hindi Vyakaran. |
Ques: Other observations/tips/comments on the length/difficulty level of compulsory language papers in HAS-2018?
Ans: Try solving at least the last 6 years question papers. Keep a check on the patterns of asking questions. This year it was a new pattern.
Mains: Essay Paper: 
Ques: How did you prepare for the essay paper?
Ans: Memorized some quotes and prepared some relevant topics according to current affairs. Always try writing an essay in a structured manner. Use a good pen that will help in accentuating your handwriting and makes the examiner more interested while reading.
Ques: Which essays did you write and what key points did you include in it? 
Skilling youth" A necessity for India".
Electoral reforms and Indian democracy.
Mains: General Studies (Paper-1): 
Topic/Unit
How did you prepare/Booklist
History perspective of Indian Culture heritage
Nitin Singhania online notes.
World History
Studyiq.com, Arjun dev
History of Himachal
Jagmohan Balokhra (didn't help much, too much information),

-G.K by Dr. Syed by Ramesh publishing house.

-Himachal Pradesh (1815-1972) second semester, HPU, B.A first year, pdf available online. Author D.N Kundra & A.S Prashar.

Disaster Management
Made own notes through online resources.
Indian Geography
–India, A comprehensive geography by D.R Khullar. (free pdf online for both GS-1 and optional paper 2 geography.)
Geography of Himachal Pradesh
Himachal Pradesh(1815-1972) second semester ,HPU,B.A first year, pdf available online. author D.N Kundra & A.S prashar
Indian Society
Online sources.
Ethics/Gandhian Thoughts
Ethics-didn't prepare

–Gandhian thoughts-Ramchandra Guha (Gandhi the years that changed the world (1914-1948)

Society and Culture of HP
Himachal Pradesh (1815-1972) second semester, HPU, B.A first year, pdf available online. author D.N Kundra & A.S Parashar
Mains: General Studies (Paper-2):
| | |
| --- | --- |
| Topic/Unit | How did you prepare/Booklist |
| Constitution of India | DD Basu, Laxmikant, vision IAS. |
| Polity of Himachal Pradesh | Online sources |
| Governance in India | Prepared topic wise syllabus notes through books and online sources. |
| Governance in HP | Himachal Pradesh departmental websites. |
| Social Issues | Prepared topic wise syllabus notes through books and online sources. |
| International Relations | Vision IAS, Wikipedia, Dristi IAS(online free notes) |
| International Institutions | Drishti IAS (online free notes) |
| Cybercrime/Drug menace/Socio-Economic development of HP | News based notes and current affairs. |
Mains: General Studies (Paper-3): 
Topic/Unit
How did you prepare/Booklist
Indian Economy
-Basic notes-Mrunal online lectures.

-subtopics- online resources topic by topic and made notes.

Schemes and Important Institutions of the World
Vikaspedia
Economy of HP
Economy and budget from H.P government sites.
Science and Technology
-Current affairs by vision IAS

-studyiq.com

-ISRO site

Energy Sector of India
Theory-Khullar

-current affairs-vision IAS.

Science and Technology/IT/Biodiversity in HP
Made notes topic by topic by online sources.
Environment Science
Made notes topic by topic by online sources
Agriculture and Horticulture
Made notes topic by topic by online sources
Tourism Sector in HP
Made notes topic by topic by online sources, news-based.
Ques: How was your experience with the 'fixed space' answer sheet?
Ans: Since I always made notes in points, they were short, concise and relevant to the question so it was an advantage for me.
My take on solving the question paper was to start writing the 20 marks questions first because they would take the whole space and you have too much to think and write.
You have the same space for all the questions whether 4 marks question or 20 marks but you can't take the same time for a 4 marks question so by the time you reach the 20 marks question you're kind of exhausted, so I solved the question paper starting backward.
Ques: Did you write answers in bullet points or in paragraphs? Some players were claiming that they wrote the entire paper in bullet points, so it doesn't matter whether the examiner is asking 'examine, comment, discuss or XYZ'. Simply write in bullets and points.
Ans: Mostly bullets and points.
Ques: Did you follow the "introduction-body-conclusion" format? Because some mains-qualified candidates claim they simply wrote the points they could recall within the time, instead of bothering with proper introduction and conclusion.
Ans: Yes, for only 20 marks questions.
I don't like asking the following rudimentary questions, but these are the most frequently asked questions by new aspirants.
Did you use highlighter/sketch-pen in your answers? –  Only in geography, I used coloured pencils in maps and figures.
Did you draw any diagram in any paper? – Yes, in geography and GS-1
If yes, did you draw a diagram with a pen/pencil? – With a pencil.
Did you use a ruler?- No.
Did you write with a Blue or Black pen? – Blue(specifically used a pilot pen for bold handwriting and neatness, it interests the examiner).
Mains: Optional Subject
Ques: What's your optional subject and why did you chose it and not something else?
Ans: Was interested in geography and has some same topics in GS as well. Comparatively, it is not so scoring to other subjects.
Ques: If a new player wants to pick your subject, would you advice for it or against it?
Ans: No. it is a less scoring subject.
Ques: Essential book/resource list for the optional you have read:
Ans: Mentioned above.
Ques: How much of internet-research/current affairs is necessary for this optional? OR can one simply rely on the books and be done with this subject?
Ans: Books are enough. Read topic wise. Unnecessary information other than the syllabus should be avoided.
Ques: How many months did it take to finish the core optional syllabus?
Ans: 3 months.
Ques: How many days/ weeks before the exam, you started to answer writing practice?
Ans: 1 month.
Ques: Do you maintain self-notes for revision of optional? In which format- electronic or paper?
Ans: All self-made paper notes. For prelim used electronic notes on Evernote.
Ques: Your observation about the difficulty level of 2018 mains vs previous papers. And what precautions/rectifications are necessary for the future strategy for given optional subjects?
Ans: Difficulty level was quite the same. Solve previous questions papers, whichever topics have not been asked yet or repeated in a couple of years, do not skip those topics. They are likely to appear in your next paper.
Before the Interview:
Ques: How did you prepare for the interview for college grad, hobbies, place of origin, and current affairs at the national and international level?
Ans: Newspapers and thorough information on your home district. Mock interviews.
Ques: Did you attend any mock interviews by coaching classes? How were they similar/different than official interview? Do you believe it is necessary to attend such mock interviews?
Ans: Yes. I attended a couple of mock interviews. I found them helpful in better presentation and formal etiquette while appearing before the interview panel.
Ques: Describe the formal-dress worn by you in the interview.
Ans: Complete formals in a blazer (mostly black, charcoal or navy blue colour).
During the interview:
Ques: Who was the chairman of your interview board?
Ans: Major. Gen. (retired) D.V.S Rana.
Ques: How long was the interview?
Ans: 30 minutes.
Ques: Please narrate your entire interview – what questions did they ask and what did you reply and other pleasant or uncomfortable experiences during the interview.
-The interview started with my education by Chairman Sir.
He asked me whether I did my graduation full time or by correspondence and also whether it was a diploma or non-diploma.
I answered correspondence self-study and non-diploma.
-the next member questioned me whether I would be able to sustain in rural and remote areas since I had lived mostly in metro cities of India till now.
I answered yes. Thanks to my defence background which had taught me to survive in the toughest conditions where and whenever required.
Ques: Was your interview on the expected lines of what you had prepared or did they ask you totally unexpected questions? Was it a stress interview, did they ask any uncomfortable questions? If yes, how did you handle it?
Ans: No stressful questions. I was ready for all sorts of questions as I had decided to answer everything spontaneously. I hadn't prepared for any factual questions. I had read about my home district (Kangra) thoroughly but they didn't ask me anything on that topic.
They asked me about the right to education, the general budget, and my hobbies.
I answered all the above.
Your mark sheet:
Subject
Marks Secured
Prelims (Paper-1)

9

0.61
Prelims (Paper-2)
118
Mains Subjects:

 

English
48
Hindi
70
Essay
60
General Studies -1
82
General Studies -2
71
General Studies -3

99

Optional (P-1)

5

7
Optional (P-2)
60
Written Total
429
Interview

9

0
Final Score
519
Career Backup Plan:
Ques: If you were not selected, what was your career backup plan?
Ans: None.
Ques: When were you going to "execute" that backup plan? (E.g. after __ number of failed attempts/ after I cross __ age/ after dad retires/ after girlfriend/boyfriend dumps me J etc.)
Ans: After all my attempts got exhausted but I didn't have a backup plan. Maybe I would have ended up in some bank as a cashier 😉
The struggle of a Senior Player/Junior Player:
Ques: How did you survive through this mental prison of HAS and what're your words of wisdom to other senior players/Junior Players? If any specific inspirational incident(s), please share.
Ans: -First of all, a prisoned mind won't let you accomplish any of your goals.
–To senior Players: you're almost there!! maybe some more mock tests will help.
–To junior Players: You will be there. Be positive. Draw out a study plan, count your weakness and strength before choosing your optional and also check the scoring pattern. Joining coaching entirely depends on your determination, patience, smart work and most importantly your pocket. A stressful mind will only harm your confidence so try cultivating a hobby that will also act as a stressbuster.
Ques: What went wrong in your previous attempt? What changes did you make in this current attempt?
Ans: I was totally dependent on self-study, so the 1st attempt was mostly making notes, understanding various subjects so it came and went like a mock test.
My 2nd attempt failed, I guess because my knowledge was not properly executed on paper-2. So in my next attempt, I practiced writing more and refined my notes by omitting unnecessary information. I also paid attention to answer writing skills and planned out how to answer the paper (eg: I wrote the 20 marks questions first because you're already mentally exhausted by the end of the paper so I wrote the big scoring answers first).
3rd attempt- Cleared.
The struggle of a Working Professional:
Ques: If you're a working professional, share some tips on how to manage studies with a job?
Ans: Wasn't working anywhere.
Grand Wisdom:
Ques: People know what books and syllabus points are to be prepared. But most of them lack consistency in their preparation. So, how do you keep study momentum going on? How do you fight against the mood swings and distractions?
Ans: -Switch subjects.
-watch some lectures on the same topic online.
-read current affairs.
Ques: Through this struggle and success, what have you learned? What is the wisdom of life and competition? What is your message to the new aspirants/veteran aspirants?
Ans: You're in competition with nobody but yourself. There is a time for everything. Don't lose hope. A successful person can be  24 or 54, doesn't matter, don't panic seeing other people's success. Don't run the rat race, always believe you are going to be the cat someday.
For my fellow Veterans: You already have all the necessary traits in you. The service life had already moulded you into a disciplined, hardworking and patient individual. Initially while starting the preparations for civil services, read the prescribed books voraciously. Don't go for short cuts by reading a summary or just a topic online. You will find everything in the books that have been mentioned above. Be comprehensive and relevant to the topic and keep refining your notes.
Ques: Many hardworking candidates have failed in Mains/Interview of HAS-2018. They're feeling cynical, hopeless and depressed- what is your message to them?
Ans: Have faith in yourself that you can do it. My father passed away 12 days before the mains, it was difficult but I couldn't have lost hope because my several years of preparation was at stake. I made up my mind and continued. Just don't stop.
Credits: Family/Friends:
Ques: Behind every qualified candidate, there are many people who stood by during those uncertain times when he/she was merely an 'aspirant'. Would you like to tell the world, who were those people in your case? Any specific incidence that you would like to share with the readers?
Ans: My brother and my wife. Especially my wife who supported me financially and mentally for all those years when other people questioned my abilities and aspirations.
You are well aware of the sacred rule of conducting the interview of qualified candidates- the last question must be about self-marketing. So, Did you use www.hpgeneralstudies.com for your preparation and if yes, how did it help you? And you can even reply "No".

Ans: Yes, quite frequently. This blog exclusively caters to HAS aspirants and H.P government job exam preparations.
HP General Studies remarks:
Thank-you Mr. Rohit Kanwar for giving us your precious time. Hopefully, this interview will help thousands of aspirants who have been preparing for the HAS exam. 
We wish you a great future ahead.
Stay updated with us:

Click here to join our Telegram Channel