Interview by HP General Studies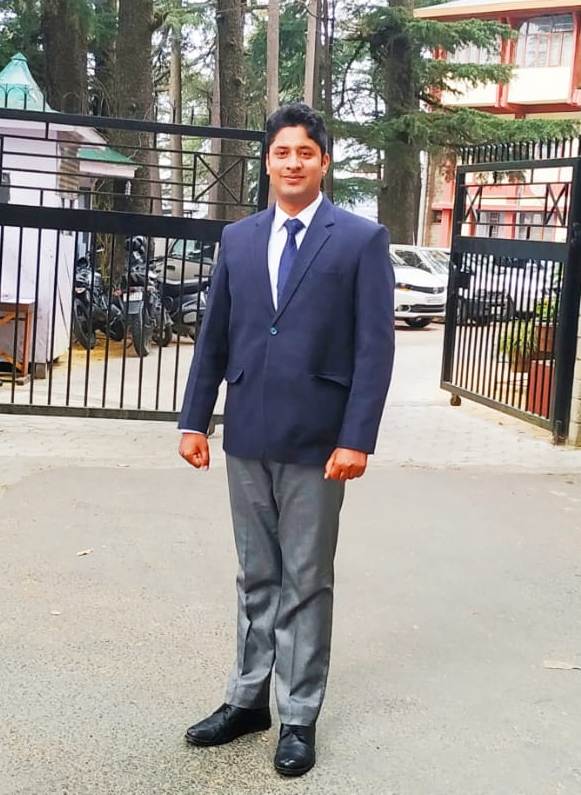 Candidate Profile: 
Name
VINEET KUMAR THAKUR
Rank in HAS
4th (BDO)
Roll No
50100169
Age
25
Marital Status
UNMARRIED
Total Attempts in HAS
3
Optional Subject
SOCIOLOGY
Schooling Medium
HINDI
College Medium
ENGLISH
Medium Chosen for Mains Answers
ENGLISH
Medium Chosen for Interview
BILINGUAL
Hometown/City
DINGER-KINNER, TEH. PACHHAD (SIRMOUR)
Work Experience if any
N.A.
Details of other competitive exams, including success and failures
1. CLEARED CDS WRITTEN 6 TIMES

2. APPEARED IN NAIB -TEHSILDAR(MAINS) TWICE

3. CLEARED RFO (PRELIMS)

4.  APPEARED IN HAS INTERVIEW 2019 MARCH

5. WROTE 3 HAS MAINS

Details of coaching/mock tests/postal material for this exam (if used)
SELF-STUDY
Services preference
HAS , BDO , ETO , DTO , ARCS , TO
Education: 
%age in class 10
87.42
%age in class 12
77.20
Graduation course and %age
65.90
Name of college, city and passing out year
GOVT. PG COLLEGE NAHAN, NAHAN 2015
Post Graduation
N.A.
Any other course
N.A.
Hobbies and extra-curricular achievement
LISTENING SIRMOURI FOLK SONGS, PLAYING AND WATCHING CRICKET AWARDED SWAMI VIVEKANAND SCHOLARSHIP

WON QUIZ COMPETITION IN HPU YOUTH FESTIVAL
Introduction:
Ques: Tell us something about yourself, your family, when and why did you enter in this field of competitive exams?
Ans: I HAIL FROM DINGER- KINNER WHICH IS SITUATED AT A DISTANCE OF 4 KM FROM VILLAGE CHANHALAG (BIRTHPLACE OF HIMACHAL FOUNDER DR.Y.S PARMAR). I COMPLETED MY BASIC EDUCATION FROM MY NATIVE VILLAGE SCHOOL TILL MIDDLE CLASS AND THEREAFTER COMPLETED MY MATRICULATION FROM GOVT. SS SCHOOL BASAHAN. I DID MY SEN.SEC. FROM GOVT.SHAMSHER SS SCHOOL NAHAN. I COMPLETED MY GRADUATION FROM GOVT.PG COLLEGE NAHAN.
I BELONG TO AGRICULTURAL BACKGROUND. MY MOTHER IS HOME-MAKER. MY ELDER BROTHER IS CLERK IN IPH DEPTT.
INITIALLY, I WAS INCLINED TOWARDS THE PRESTIGIOUS INDIAN ARMY. BUT UNFORTUNATELY, I MET WITH AN ACCIDENT ON 26 APRIL 2016. THEREAFTER I DECIDED TO PREPARE FOR CIVIL SERVICES.
Ques: Typical day in your online life?
Whatsapp/Telegram: 1 HOUR
Online Study Websites/Apps: 3 HOURS
Ques: What is your style of preparation and notes making?
Ans: FOR PRELIMS, I RELIED ON REVISING A BOOK MULTIPLE TIMES RATHER THAN MAKING NOTES.
FOR MAINS, I DID A LOT OF WRITING PRACTICE AND COMPLETED THE SYLLABUS THOROUGHLY.
Prelims (Paper-1): 
Topic
Booklist/Strategy
Ancient History
TMH GS MANUAL AND PREVIOUS YEARS QUESTIONS.
Medieval History
TMH GS MANUAL AND PREVIOUS YEARS

QUESTIONS.

Modern History
SPECTRUM BY RAJIV AHIR.
Art & Culture
NCERT.
Polity (Theory + Current)
M.LAXMIKANTH, DD BASU, SUBHASH KASHYAP, NCERT.
Economy (Theory + Current)
SRIRAM IAS NOTES, MRUNAL VIDEOS.
Science (Theory + Current)
ARIHANT.
Environment (Theory + Current)
SHANKAR IAS.
Geography of India
NCERT 11TH AND 12TH.
Physical Geography
SAVINDER SINGH.
Geography of World
NOTES OF AJAY RAJ SINGH.
Current Affairs
VISION IAS, INSIGHTS, IAS BABA.
Himachal GK
BALOKHRA, JOKTA, HELIOS, MIAN GOVERDHAN SINGH, NIDHI SONI.
Himachal Pradesh Current Affairs
hpgeneralstudies.com, GOVT.

WEBSITES.
Prelims (Paper-2):
| | |
| --- | --- |
| Topic | Booklist/Strategy |
| Reasoning | SOLVED PREVIOUS YEAR QUESTION PAPERS. |
| English | – |
| Maths | – |
| Communication | – |
 Ques: Did you attend any 'mock tests'? Do you think they're necessary for success?
Ans: MOCK TESTS HELP AN INDIVIDUAL TO KNOW ONE'S CAPABILITIES AND LIMITATIONS AND UNDERGO THROUGH EXAMINATION HALL LIKE ENVIRONMENT.
Ques: Approximate no. of attempted answers vs. correct answers. in Prelims:
| | | | |
| --- | --- | --- | --- |
| | Attempted questions | Correct | Official Score |
| GS | 95 | 73 | 131.33 |
| Aptitude | 76 | 70 | 136 |
Mains: Compulsory language Paper: 
| | |
| --- | --- |
| Compulsory language Paper | Your preparation/Strategy/Booklist |
| English | SOLVED PREVIOUS YEAR QUESTION PAPER. |
| Hindi | SOLVED PREVIOUS YEAR QUESTION PAPER |
Ques: Other observations/tips/comments on the length/difficulty level of compulsory language papers in HAS-2018?
Ans: ONE SHOULD NOT TAKE HINDI AND ENGLISH LIGHTLY.
Mains: Essay Paper:
Ques: How did you prepare for the essay paper?
Ans: WROTE SOME ESSAYS AND MADE THEM REVIEWED FROM FRIENDS.
Ques: Which essays did you write and what key points did you include in it?
Ans: 
SKILLING YOUTH ' A NECESSITY FOR INDIA'.
ELECTORAL REFORMS AND INDIAN DEMOCRACY. INCLUDED DATA, FACTS, FLOWCHARTS, RECENT EXAMPLES ETC.
Mains: General Studies (Paper-1): 
Topic/Unit
How did you prepare/Booklist
History perspective of Indian Culture heritage
NCERT.
World History
NORMAN LOWE AND VISION IAS.
History of Himachal
HELIOS AND JOKTA.
Disaster Management
INTERNET.
Indian Geography
D R KHULLAR.
Geography of Himachal Pradesh
HELIOS AND JOKTA.
Indian Society
SINCE SOCIOLOGY WAS MY OPTIONAL, SO

DIDN'T PREPARE SPECIFICALLY.

Ethics/Gandhian Thoughts
BOOK BY LEXICON AND NIDHI SONI BOOK.
Society and Culture of HP
MIAN GOVERDHAN SINGH.
 Mains: General Studies (Paper-2):
| | |
| --- | --- |
| Topic/Unit | How did you prepare/Booklist |
| Constitution of India | M. LAXMIKANTH. |
| The polity of Himachal Pradesh | BALOKHRA. |
| Governance in India | INTERNET. |
| Governance in HP | INTERNET. |
| Social Issues | VISION IAS. |
| International Relations | INTERNET. |
| International Institutions | BOOK BY SHANKAR IAS. |
| Cybercrime/Drug menace/Socio-Economic development of HP | HELIOS. |
Mains: General Studies (Paper-3):
| | |
| --- | --- |
| Topic/Unit | How did you prepare/Booklist |
| Indian Economy | SRIRAM IAS NOTES. |
| Schemes and Important Institutions of the World | INTERNET. |
| Economy of HP | BUDGET AND ECONOMIC SURVEY OF HP. |
| Science and Technology | INTERNET. |
| Energy Sector of India | INTERNET. |
| Science and Technology/IT/Biodiversity in HP | INTERNET. |
| Environment Science | SHANKAR IAS. |
| Agriculture and Horticulture | BUDGET AND ECONOMIC SURVEY. |
| Tourism Sector in HP | NIDHI SONI BOOK. |
Ques: How was your experience with the 'fixed space' answer sheet?
Ans: IT HELPS AN INDIVIDUAL IN COMPLETING PAPER WITHIN TIME LIMIT.
Ques: Did you write answers in bullet points or in paragraphs? Some players were claiming that they wrote an entire paper in bullet points, so it doesn't matter whether the examiner is asking 'examine, comment, discuss or XYZ'. Simply write in bullets and points.
Ans: I WROTE IN BULLET POINTS, MADE DIAGRAMS, FLOWCHARTS WHEREVER NECESSARY.
Ques: Did you follow the "introduction-body-conclusion" format? Because some mains-qualified candidates claim they simply wrote the points they could recall within the time, instead of bothering with proper introduction and conclusion.
Ans: YES.
Ques: I don't like asking the following rudimentary questions, but these are the most frequently asked questions by new aspirants. 
Did you use highlighter/sketch-pen in your answers? – NO.
Did you draw any diagram in any paper? – YES.
If yes, did you draw a diagram with a pen/pencil? – PEN.
Did you use a ruler? – NO.
Did you write with a Blue or a Black pen? – BLUE ONLY.
Mains: Optional Subject
Ques: What's your optional subject and why did you chose it and not something else?
Ans: SOCIOLOGY. I FOUND IT EASY, SCORING AND HELPFUL IN GS AND ESSAY.
Ques: If a new player wants to pick your subject, would you advice for it or against it?
Ans: YES.
Ques: Essential book/resource list for the optional you have read:
Ans: ESSENTIAL SOCIOLOGY BY NITIN SANGWAN.
Ques: How much of internet-research / current affairs is necessary for this optional? OR can one simply rely on the books and be done with this subject?
Ans: I USED A LOT OF INTERNET AS INTERLINKING WITH RECENT HAPPENINGS IS A MUST.
Ques: How many months did it take to finish the core optional syllabus?
Ans: 20 DAYS.
Ques: How many days/weeks before the exam, you started answer writing practice?
Ans: 3 MONTHS BEFORE MAINS.
Ques: Do you maintain self-notes for revision of optional? In which format- electronic or paper?
Ans: YES, PAPER FORMAT.
Ques: Your observation about the difficulty level of 2018 mains vs previous papers. And what precautions/rectifications are necessary for the future strategy for given optional subject?
Ans: GS1 AND GS2 PAPERS WERE EASIER THAN LAST YEAR AND GS3 WAS A BIT TOUGHER. SYLLABUS MUST BE READ THOROUGHLY AND ADEQUATE WRITING PRACTICE MUST BE DONE.
 Before the Interview: 
Ques: How did you prepare for the interview for college grad, hobbies, place of origin, and current affairs at the national and international level?
Ans: DISCUSSIONS WITH FAMILY MEMBERS, FRIENDS, AND SENIORS.
Ques: Did you attend any mock interviews by coaching classes? How were they similar/different than official interview? Do you believe it is necessary to attend such mock interviews?
Ans: I ATTENDED MOCK INTERVIEWS LAST TIME BUT DIDN'T ATTEND THIS TIME. IT IS NOT NECESSARY TO ATTEND MOCK INTERVIEWS.
Ques: Describe the formal-dress worn by you in the interview.
Ans: WHITE SHIRT, GREY TROUSER, BLUE TIE, AND NAVY BLUE COAT.BLACK SHOES.
During the interview: 
Ques: Who was the chairman of your interview board?
Ans: Mr. DVS Rana
Ques: How long was the interview?
Ans: 30 MINUTES.
Ques: Please narrate your entire interview- what questions did they ask and what did you reply and other pleasant or uncomfortable experiences during the interview.
Ans: MY INTERVIEW WENT BRILLIANT. THERE WAS CHEERFUL ENVIRONMENT INSIDE THE ROOM.
Ques: Was your interview on the expected lines of what you had prepared or did they ask you totally unexpected questions? Was it a stress interview, did they ask any uncomfortable questions? If yes, how did you handle it?
Ans: IT WAS A GENERAL DISCUSSION WITH SENIORS.
 Your mark sheet: 
| | |
| --- | --- |
| Subject | Marks Secured |
| Prelims (Paper-1) | 131.33 |
| Prelims (Paper-2) | 136 |
| Mains Subjects: | |
| English | 51 |
| Hindi | 70 |
| Essay | 60 |
| General Studies -1 | 101 |
| General Studies -2 | 103 |
| General Studies -3 | 109 |
| Optional (P-1) | 74 |
| Optional (P-2) | 68 |
| Written Total | 515 |
| Interview | 130 |
| Final Score | 645 |
Career Backup Plan:
Ques: If you were not selected, what was your career backup plan?
Ans: I WOULD HAVE APPEARED AGAIN.
Ques: When were you going to "execute" that backup plan?
Ans: NEXT YEAR.
The struggle of a Senior Player/Junior Player:
Ques: How did you survive through this mental prison of HAS and what're your words of wisdom to other senior players/Junior Players? If any specific inspirational incident(s), please share.
Ans: PATIENCE, HARDWORK, CONSISTENCY. ( "GIRTE HAIN SHEH SAWAR HI MAIDAN E JANG MAIN, WO TIFL HEE KYA GIRENGE JO GHUTNO K BAL CHALE" ).
Ques: What went wrong in your previous attempt? What changes did you make in this current attempt?
Ans: I THINK I COULD NOT WRITE WHAT THE EXAMINER DEMANDED. THIS TIME I REVIEWED MY ANSWER SHEETS AND DEVISED MY STRATEGY ACCORDINGLY.
Grand Wisdom:
Ques: People know what books and syllabus points are to be prepared. But most of them lack consistency in their preparation. So, how do you keep study momentum going on? How do you fight against the mood swings and distractions?
Ans: HAVE PATIENCE AND WORK HARD AND SMART.
Ques:  Through this struggle and success, what have you learned? What is the wisdom of life and competition? What is your message to the new aspirants/veteran aspirants?
Ans: THERE IS NO SHORTCUT TO SUCCESS. YOU WILL HAVE TO WORK HARD AND SNATCH THE POST FOR YOURSELF.
Ques: Last year many hardworking candidates have failed in Mains/Interview. They're feeling cynical, hopeless and depressed- what is your message to them?
Ans: THEY SHOULD ANALYSE THEIR WEAKNESSES AND WORK UPON TO IMPROVE THEM.
Credits: Family/Friends:
Ques: Behind every qualified candidate, there are many people who stood by during those uncertain times when he/she was merely an 'aspirant'. Would you like to tell the world, who were those people in your case? Any specific incidents that you would like to share with the readers?
Ans: I WOULD LIKE TO THANK MY FAMILY, MY BIG B, MY FRIENDS ( SATISH SHARMA, ANURAG GARG ETO, ANURAG THAKUR , KARUN BHARMORIA, MUKESH KUMAR BDO, BALDEV DUTT Dy. SP, ANIL MANKOTIA TEHSILDAR, RAHUL TEHSILDAR, ANUJA SHARMA, NISHA AZAD, DEEPIKA THAKUR, ASHISH FORCE, KARAN, RAMAN, VIVEK, ANKUR AND MANY MORE WHICH I AM UNABLE TO RECALL RIGHT NOW).
You are well aware of the sacred rule of conducting interviews of qualified candidates- the last question must be about self-marketing. So, Did you use www.hpgeneralstudies.com for your preparation and if yes, how did it help you? And you can even reply "No".

Ans: YES.
HP General Studies remarks:
Thank-you Mr. Vineet Kumar for giving us your precious time. Hopefully, this interview will help thousands of aspirants who have been preparing for the HAS exam. 
We wish you a great future ahead.
Stay updated with us:

Click here to join our Telegram Channel