Interview by HP General Studies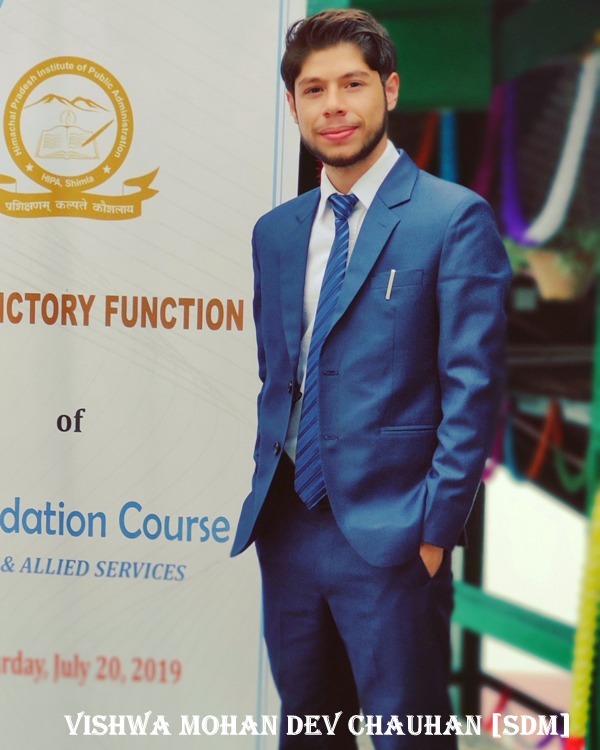 Candidate Profile:
Name
Vishwa Mohan Dev Chauhan
Rank in HAS
12th
Roll No
12003239
Age
24 years
Marital Status
Unmarried
Total Attempts in HAS
01
Optional Subject
Horticulture
Schooling Medium
English
College Medium
English
Medium Chosen for Mains Answers
English
Medium Chosen for Interview
English
Hometown/City
Haripur Dhar (Sirmaur Distt.)
Work Experience if any
None
Details of other competitive exams, including success and failures
1. Cleared Indian Council of Agriculture Research- Junior Research Fellowship (ICAR JRF) Exam (AIR-09).

2. Rank 1 in PGET Dr. YSP UHF, Nauni (2017)

3. Rank 2 in PGET CSK HPKVV Palampur (2017)

Details of coaching/mock tests/postal material for this exam (if used)
Did not get coaching as I was pursuing my M.Sc. as JRF at BHU, Varanasi.
Services preference
HAS > Tehsildar > HPS > DFSC > ETO > BDO > ARCS
Education:
%age in class 10
79%
%age in class 12
72.6%
Graduation/ Post Graduation course and %age
BSc. (Hons.) Horticulture 83.7%

MSc. (Ag.) Horticulture 90.23%

Name of college, city and passing out year
Dr. YSP Univ. Of Horticulture and Forestry, Nauni (June 2017)
Post Graduation
Banaras Hindu University, Varanasi (May 2019)
Any other course
–
Hobbies and extra-curricular achievement
Writing articles, Book chapters, Reading subject literature.

Achievements- Published 2 Book chapters and about 20 abstracts, 3 research papers in international journals and book eds.

Won the best poster and best oral presentation award in international conferences on Agriculture.
Introduction:
Ques: Tell us something about yourself, your family, when and why did you enter in this field of competitive exams?
Ans: I belong to a middle-class joint family. My father works in IP&H dept. and mother is a housewife. I have a younger brother who is also pursuing his post-graduation from Panjab University. I had an inclination towards state civil services since the 7th-8th class and religiously entered this field by starting my preparation during my last year of graduation in 2017.
Ques:  A typical day in your online life?
Whatsapp/Telegram: During my post-graduation, being far from family and friends I used to spend almost 2 hours daily on calls, WhatsApp and Instagram.
Online Study Websites/Apps: HP General Studies, Unacademy, Mrunal.
Ques: What is your style of preparation and notes making?
Ans: As I was pursuing my masters and research work, I used to get very less time to study hence, notes making was not my cup of tea. However, I used to highlight important stuff and used to jot down extra add on points on books itself. Sticking to important and standard books is important rather doing many books altogether.
Prelims (Paper-1):
| | |
| --- | --- |
| Topic | Booklist/Strategy |
| Ancient History | Tamil Nadu Board class 11th book |
| Medieval History | NCERT (new) |
| Modern History | Spectrum- Rajiv Ahir |
| Art & Culture | Nitin Singhania Book |
| Polity (Theory + Current) | M. Laxmikanth book |
| Economy (Theory + Current) | Ramesh Singh, Sanjeev Verma |
| Science (Theory + Current) | Lucent |
| Environment (Theory + Current) | Online resources |
| Geography of India | NCERT 11th + Majid Hussain book |
| Physical Geography | G.C Leong |
| Geography of World | Haven't read |
| Current Affairs | Gyanm monthly, Vision monthly |
| Himachal GK | Jokta, H.N Mittu, Balokhra |
| Himachal Pradesh Current Affairs | Newspapers, online sources |
Prelims (Paper-2):
| | |
| --- | --- |
| Topic | Booklist/Strategy |
| Reasoning | NA |
| English | NA |
| Maths | R.S Aggarwal |
| Communication | NA |
Ques: Did you attend any 'mock tests'? Do you think they're necessary for success?
Ans: No, did not attend any.
Mains: Compulsory language Paper:
| | |
| --- | --- |
| Compulsory language Paper | Your  preparation/Strategy/Booklist |
| English | Solved previous year papers only |
| Hindi | Solved previous year papers only |
Ques: Other observations/tips/ comments on the length/difficulty level of compulsory language papers in HAS-2017?
Ans: HAS mains exam is a blend of both subject knowledge, understanding and delivering of it. If you are able to effectively convey your knowledge in your answers, you can easily go through.
Mains: Essay Paper: 
Ques: How did you prepare for the essay paper?
Ans: Read several model essays.Made a strategy of writing them and practiced it quite a few times and compared to standard essays. And yes, Days before the essay exam I read all the good quotes which I can use while writing an essay.
Ques: Which essays did you write and what key points did you include in it?
Ans: Agricultural Distress in India, and  Use, and abuse of the Internet
Mains: General Studies (Paper-1):
Mains: General Studies (Paper-2):
| | |
| --- | --- |
| Topic/Unit | How did you prepare/Booklist |
| Constitution of India | Laxmikanth |
| Polity of Himachal Pradesh | Jagmohan Balokhra |
| Governance in India | Online |
| Governance in HP | Online and Nidhi Soni book |
| Social Issues | Online and NIOS |
| International Relations | Online + Hindu + Vision Mains 365 on IR |
| International Institutions | Online |
| Cybercrime/Drug menace/Socio-Economic development of HP | Online websites of HP Gov. |
Mains: General Studies (Paper-3):
| | |
| --- | --- |
| Topic/Unit | How did you prepare/Booklist |
| Indian Economy | Ramesh Singh and Sanjeev Verma |
| Schemes and Important Institutions of the World | Online + Budget |
| Economy of HP | Jagmohan Balokhra and HP economic survey will suffice. |
| Science and Technology | Online |
| Energy Sector of India | Online |
| Science and Technology/IT/Biodiversity in HP | Govt. websites and other online sources |
| Environment Science | Shankar IAS |
| Agriculture and Horticulture | Undergraduation notes ( somewhat covered in Nidhi Soni book too) |
| Tourism Sector in HP | Eco Survey and Nidhi Soni Book |
Ques: How was your experience with the 'fixed space' answer sheet?
Ans: It is good to get fixed space. You just have to write whatever is asked sticking to the word limits. I would advise avoiding unnecessarily writing irrelevant things in your answer.
Ques: Did you write answers in bullet points or in paragraphs? Some players were claiming that they wrote the entire paper in bullet points, so it doesn't matter whether examiner is asking 'examine, comment, discuss or XYZ'. Simply write in bullets and points.
Ans: I wrote my answers according to my in-depth of knowledge and time left for each question. I gave most answers in paragraph format but also switched over to bullet points form when the time was less and particular instructions were not given. However, it is a misconception that writing without following instructions help. Every word has a meaning. One must read what is asked properly.
Ques: Did you follow the "introduction-body-conclusion" format? Because some mains-qualified candidates claim they simply wrote the points they could recall within the time, instead of bothering with proper introduction and conclusion.
Ans: Not always, It all depends on the material or knowledge you have and time availability.
Ques: I don't like asking following rudimentary questions, but these are the most frequently asked questions by new aspirants.
Did you use highlighter/sketch-pen in your answers? – No. I just used a black pen to highlight headings.
Did you draw any diagram in any paper? – Yes. Wherever I felt necessary to support my answer.
If yes, did you draw a diagram with pen/pencil? – Pen
Did you use a ruler? – NO
Did you write with Blue or a Black pen? – I used a blue pilot pen and gave headings with a black pen.
Mains: Optional Subject
Ques: What's your optional subject and why did you chose it and not something else?
Ans: Horticulture was my optional. Since I was doing Post graduation in it so I was more comfortable with this subject.
Ques: If a new player wants to pick your subject, would you advise for it or against it?
Ans: Can't really advise it. Sometimes, we have to see recent trends too. But going with a technical subject is advantageous than any regular subject.
Ques: Essential book/resource list for the optional you have read:
Basic Horticulture book
Nature and Properties of soil- N.C Brady
Extension Education- Ray
Vegetable crops- Thamburaj, T.K Bose, B.D Singh
Fruit Crops- Vol 1,2,3 T.K Chattopadhyay
Vegetable Breeding- Hariharan
Plant Propagation- Hartman and Kestor.
My UG and PG class notes.
Ques: How much of internet-research / current affairs is necessary for this optional? OR can one simply rely on the books and be done with this subject?
Ans: Internet research is necessary as some topics in books are outdated. However in-depth study of these books is prerequisite for good command on the subject.
Ques: How many months did it take to finish the core optional syllabus?
Ans: It was a regular task. Since I had read for JRF exam. I took almost one and a half month.
Ques: How many days/ weeks before the exam, you started answer writing practice?
Ans: It was a regular task for me.
Ques: Do you maintain self-notes for revision of optional? In which format- electronic or paper?
Ans: I read my UG and PG class notes and did not make any new.
Ques: Your observation about the difficulty level of 2017 mains vs previous papers. And what precautions/rectifications are necessary for the future strategy for given optional subject?
Ans: Level of mains exam remains almost similar every year. One shall develop a correct approach for attemptation within the available time.
Before the Interview: 
Ques: How did you prepare for the interview for college grad, hobbies, place of origin, and current affairs at the national and international level?
Ans: "Know thyself". Read and understand your biodata. Formulate questions based on your bio and try answering them in front of any friend or mirror. Derive your strengths and weaknesses and work on them. For current events have a constant eye on newspapers during and before interviews.
Ques: Did you attend any mock interviews by coaching classes? How were they similar/different than official interview? Do you believe it is necessary to attend such mock interviews?
Ans: No, I didn't attend and mock interviews. However, took guidance and gave 3-4 interviews to Mr. Suresh Jokta.
Ques: Describe the formal-dress worn by you in the interview.
Ans: As appearing in the picture above. 
During the interview: 
Ques: Who was the chairman of your interview board?
Ans: Maj Gen (retd.) DVS Rana
Ques: How long was the interview?
Ans: 33 minutes
Ques: Please narrate your entire interview- what questions did they ask and what did you reply and other pleasant or uncomfortable experiences during the interview.
Ans: I was asked questions based on my biodata, roles, and responsibilities of SDM, Election aspects, Census, Economic survey reports, IR, History, and Geography of Himachal Pradesh. Horticulture policy of HP- SWOT analysis, Upper Himachal culture.
Ques: Was your interview on the expected lines of what you had prepared or did they ask you totally unexpected questions? Was it a stress interview, did they ask any uncomfortable questions? If yes, how did you handle it?
Ans: It was quite on expected lines but some questions really shocked me off. Just understand that no one knows everything. One must keep cool and avoid giving irrelevant answer it is better to say " Sorry Sir/Maam I am not aware of this". Or if you think you know something and are not sure, it is better to seek the permission of the person say e.g. "Sir, I have some knowledge on this topic. If you permit I can try answering your question".
Your mark sheet:
| | |
| --- | --- |
| Subject | Marks Secured |
| Mains Subjects: |   |
| English | 43 |
| Hindi | 47 |
| Essay | 65 |
| General Studies -1 | 83 |
| General Studies -2 | 60 |
| General Studies -3 | 101 |
| Optional (P-1) | 83 |
| Optional (P-2) | 83 |
| Written Total | 475 |
| Interview | 75 |
| Final Score | 550 |
Career Backup Plan:
Ques: If you were not selected, what was your career backup plan?
Ans: I would have tried all over again. In fact, I would like to quote that "A stone is broken by the last stroke of the hammer. But that does not mean that the first stroke was useless".
Ques: When were you going to "execute" that backup plan? (E.g. after __ number of failed attempts/ after I cross __ age/ after dad retires/ after girlfriend/boyfriend dumps me J etc.)
Ans: It was my first attempt and never thought that I cannot clear this exam.
Ques: How did you survive through this mental prison of HAS and what're your words of wisdom to other senior players/Junior Players? If any specific inspirational incident(s), please share.
Ans: I would say that study smartly always helps. Devise out your own strategy rather than following someone's routine of study. Believe in yourself and give yourself positive vibes to overcome the depression that comes with this exam. Don't daydream, rather be optimistic but not overconfident. One shall never shy away from learning from each and every one.
Grand Wisdom:
Ques: People know what books and syllabus points are to be prepared. But most of them lack consistency in their preparation. So, how do you keep study momentum going on? How do you fight against the mood swings and distractions?
Ans: There are three things – Be independent of all the pressures- family, friends, gf/bf. Find a purpose that will keep you moving even in the hardest times. Love whatever you do. Enjoy this time as this have its own charm and you will miss it after you get selected.
Ques: Through this struggle and success, what have you learned? What is the wisdom of life and competition? What is your message to the new aspirants/veteran aspirants?
Ans: Compete with yourself. Remember that you will grow as a better person in every failure and difficulty. Competing with others will only end up making you a person who is jealous of people succeeding.
Ques: In 2017, Many hardworking candidates have failed in Mains/Interview of HAS-2017. They're feeling cynical, hopeless and depressed- what is your message to them?
Ans: Failure is not a permanent experience. You must rise above it and choose to be a better one than you were a moment ago. Remember "NO MAN IS DEFEATED UNTIL HE HAS FIRST BEEN DEFEATED WITHIN".
Credits: Family/Friends:
Ques: Behind every qualified candidate, there are many people who stood by during those uncertain times when he/she was merely an 'aspirant'. Would you like to tell the world, who were those people in your case? Any specific incidence that you would like to share with the readers?
Ans: When my prelims result was announced I was attending my mother who was admitted in PGI with some ailments. I stayed there for 1 and half months and used to study in corridors and attendant chair. Only almost two months were left for mains and again she got referred to AIIMS. Again I was with her for 20 days till discharge. I never felt like my studies are getting disturbed. Remember no difficulties can stop you if your will to succeed is strong enough. Every night is followed by a dawn. Stay relevant and God will help you.
My mother always supported me and is my real motivation. Father being a govt employee took months leave just to support my studies. I thank my brother and friends for being there in my difficult times.
Ques: You are well aware of the sacred rule of conducting the interviews of qualified candidates- the last question must be about self-marketing. So, Did you use www.hpgeneralstudies.com for your preparation and if yes, how did it help you? And you can even reply "No".
Ans: This is a good platform for people like who are not taking any coaching and are pursuing their studies too. I would like to congratulate Mr. Karun for this great initiative which is helping thousands of people like me out there.
HP General Studies remarks:
Thank-you Mr. Vishwa Mohan Dev Chauhan for giving us your precious time. Hopefully, this interview will help thousands of aspirants who have been preparing for HAS exam. 
We wish you a great future ahead.