Detail of post(s) and eligibility conditions are given as under:-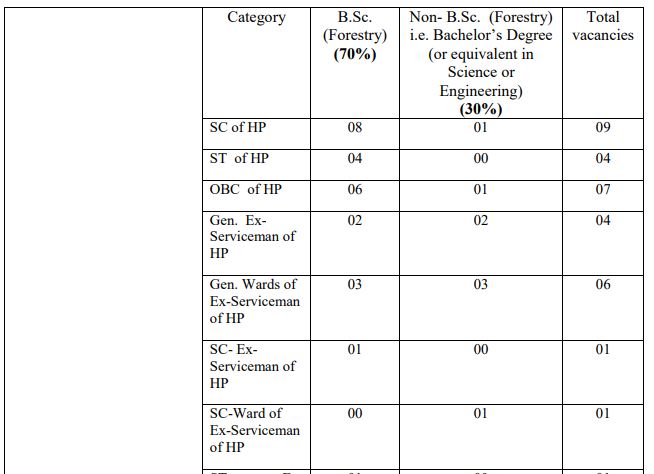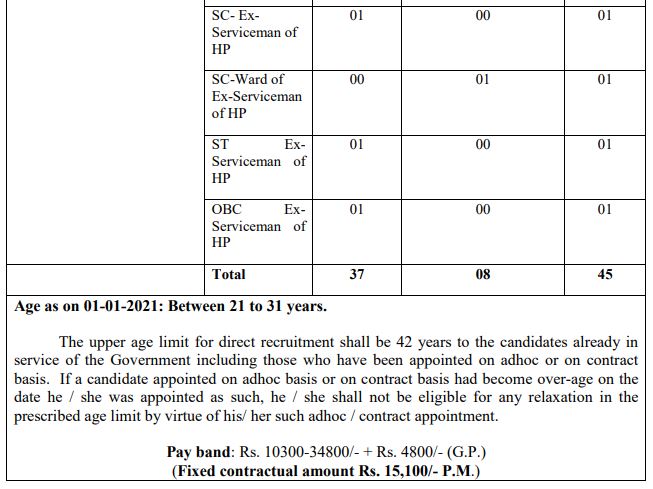 Essential Qualification:-
Candidate(s) must possess Bachelor"s Degree (or equivalent) in Science or Engineering from any recognized University with at least one of the following subjects:-
(i) Agriculture
(ii) Botany
(iii) Chemistry
(iv) Computer Applications / Science.
(v) Engineering (Agricultural / Chemical / Civil / Computer / Electrical /Electronics / Mechanical)
(vi) Environmental Science
(vii) Forestry
(viii) Geology
(ix) Horticulture
(x) Mathematics
(xi) Physics
(xii) Statistics
(xiii) Veterinary Science
(xiv) Zoology
Provided that the candidates belonging to General Category can avail 6 chances to appear in the examination. There shall be no limit for the candidates belonging to SCs/STs/OBCs categories:
Provided further that a government servant who is holding substantive/ officiating appointment in Himachal Pradesh shall be eligible to appear in the examination if he possess at least Bachelor"s degree of any recognized university or equivalent with atleast one of the above mentioned subjects, subject to 6 chances in case of candidate belonging to General category and with no limit for SCs/STs/OBCs candidates. These chances will be inclusive of chances they might have availed as a direct candidate: Provided further that only those candidates who qualify the written test will be called for the physical test and the number of candidates called for the physical test will be five times the number of vacancies.
DESIRABLE QUALIFICATIONS:
Knowledge of customs, manner, and dialects of Himachal Pradesh and suitability for appointment in the peculiar conditions prevailing in the Pradesh.
(b) Male/ Female candidates must pass a physical test covering a distance of 25/16
Kms. within four hours on foot, respectively.
Last Date to Apply: 19th April, 2021 till 11:59 P.M. (IST)
Read also:
Stay updated with us:

Click here to join our Telegram Channel