The economy of the State is expected to achieve a growth rate of 5.6 percent in the current financial year 2019-20.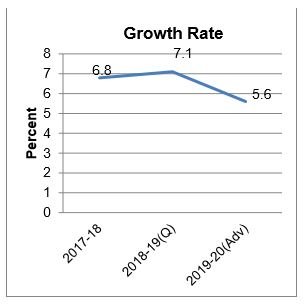 As per the Second Revised Estimates Gross State Domestic Product (GSDP) at current prices, is estimated at `1,53,845 crore in 2018-19 as against `1,38,351 crore in 2017-18 showing an increase of 11.2 percent during the year.
GSDP at constant (2011-12) prices in 2018-19 is estimated at ` 1,17,851 crore against `1,10,034 crore in 2017-18 registering a growth of 7.1 percent during the year as against the growth rate of 6.8 percent of previous year.
The increase in total State Domestic Product is mainly attributed to:
13.3 percent in Community & Personal Services sectors,
7.3 percent in Finance & Real Estate,
4.6 percent increase in Transport and Trade,
8.2 percent in Manufacturing sector,
8.0 percent in Construction and
7.3 percent increase in Electricity, Gas & Water Supply.
Whereas, the primary sector has a negative growth of 1.7 percent.
Food Grains production, which was 15.81 lakh MT during 2017-18 increased to 16.92 lakh MT during 2018-19 and is targeted at 16.36 lakh MT in 2019-20.
The Fruit Production decreased to 4.95 lakh MT in 2018-19 as against 5.65 lakh MT in 2017
18, showing a decrease of 12.4 percent in 2018-19. The fruit production during 2019-20 (up to December, 2019) is almost double at 7.07 lakh MT.
The per capita income at current prices as per the First revised estimates witnessed an increase of 11 percent as it increases to 1,83,108 in 2018-19 from 1,65,025 in previous year 2017-18.
As per the advanced estimates and on the basis of economic conditions up to December, 2019, the growth rate for 2019-20 is expected to be around 5.6 percent.
The economic growth in the State was predominantly governed by agriculture activities. The economy has shown a shift from the agriculture sector to industries and services as the percentage contribution of agriculture in total State Domestic Product has declined from 57.9 percent in 1950-51 to 55.5 percent in 1967-68, 26.5 percent in 1990-91 and to 8.4 percent in 2018-19.
The share of industries and services sectors respectively has increased from 1.1 & 5.9 percent in 1950-51 to 5.6 and 12.4 percent in 1967-68, 9.4 & 19.8 percent in 1990-91 and to 29.8 and 44.0 percent in 2018-19. However, the contribution of other remaining sectors declined from 35.1 percent in 1950-51 to 26.2 percent in 2018-19.
During the year 2019-20 up to December 2019, 7.07 lakh tonnes of fruits were produced in the State and it is envisaged to bring 1,950 hectares of additional area under fruit plants against which 2,113 hectares of the area has already been brought under plantation. Besides 5.28 lakh fruit plants of different species were also distributed up to December 2019.
Though the private sector participation already been brought under plantation. Besides 5.28 lakh fruit plants of different species were also distributed up to December, 2019. Growing of off-season vegetables has also picked up in the state. During 2018-19, 17.22 lakh tonnes of vegetables were produced as against 16.92 lakh tonnes in 2017-18 recorded a growth of 1.8 percent. It is anticipated that the production of vegetables will be about 16.56 lakh tonnes in 2019-20.
Himachal Pradesh continued to take various steps to achieve its targets, in the area of climate change mitigation. The State action plans on climate change aim to create institutional capacities and implement sectoral activities to address climate change.
In view of the growing need of the State economy, the Government has taken steps to provide uninterrupted access to a power supply in the state. Several steps have been taken for increasing power generation, strengthening of transmission and distribution. As a source of energy, hydropower is economically viable, nonpolluting and is environmentally sustainable. In order to restructure the sector, the Power Policy of the State attempts to address all aspects like in terms of investments in this sector has been encouraging but the smaller projects have been reserved for investors from Himachal Pradesh only (up to 2 MW) and preference is given for projects up to 5 MW.
Tourism is an important engine of economic growth and an important source of revenue earnings and a generator of employment of diverse kinds. The State Govt. has also developed appropriate infrastructure for its development through the provision of public utility services, roads, communication networks, airports, transport facilities, water supply, and civic amenities, etc. A significant rise has been noticed in the domestic as well as foreign tourist inflow during the last few years as per details below:-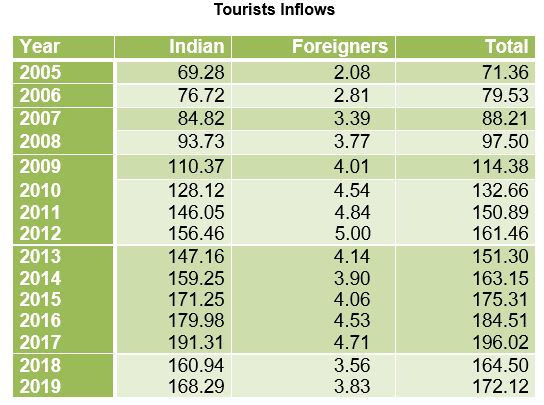 The Annual Plan Budget for 2020-21 has been proposed at `7900.00 crores which will be 11.3 percent higher than the plan size of the current year 2018-19.
Containment of prices is on the priority list of Government. Inflation in Himachal Pradesh based on Working Class Consumer Price Index number during 2019-20 was 4.7 percent in December, 2019.
The priority of the Government has always been for social welfare programmes. Concerted efforts have been made to improve the efficiency and quality of public service delivery.
Some of the major achievements taken during the year are:-
Shikhar Ki aur Himachal: A Mobile App launched to know the activities of Himachal Government.
 My Gov Portal: himachal.mygov.in is a new link introduced for participation of all people in the process of Progress and Development.
 HP Medha Protsahan Yojna: under the scheme assistance of ₹1.00 lakh is to provided to class 12 and Graduation meritorious students for all competitive exams
 HP Buy Back Single Use Plastic: The scheme was introduced on the 150th Birth anniversary of Mahatma Gandhi in 2019 to eradicate Single Use and Non-Recyclable waste and fixed minimum price @ ₹ 75/-per Kg. to buyback such waste.
 Mukhyamantri Seva Sanklap Helpline (Dial1100): A toll free facility was introduced to address problems of people & talk to CM on mobile phone and by e-mail to CM via Mail ID [email protected]
 Himachal Health Care Scheme (HIMCARE): Under the scheme 5.50 lakh families have been registered and 54,282 beneficiaries have availed cashless treatment.
 "Himachal Grihani Suvidha Yojna": Under the scheme 2,64,115 free gas connection for the year 2018-19 and 2019-20, upto December, 2019 have been provided in the State.
 Beti Hai Anmol Yojna: the scheme is implemented to change the negative attitude towards girl child at birth and to improve enrolment and retention in schools and a post birth grant of ₹ 12,000/- and free education from 1st class to Graduation is provided to two girls belonging to BPL families. An amount of ₹854.73 lakh has been spent upto 30.12.2019 for 2,420 Post Birth and 17,680 scholarships of girls in the State.
 Mother Teressa Asahaya Matri Sambal Yojna: Under the scheme government provide assistance to destitute and of BPL family women ₹6000/- per child per annum.  Mukhya Mantri Kanyadan Yojna: the programme provides a marriage grant of ₹ 51,000/- to the guardians of the destitute girls whose father is unable to earn the livelyhood of their family due to physical or mental inability. An amount of ₹ 434.10 lakh has been spent on 1,039 beneficiaries upto December, 2019.
 Mukhya Mantri Swavlamban Yojana: To encourage the youngsters male entrepreneurs government has decided to give subsidy upto 25 percent on machinery cost and 30 percent for Female investors.
 Mukhya Mantri Start-Up Yojana: Under this scheme 27 Start-ups have been started in 8 Incubation Centres and 3 promising entrepreneurs have been awarded and inspection relief for 3 years will be granted.
 Jan Manch Yojna: It was started on 3rd June, 2018 with the objective to establish a direct dialogue with the public and provide on spot redressal to their grievances. As many as 181 Jan manch programme were held in 68 Vidhan sabha areas till date 45,708 complaints received out of which 41,698 (91 percent) complaints were redressed on the spot.
 Social Security Scheme: Under the scheme, Old age pension is given ₹850 per month to all the persons of 60 years and above but below 70 Years, having individual income below ₹ 35000 and the persons above 70 years pension is given ₹1,500 per month without any income criteria.
 Swachh Bharat Mission: The objective of the Municipal Solid Waste Management (MSWM) strategy is to create waste-free cities/towns and provide a clean and pollution-free environment in the entire urban areas of Himachal Pradesh.  Smart City Mission: the objective is to promote cities that provide core infrastructure and give a decent quality of life to its citizens, a clean and sustainable environment and application of 'Smart' Solutions. Dharamshala and Shimla city are being covered under the scheme.
 HP New Ration Card Online: Under this scheme all people whose name does not appears in the HP Ration Card List can apply online using himachalform.nic.in
 Mukhyamantri Bal Udhar Yojna: under the scheme financial assistance is provided to children live in Child Care Institutions and the total expenditure upto December, 2019 on the scheme is ₹ 250.62 lakh.
 Bal Balika Suraksha Yojna and Foster Care Programme: Under the scheme an amount of ₹ 2000/- and additional ₹300/- per child per month to foster parents for the maintenance of children are sanctioned and ₹ 248.70 lakh to 960 Children has been disbursed upto December, 2019.
 Self Employment Assistance for women: Under the scheme ₹5000/- for carrying the income-generating activities by women with an annual income less than 35,000/- and an amount of ₹ 5.20 lakh provided to 104 women up to December 2019.
 Vishesh Mahila Utthan Yojna: The scheme is active in Una district for training and rehabilitation of women in moral danger and a provision of ₹3,000/- stipend per month to each trainee is made with a budget provision of ₹112.0 crore.
 Saksham Gudiya Board Himachal Pradesh: The Board is constituted to make a recommendation for the policy to empower, safety and security, upliftment and protection of crime against the girl child/adolescent girls.
 Ek Buta Beti Ke Naam: the scheme has been launched to sensitize people about the importance of daughters and forest conservation through this scheme a plant /sapling along with a kit will be provided to the parents on the birth of a girl child.
 Uttam Pashu Puruskar Yojna: Under the scheme government has encouraged the farmers (Pashupalak) for more milk production and award the farmer for producing 15 liters and above milk in a day.
 The Per Capita Income of the State has touched the level of `1,83,108 in 2018-19 witnessing a growth of 11.0 per cent over 2017-18 and is estimated at `1,95,255 in 2019-20.
 Pradhan Mantri Kisan Samman Yojna: Under the scheme ₹ 6,000 per annum has to be given to the farmer having less than 2.0 hectares of land.
 Aayushman Bharat Pradhan Mantri Jan Arogya Yojna: Under the scheme, 3.08 lakh families have received golden cards and 43,813 patients have availed cashless treatment in the State.
 Jan Dhan Yojna: The scheme is to tie every Indian in the rural or urban sector to the mainstream banking system. This will aid the financial status of the account holders as well as foster the social Security goals of the central government.
 Pradhan Mantri Fasal Bima Yojna: The scheme was launched on 18 February 2016 by Prime Minister Narendra Modi is an insurance service for farmers for their yields. It was formulated in line with the One Nation–One Scheme theme by replacing the earlier two schemes National Agricultural Insurance Scheme(NAIS) and Modified National Agricultural Insurance Scheme (MNAIS).
 Pradhan Mantri Awas Yojna: Under the scheme 759 beneficiaries have been sanctioned the Awas and 65 houses have been completed upto December 2019.
 Mahatma Gandhi National Rural Employment Guarantee Act. : Under this Act 181.74 lakh mandays have generated by providing employment to 4,47,773 households in the State.