Interview by HP General Studies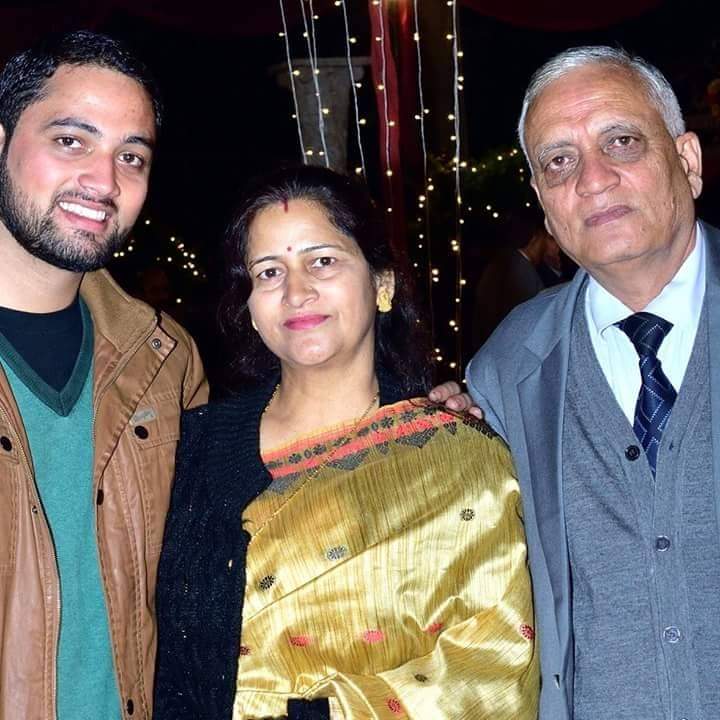 Candidate Profile:
Name
Sankalp Gautam
Rank in HAS
2
Roll No
31102768
Age
27
Marital Status
Unmarried
Total Attempts in HAS
3
Optional Subject
Indian History
Schooling Medium
English
College Medium
English
Medium Chosen for Mains Answers
English
Medium Chosen for Interview
Was not asked specifically but only 1 panelist asked in Hindi, so gave her the answers in Hindi and English for others.
Hometown/City
Sundernagar
Work Experience if any
Naib Tehsildar since 17th Sept 2018
Details of other competitive exams, including success and failures
Written UPSC mains 3 times but have not appeared in the interview. Was rank 12 in Naib Tehsildar 2018 examination
Details of coaching/mock tests/postal material for this exam (if used)
Initially took coaching in Chandigarh for general studies and also gave some VisionIAS mocks for mains and studied S Balyan's classroom notes which I had ordered from Delhi ( Atul Photostat -9831867433)
Services preference

HAS
BDO
Education:
| | |
| --- | --- |
| %age in class 10 | 87.8% |
| %age in class 12 | 84.4% |
| Graduation course and %age | Civil Engg. , 70% |
| Name of college, city and passing out year | JNGEC Sundernagar, 2014 |
| Post Graduation | Transportation (Highways) Engg. from PEC Chandigarh and passed out in 2016 |
| Any other course | – |
| Hobbies and extra-curricular achievement | 1.  Travelling 2.  Playing guitar 3.  Reading |
Introduction:
Ques: Tell us something about yourself, your family, when and why did you enter in this field of competitive exams?
Ans: I did schooling in St. Mary's High School and DAV New Shimla, then did my 10+2 from MLSM College, Sundernagar. Then I took admission in Jawahar Lal Nehru Government Engineering College, Sundernagar, Mandi and thereafter clearing GATE examination I got into PEC Chandigarh for postgraduation where I decided to start preparing for UPSC/HPAS in 2016 and rejected a job offer from the Middle East. I entered this field because of the feeling to serve my own nation/state and try to bring a positive change in society. Moreover, it's a quite stable job and due to the prestige, it brings along everyone gets attracted to civil services preparation.
About my family: My Father has his own business of real estate and also owns a restaurant, My mother, retired as a Sanskrit lecturer from the government school in 2018 and being a Ph.D. in Jyotish she is now actively working as an astrologer. My grandmother retired from the health department and my sister and brother in law both live in Sydney and both serve as software engineers.
Ques: Typical day in your online life?
Whatsapp/Telegram: During preparation, Telegram was quite helpful as I had joined many groups especially for history optional and for HPAS. I had joined a WhatsApp group and spent around 2 or 3 hours going through them.
Online Study Websites/Apps: insightsonindia has been quite helpful for me and I have been using it since 2016 and their modules which they publish before preliminary and mains examination have been very resourceful.
For Himachal Pradesh GK hpgeneralstudies.com has been the perfect friend especially the static portion and the monthly current affairs 🙂
Ques: What is your style of preparation and notes making?
Ans: Since the engineering days I have a habit of learning via writing. So I have continued this for civil services preparation too and I try to make very short notes in bullet form and when exams get near I never go through the books and only revise the notes that I have made. Solving past year questions is also a necessary thing (both prelims and mains). Making notes out of newspapers is a waste of time and one should take online help like insights, vision who have already compiled the editorials and daily current affairs. Still reading a newspaper is one of the best habits and I'll advise either The Hindu or The Indian Express.
Prelims (Paper-1):
| | |
| --- | --- |
| Topic | Booklist/Strategy |
| Ancient History | RS Sharma/ DN Jha/ S. Balyan classroom notes/Selfstudyhistory.com for past year model answers. |
| Medieval History | Satish Chandra/ S. Balyan classroom notes |
| Modern History | Bipin Chandra/ Rajiv Ahir/ S. Balyan Classroomnotes |
| Art & Culture | Singhania is a great author. |
| Polity (Theory + Current) | Lakshmikant, for current insights or vision modules |
| Economy (Theory + Current) | mrunal.org and videos by Mrunal, for current the same modules |
| Science (Theory + Current) | Insights module on science and technology |
| Environment (Theory + Current) | Shankar IAS book and for current the same insights or vision modules on environment |
| Geography of India | Geography has been a weak point for me and I don't know much because I never studied geography intensely but basic NCERT books are fine. |
| Geography of India | Geography has been a weak point for me and I don't know much because I never studied geography intensely but basic NCERT books are fine. |
| Physical Geography | – |
| Geography of World | – |
| Current Affairs | The Hindu daily reading following Insightsonindia daily and then the modules they compile some weeks before prelims and mains. |
| Himachal GK | Jokta Academy's book has been quite helpful. Land reforms and freedom movement in HP from Balokhra. Some portion from hpgeneralstudies.com |
| Himachal Pradesh Current Affairs | hpgeneralstudies.com, and Giriraj. Go through the budget and economic survey thoroughly as they have a lot of weightage in both prelims and mains. |
 Prelims (Paper-2):
| | |
| --- | --- |
| Topic | Booklist/Strategy |
| Reasoning | The strategy is to solve some previous year question papers for paper 2 as a whole. I don't know much separate strategy for reasoning, English and quantitative aptitude but yes practice is the key for aptitude exam. |
| English | – |
| Maths | – |
| Communication | – |
Ques: Did you attend any 'mock tests'? Do you think they're necessary for success?
Ans: For UPSC mains I did buy some mocks from vision and insights but sometimes I solved them and many times I just viewed their model answers. See they do give an advantage but are not necessary for success.
Ques: Approximate no. of attempted answers vs. correct answers. in Prelim 2019:
| | | | |
| --- | --- | --- | --- |
| | Attempted questions | Correct | Official Score |
| GS | 90 | 70 | 126.67 |
| Aptitude | 64 | 56 | 133.33 |
Mains: Compulsory language Paper:
| | |
| --- | --- |
| Compulsory language Paper | Your preparation/Strategy/Booklist |
| English | View some past year question papers but never take English and Hindi lightly. There are sometimes unpredictable questions. |
| Hindi | A book by HG Publications. |
Ques: Other observations/tips/comments on the length/difficulty level of compulsory language papers in HAS-2018?
Ans: Hindi was seriously tough. The length of language papers is fine but the difficulty level was higher this time as I have appeared twice earlier too.
Mains: Essay Paper:
Ques: How did you prepare for the essay paper?
Ans: My father had narrated to me around 30-35 quotes out of which I had learnt around half and used 3 to 4 quotes in each essay and followed introduction body conclusion pattern. I did see some online essays on relevant topics to increase the content.
Ques: Which essays did you write and what key points did you include in it?
Ans: One I wrote on interlinking of rivers in which I mentioned the pros and cons of it and gave these pros and cons using examples and used quotes in between.
Then the other one was on honour killing in which I made a story on two characters belonging to different communities and showed their plight to the examiner and also described how this social evil is taking our country backward!!
Mains: General Studies (Paper-1):
| | |
| --- | --- |
| Topic/Unit | How did you prepare/Booklist |
| History perspective of Indian Culture heritage | Basic history books like Bipin Chandra/ Rajiv Ahir, RS Sharma, etc. ; NCERTs |
| World History | YouTube Videos by mrunal.org are an excellent source |
| History of Himachal | Jokta Academy's book, Balokhra |
| Disaster Management | Some pdfs were provided by friends |
| Indian Geography | Discussion-based and NCERT |
| Geography of Himachal Pradesh | Jokta Academy's book is sufficient |
| Indian Society | mains answer writing practice on insightsonindia |
| Ethics/Gandhian Thoughts | Lexicon, Mrunal.org, Gandhi.org |
| Society and Culture of HP | Jokta Academy's book |
Mains: General Studies (Paper-2):
| | |
| --- | --- |
| Topic/Unit | How did you prepare/Booklist |
| Constitution of India | Laxmikanth |
| Polity of Himachal Pradesh | Balokhra |
| Governance in India | Online preparation |
| Governance in HP | different sites of hp government |
| Social Issues | insights prelims and mains module on social issues |
| International Relations | IDSA |
| International Institutions | Insights module on international relation |
| Cybercrime/Drug menace/Socio-Economic development of | Abhimanu IAS.com |
Mains: General Studies (Paper-3):
| | |
| --- | --- |
| Topic/Unit | How did you prepare/Booklist |
| Indian Economy | mrunal.org, Indian economy by Sanjeev Sharma |
| Schemes and Important Institutions of the World | – |
| Economy of HP | Economic survey and HP budget – 2 most important documents in preparation |
| Science and Technology | insight module |
| Energy Sector of India | info gathered from different online sites |
| Science and Technology/IT/Biodiversity in HP | online hp government reports |
| Environment Science | Shankar IAS book and insights module |
| Agriculture and Horticulture | – |
| Tourism Sector in HP | Tourism policies of HP and general ideas |
Ques: How was your experience with the 'fixed space' answer sheet?
Ans: It was my 3rd time so I have kind of got used to it but in HP the fixed space provided is much less than the space provided in UPSC. So one should practice accordingly.
Ques: Did you write answers in bullet points or in paragraphs? Some players were claiming that they wrote an entire paper in bullet points, so it doesn't matter whether the examiner is asking 'examine, comment, discuss or XYZ'. Simply write in bullets and points.
Ans: I never write in paragraph form. I used bullets and numbering because this has been my habit. I know some people who write in paragraph form and have scored well. Mainly the marking depends upon the content but yes if your answer is catchy like you have underlined or you have used different coloured pens it might be helpful but I think you don't have this much time.
Ques: Did you follow the "introduction-body-conclusion" format? Because some mains-qualified candidates claim they simply wrote the points they could recall within the time, instead of bothering with proper introduction and conclusion.
Ans: In maximum questions, I did follow this format. But in the 4 marks question, it's impossible to follow this format because of the time and space constraints and in these questions you need to stick to the point.
Ques: We don't like asking the following rudimentary questions, but these are the most frequently asked questions by new aspirants. 
Did you use highlighter/sketch-pen in your answers? – No
Did you draw any diagram in any paper? – 2 or 3 in GS papers but yes I did draw many flow charts.
If yes, did you draw a diagram with a pen/pencil? – Pen
Did you use a ruler? – Just to draw margins
Did you write with a Blue or Black pen? – Blue
Mains: Optional Subject
Ques: What's your optional subject and why did you chose it and not something else?
Ans: Indian History and I chose it because of my interest in this subject. Last year I had appeared with geology as my optional subject but could not score well so I returned to history and moreover my UPSC mains examination was to happen the same month in which I have been opting for this subject for a long time so I did not want any clash of subjects.
Ques: If a new player wants to pick your subject, would you advice for it or against it?
Ans: It's a very interesting subject and has a lot of weightage in general studies too. So I will advise opting for this subject but learning history is a lengthy process as you have to go through many books. So one who can give full devotion and a lot of time is most welcome.
Ques: Essential book/resource list for the optional you have read:
Ans: Have mentioned earlier.
Ques: How much of internet-research / current affairs is necessary for this optional? OR can one simply rely on the books and be done with this subject?
Ans: Current affairs is not at all required for history. The sources mentioned above are sufficient.
Ques: How many months did it take to finish the core optional syllabus?
Ans: It has been a long process for me. I have been preparing from 2016 but only this year I got hold of Balyan notes and it took around one and a half a month to cover them.
Before the Interview:
Ques: Did you attend any mock interviews by coaching classes? How were they similar/different than official interview? Do you believe it is necessary to attend such mock interviews?
Ans: No
Ques: Describe the formal-dress worn by you in the interview.
Ans: I wore a black suit and a white shirt and also wore a maroon coloured tie.
During the interview:
Ques: Who was the chairman of your interview board?
Ans: Retd. Maj Gen DVS Rana
Ques: How long was the interview?
Ans: 25-30 mins
Ques: Please narrate your entire interview- what questions did they ask and what did you reply and other pleasant or uncomfortable experiences during the interview.
Ans: It was a comfortable interview. I had a very good time. Actually what favoured for me was that they asked more of opinion-based questions and situation-based questions rather than asking factual questions. They asked me many questions related to highways and road conditions in HP, Revenue dept., environment, population control, taxation, insurgency. I couldn't answer 2 questions and around 20-22 questions were asked from me. Once a panelist asked what are your achievements in the previous year since you have joined as NT and I had answered that land revenue is a complicated matter and I have tried to learn as much possible in this time and I had said that career vise it was an excellent year and I hope when the results come they will show you my achievements to which she was quite impressed as I could make out of her expressions.
Ques: Was your interview on the expected lines of what you had prepared or did they ask you totally unexpected questions? Was it a stress interview, did they ask any uncomfortable questions? If yes, how did you handle it?
Ans: See I was well prepared. I had made notes on all current events, SC judgments, my engineering background questions, my NT background questions, and the interview was on expected lines as mine interview was on 3rd day and I had got a review from others that they are asking more of situational and opinion-based questions than factual questions. So all went fine because I had prepared myself accordingly.
 Your mark sheet:
| | |
| --- | --- |
| Subject | Marks Secured |
| Prelims (Paper-1) |  126.67 |
| Prelims (Paper-2) | 133.33 |
| Mains Subjects: | |
| English | 52 |
| Hindi | 61 |
| Essay | 67 |
| General Studies -1 | 92 |
| General Studies -2 | 105 |
| General Studies -3 | 109 |
| Optional (P-1) | 68 |
| Optional (P-2) | 77 |
| Written Total | 518 |
| Interview | 140 |
| Final Score | 658 |
Career Backup Plan:
Ques: If you were not selected, what was your career backup plan?
Ans: Naib Tehsildar and if I'd not been selected as NT then I might have gone abroad to seek a job as a civil engineer or might have been giving coaching to civil services aspirants.
The struggle of a Senior Player/Junior Player:
Ques: How did you survive through this mental prison of HAS and what're your words of wisdom to other senior players/Junior Players? If any specific inspirational incident(s), please share.
Ans: Consistent effort, sheer will, and focus.
Ques: What went wrong in your previous attempt? What changes did you make in this current attempt?
Ans: I focused mainly on optional this time because in the past 2 attempts I had been performing fine in general studies and essays. Actually optional and essay make the real difference.
The struggle of a Working Professional:
Ques:  If you're a working professional, share some tips on how to manage studies with a job?
Ans: Take holidays before exams and also devote some time every day. Newspaper reading should be a habit. It keeps you in touch with current affairs.
Grand Wisdom:
Ques: People know what books and syllabus points are to be prepared. But most of them lack consistency in their preparation. So, how do you keep study momentum going on? How do you fight against the mood swings and distractions?
Ans: Regular breaks. When one does not feel like studying on a particular day, one should take a break. One hobby like music, some sport helps to break the monotony. The targeted approach of preparation really helps but realistic targets should be made.
Ques:  Through this struggle and success, what have you learned? What is the wisdom of life and competition? What is your message to the new aspirants/veteran aspirants?
Ans: Humility and gratitude. One should be in touch with other aspirants and should also help each other by sharing notes, sources, reports. It helps!!!
Ques: Last year many hardworking candidates have failed in Mains/Interview. They're feeling cynical, hopeless and depressed- what is your message to them?
Ans: These lines sum-up my message to the hardworking apirants.
लहरों से डरकर नौका पार नहीं होती,
कोशिश करने वालों की कभी हार नहीं होती।
नन्हीं चींटी जब दाना लेकर चलती है,
चढ़ती दीवारों पर सौ सौ बार फिसलती है।
मन का विश्वास रगों में साहस भरता है,
चढ़कर गिरना, गिरकर चढ़ना नहीं अखरता है।
आखिर उसकी मेहनत बेकार नहीं होती,
कोशिश करने वालों की कभी हार नहीं होती।
Credits: Family/Friends:
Ques: Behind every qualified candidate, there are many people who stood by during those uncertain times when he/she was merely an 'aspirant'. Would you like to tell the world, who were those people in your case? Any specific incidents that you would like to share with the readers?
Ans: There are so many people I want to thank. Family comes first and then my fellow Naib-Tehsildar Lalit Saklani sir and other NTs too.
Anurag Garg sir who is ETO has been my mentor, Gunjeet Cheema sir helped me a lot for interviews, Karun Bharmoria Ji who has been a great friend.
Dronacharya IAS Academy where I took guidance and also taught history.
My friends Manish, Vivek, Amritash, Shalini, Ankush Kaushal, Sachin, Dr. Aditya, Vaibhav who have always been with me in my ups and downs. So many others. Thank you all.
You are well aware of the sacred rule of conducting interviews of qualified candidates- the last question must be about self-marketing. So, Did you use www.hpgeneralstudies.com for your preparation and if yes, how did it help you? And you can even reply "No".

Ans: Yes. Definitely. I have almost gone through the whole content and have also contributed some content. 🙂
HP General Studies remarks:
Thank-you Shri. Sankalp Gautam for giving us your precious time. Hopefully, this interview will help thousands of aspirants who have been preparing for the HAS exam.
We wish you a great future ahead.
Stay updated with us:

Click here to join our Telegram Channel