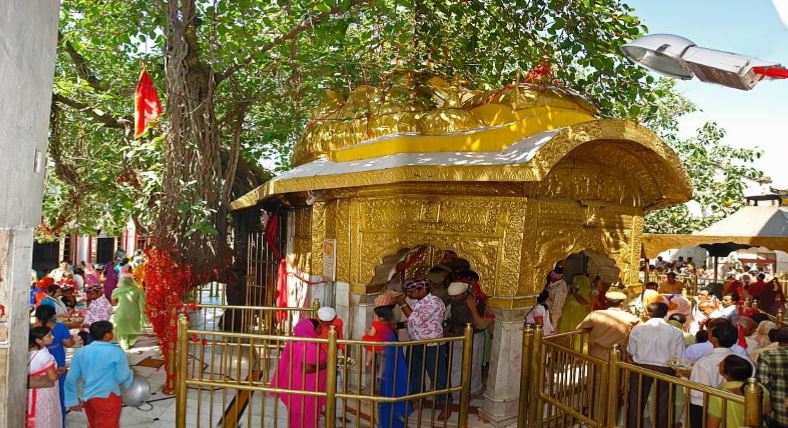 The temple of Chintpurni is a prominent pilgrimage center and one of the Shaktipeethas of the country.
Located in the district of Una it is surrounded by the western Himalaya in the north and smaller Shivalik range bordering the state of Punjab in the east.
The temple is situated at the height of 940 metres above the mean sea level on one of the highest peaks of the Sola Singhi range of hills.
It is about 3 kms. west to a place known as Bharwain which is located on the Hoshiarpur-Dharamsala National Highway.
Chintpurni is well connected by road with National and State capitals in addition to important places of North India.
The nearest railway station and airport is at Amb and Gaggal which is about 20 kms. and 60 kms. respectively from Chintpurni.
The holy shrine of Chintpurni is dedicated to the temple of Chhinnamastika Devi and is considered as one of the most important shaktipeeth of the 51 Shaktipeethas in the country.
Chhinnmastika is interpreted as the server headed goddess.
According to Markandeya Purana' it is said that in a fierce battle the goddess Chandi defeated the demons, her two yogini emanations (Jaya and Vijaya) were remained thirsty for want of more blood, the goddess cut off her own head just to quench Jaya and Vijaya's thirst for blood.
In the garbha griha of the temple the image of Mata Chintpurni is installed in the form of a pindi (a round-shaped stone).
It is believed that one Pandit Mai Das, a Sarawat Brahmin, has established this shrine of Mata Chintpurni Devi in Chhaproh Village and over a period of time this place came into prominence and became known as Chintpurni temple after the eponymous name of the deity.
The Navaratra fairs especially Shravani Navartras are very popular among the devotees of the goddess. Devotees from all walks of life have been visiting this place for centuries to seek blessings from the goddess Chhinnmastika.
Visiting records of pilgrims also used to be kept at this holy place by the concerned pandits under the patron-client system like in Haridwar, Kurukshetra, Pehowa, Jawalapur, and Jawalmukhi, etc.