1. The Annadale:
The first fun fair was held in Anna dale in September 1833 to raise funds for girl's school at "Subathu".
The viceregal dance was held in Annadale in honor of the queen's "birthday" on 24th May 1839.
Durand football tournament, inaugurated by Sir Mortimer Durand in 1888 was held here.
Presently, Annadale is an army area with an Army Heritage Museum.
Annadale was first used by East India Company and then the British Raj, which is why natives originally called it "Company Ka Baag".
2. Christ Church in Shimla:
The first cornerstone of Church was led by Rev. Daniel Wilson, Bishop of Calcutta on 9 September 1844.
The church was consecrated on 10 January 1857 by Bishop Thomas Daltrey, Bishop of Madras.
Christ Church, Shimla was designed by Colonel J. T. Boileau in 1844.
Built-in the neo–Gothic style in 1857 to serve the largely Anglican British community in what was formerly called Simla, Christ Church is situated on The Ridge.
The clock adorning Christ Church was donated by Colonel Dumbleton in 1860.
3. Gunj Bazar (Market):
In 1848, Edward planned a market called Gunj.
Barnes Court:
It was constructed around 1830.
he Barnes Court building has been constructed in  'Tudor' style of architecture.
It was the summer residence of 6 army commander-in-chief first among them was Sir Edward Barner in 1932, later this building served as a residence of Lieutenant governor of erstwhile Punjab.
After a break, from 1849 to 1864, it was again the residence of various British Commanders-in-Chief, General Napier, General Gomm, General Anson, General Campbell, and General Rose.
 It was here that the news of the Great Uprising of 1857 was given to General Anson.
 The Punjab Government on 11th April 1878, asked for permission to purchase "Barnes Court", as an official residence for the Lieutenant- Governor, Sir Robert Egerton, who first went regularly into residence at Barnes Court in 1879.
It acted as summer Raj Bhawan of Punjab upto 1966.
After the reorganization, when Simla was allotted to Himachal Pradesh, it was converted into a State Guest. In the late seventies, it was converted into a State Guest House-cum-Tourist Bungalow for some time.
In August 1972, after the 1971 war between India and Pakistan, the Shimla Agreement was signed by Smt. Indira Gandhi and Mr. Zulfikar Ali Bhutto, the then Prime Ministers of two countries at Barnes Court.
As Peter Hoff was gutted in fire in 1981, Raj Bhavan housed therein was shifted to this building. On the reconstruction of Peter Hoff, Raj Bhavan was shifted back to its new building in 1993. However, as it was too spacious for Raj Bhavan, it was again shifted back to Barnes Court building.
It is now the temporary residence of the governor of Himachal Pradesh.
Rothney Castle: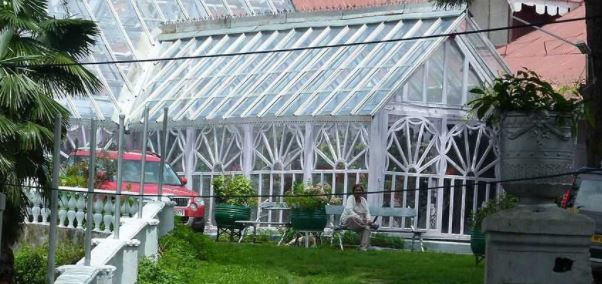 This was first known as Rothney house' and was built by Colonel Rotheny in 1838. He sold this house to Dr. Carte who started the 'Shimla Bank Corporation' in the house on the 19th of November 1844.
It was the residence of the founder of the Indian National Congress, Mr. A O Hume now it has been converted into a luxury hotel.
It is situated at Jakhoo Hill.
Hume assembled the world's largest collection of stuffed Asiatic birds here before donating it to the British Museum.
He also found time to start the Indian National Congress (in 1885) here.
Bonnie Moon:
It is the name of a museum in Shimla which was founded by Colonel Robert Tytler.
The museum chiefly consisted of a large collection of birds from all parts of the world, including animals and shells from the Andamans, oriental manuscripts, and geological, mineralogical specimens.
Tytler lived for a while in Shimla at Bonnie Moon on Jakhoo Hill.
Viceregal lodge:
Viceregal Lodge is located at an observatory hill built in the Jacobethan style.
The viceregal lodge was designed by British architect Henry Irwin, during Lord Dufferin's time.
Its construction started in 1880 and was completed in 1888.
Lord Dufferin became the first to start residing in the Lodge on July 23, 1888.
It is commonly known as the Rashtrapati Niwas (President House) till 1960.
Indian President used the lodge as their summer retreat.
In 1960 this tradition was ended and the building was handed over to the Indian Institute of Advanced Study.
Peterhoff:
It is located at "Chaura Maidan".
It has been built in typical Tudor style – all wooden frames and shingled eaves.
It was the residence of the viceroy of India during British rule. Lord Elgin was the first viceroy who housed in it in 1863.
The trial of Nathu Ram Godse took place in 1948-49.
In 1863 the building served as Punjab High Court.
When Himachal became a full-fledged state the building became the Raj Bhawan (Governor's residence).
Unfortunately, it burnt down on 12 January 1981 but it was reconstructed in 1991 and now was a heritage luxury hotel under Himachal Pradesh Tourism Development Corporation (HPTDC).
Town Hall:
It is located on the ridge.
The Town Hall building is in the half-timbered Tudor style – all-wooden frames and shingled eaves.
The majestic Town Hall was initially designed as a library and offices by Scottish architect James Ransome in 1908. 
After India's partition, some of the offices of the Municipal Corporation were housed in it.
The original building of the town hall was designed by Henry Irwin and its construction was completed in 1888.
The Gaiety Theatre:
The Gaiety Theatre was opened on 30th May 1887.
It was constructed in the Gothic style.
The first play in the theatre was a comedy called "Time will tell".
Rippon Hospital:
Ripon Hospital was also designed by Henry Irwin and this building was opened by Dufferin on 14th May 1885.
Legislative assembly building or Council Chamber:
It was constructed on August 27, 1925, and was opened up by Lord Reading.
Himachal Dham (present Akashvani Bhawan):
It was called Foreign Office Building during British Raj, which was later destroyed by fire on 5th May 1957.
Bishop Cotton School, Shimla:
Bishop Cotton School, Shimla, is one of the oldest boarding schools in Asia and was founded on  28th July 1859, by Bishop George Edward Lynch Cotton at Jutogh.
The school opened for students on 15th March 1863.
The first boy, Frederick Naylor, joined the school on 16th March 1863
The foundation stone for the new buildings at Shimla was laid on 26th September 1866, by H.E. the Viceroy, Sir John Lawrence.
 In September 1868, the school moved to Knollswood (present site).
Shimla's municipal committee (MC):
It was first constituted in 1852; Deputy Commissioner was appointed ex-officio chairman of it.
In 1871, Shimla was given the status of the first-class municipality under the Act of 1867.
The Municipal Committee of Shimla town has been replaced by Municipal Corporation under Himachal Pradesh municipal corporation act 1978.
Lord Rippon was called the father of local self-government in India. His resolution of May 1882 on Local Self Government paved the way to a fresh experiment in municipal government and election was held.
Ice skating rink:
The ice skating rink at Shimla was started by Blessington around 1920.
Note:  The highest ice skating artificial rink in Himachal Pradesh at an altitude of 3,720 meters has been set up in remote Kaza town in the Spiti area by the government of Himachal Pradesh. The aim of setting up the rink is to promote ice skating and hockey among the youth. It meets the international ice hockey standards.
Gorton Caste:
Gorton Castle was built in the Neo-Gothic style of Architecture during 1901-04.
It was once the Civil Secretariat of the Imperial Government of India and housed legislative, Land, Education, Health, and Finance departments before it became the Office of the Accountant General in 1947.
Even today this building houses the office of the Accountant General of Himachal Pradesh.
In 2014, Fire engulfs heritage Shimla Gorton Castle (AG Office).
Bantony Castle:
Bantony Castle is built in the mock-Tudor style, part chalet, and crowned with sloping roofs with mini-towers.
It is now vested with Himachal's Department of Language, Art, and Culture.
The estate was designed by architect TEG Cooper and the place had a rickety cottage belonging to Captain A Gordon, which housed army officers before its construction in 1880.
'Bantony Castle' was once the summer palace of rulers of Sirmaur.
Ellerslie House:
This beautiful heritage building was designed by Lt. Colonel H.S. Abbott for the government use in 1886.
Before construction, they had to dismantle the old building which had the same name and was used by the Military Department of Punjab Government.
The Himachal Pradesh Secretariat occupied it in the summers of 1967.
Presently, this building houses Himachal Pradesh Secretariat.
In July 1972 the "Summit Hall" where the cabinet meetings are held was spruced up and was given this name as initial summit meeting for Shimla Agreement between India and Pakistan.