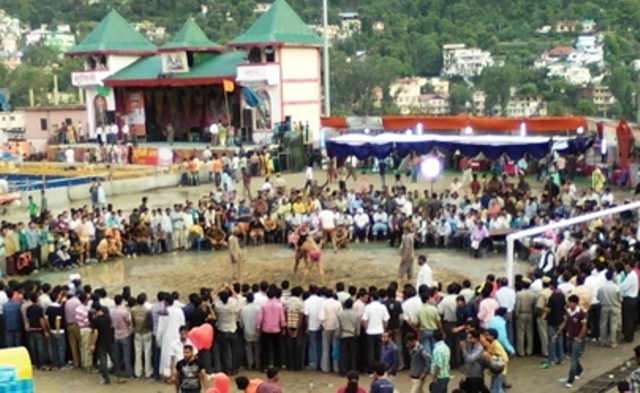 Riwalsar fair has a great religious importance and is celebrated on the 10th day of every new year according to the Tibetan calendar.
Tibetan year starts sometimes in February/March.
Riwalsar fair is also known as Tsechu/Chessu fair which literally means 10th of Dawa Thangpo (1st month).
The Buddhists from various parts of the country come to this place to celebrate the birthday of their Guru Padma Sambhav.
The festival of Tsechu takes place twice a year known as Chhota Tsechu and Bara Tsechu.
The former takes place on Shukla Dashmi of pausa month of the Bikrami era (December/January) whereas the later on the Shukla Dashmi of the month of Phalguna (February/March).
The Chhota Tsechu heralds the beginning of the festival season and the degree of pomp and show is on a lesser scale than what is witnessed during Bara Tsechu.
The fair starts with a big 'Puja' in the Gompa or Buddhist monastery.
The followers of the two sects of Buddhism, Neiysrapa and Kandgupa participate in this puja.
Hundreds of Lamas sit in meditation on the 7th day or 'Satvin' which continues upto the day of 'puranmashi'.
Apart from Padma Sambhava, homages are also paid to other Tibetan deities, the principal of them being Shardur Samdia and Nubnawathay.
The flag is also changed and there is a great scramble to collect the pieces of old flag.
On the day of Chhota Tsechu only limited number of Lamas participate in the meditation and 1,000 wicks of ghee (butter) are lit up.
A Tibetan preparation called Tsog, which is made, by mixing barley, ghee and gur is distributed.
The five coloured buntings of cloth printed with Buddhist 'mantras' are hung all along with the belief that the wind which comes in contact with these gets purified which in turn purifies the atmosphere as well.
Numbers of folk dances are performed in honour of Padma Sambhava and other Buddhist deities.Besides the above stated main fairs, a number of other fairs are also held in the district.