Agriculture
Agriculture is the main occupation of the people of Himachal Pradesh and has an important place in the economy of the State. Himachal Pradesh is the only State in the country whose 89.96 percent population (Census 2011) lives in rural areas. Agriculture/ Horticulture provide direct employment to about 69 percent of total workers of the State.
Agriculture is an important source of State Income (GSDP). About 12.73 percent of the total GSDP comes from agriculture and its allied sectors. Out of the total geographical area of State (55.67 lakh
hectare) the area of operational holdings is about 9.55 lakh hectares and is operated by 9.61 lakh farmers. The average holding size is about 1.00 hectare. Distribution of land holdings according to 2010-11 Agricultural Census shows that 87.95 percent of the total holdings belongs to small and
marginal farmers. About 11.71 percent of holdings are owned by semi medium and medium farmers and only 0.34 percent by large farmers. The distribution of land holdings in Himachal Pradesh has been depicted in Table.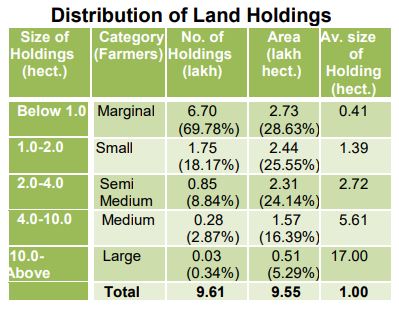 About 80 percent of the total cultivated area in the state is rainfed. Rice, Wheat and Maize are
important cereal crops of the State. The Groundnut, Soyabeen and Sunflower in Kharif and Rapeseed / Mustard and Toria in the Rabi season are important oilseed crops. Urd, Bean, Moong,
Rajmash in Kharif season and Gram Lentil in Rabi are the important pulse crops of the state. Agro-climatically the state can be divided into four zones viz.:-
Sub Tropical, sub-mountain, and low hills.
Sub Temperate, Sub humid mid hills.
Wet Temperate high hills.
Dry Temperate high hills and cold deserts.
The Agro-climatic conditions in the State are congenial for the production of cash crops like seed  potato, off-season vegetables and ginger.
The State Government is laying emphasis on production of offseason vegetables, potato, ginger, pulses and oilseeds besides increasing production of cereal crops, through timely and adequate supply of inputs, demonstration and effective dissemination of improved farm technology,   replacement of old variety seed, promoting integrated pest management, bringing more area under
efficient use of water resources and implementation of Wasteland Development Projects. There are four distinct seasons with respect to rainfall. Almost half of the rainfall is received during the Monsoon season and remaining precipitation is distributed among other seasons. The State
receives an average rainfall of 1,251 mm. Kangra district gets the highest rainfall followed by Chamba, Sirmaur and Mandi.
Crop Performance 2018-19: 
The economy of Himachal Pradesh is largely dependent on agriculture which still occupies a significant place in the state economy 8.8 percent of total State Domestic Product was generated by agriculture and allied sectors during the year 2017- 18 and any fluctuations in the production
of foodgrains affect the economy significantly.
The year 2018-19 remained an average year and the foodgrains production was 16.92 lakh
MT against the food grain production of 15.81 lakh MT in the year 2017-18. The production of Potato was 1.87 lakh MT in 2018-19 as against 1.99 lakh MT in 2017-18. The production of vegetables during the year 2018-19 was 17.22 lakh MT as against 16.92 lakh MT in 2017- 8.
Crop Prospects 2019-20:
The food grain production target for 2019-20 is 16.36 lakh MT. Kharif production mainly depends upon the behaviour of south west monsoon, as about 80 percent of the total cultivated area is rainfed. The sowing of Kharif crops starts from the end of April and goes up to the mid of June. Maize and Paddy are the the principal foodgrain crops growing during Kharif season and other minor crops are Ragi, Millets and pulses. An area of 384.26 thousand hectare was sown under
different Kharif crops. During this season, about 20 percent of area is sown in the month of April-May whereas remaining area is sown in the month of June and July which is a peak Kharif sowing period. Due to normal rain in most part of the State, sowing could be done in time and overall crop condition was normal. However due to good monsoon season of 2018, the production of 9.17 lakh M.T. has been anticipated against the production target of 7.77 lakh M.T. for the Kharif 2018
season. During Rabi 2018-19, from October to December, 2018 season the rain received were deficient by 48 percent in the post monsoon season rainfall for the period October to December, 2018 but the rains were received in the month of January, 2019 due to which late variety seeds were
sown, thus minimizing the possibility of loss due to draught. As such the Rabi 2018-19 the total production of 7.52 lakh M.T. has been achieved.
Growth in Foodgrains Production:
There is limited scope of increasing production through expansion of cultivable land. Like rest of the country, Himachal too has almost reached a plateau in so far as cultivable land is concerned. Hence, emphasis has to be on increasing productivity levels besides diversification towards
high value crops. Due to an increasing shift towards commercial crops, the area under food-grains production is gradually declining as the area in 1997- 98 which was 853.88 thousand hectares
declined to 732.62 thousand hectares in 2018-19.
High Yielding Varieties programme (H.Y.V.P):
In order to increase production of foodgrains, emphasis has been laid on distribution of seeds of high yielding varieties to the farmers. Area brought under high yielding varieties of principal crops viz. Maize, Paddy and Wheat for 2017-18, 2018-19 and proposed for 2019-20 is given in table
7.6. There are 20 Seed Multiplication Farms from where foundation seed is distributed to registered farmers. In addition, there are 3 Vegetable Development Stations, 12 Potato Development Stations and 1 Ginger Development Station in the State.
Plant Protection Programme:
In order to increase the production of crops, adoption of plant protection measures is of paramount
importance. During each season, campaigns are organised to fight the menace of crop disease, insects and pest etc. the scheduled castes/ scheduled tribes, IRDP families' farmers of backward areas and small and marginal farmers are provided plant protection chemicals and equipments at
50 percent cost. It is the approach of Agriculture Department to reduce consumption of plant protection chemicals by gradually switching to biological control of pests/diseases.
Soil Testing Programme:
In order to maintain the fertility of the soil during each crop season, soil samples are collected from
the farmers' fields and analysed in the soil testing laboratories. Soil testing laboratories have been established in all the districts (except Lahaul and Spiti), and four mobile soil testing vans/labs out of which one exclusively for the tribal areas is in operation for testing the soil samples at site. At
present 11 soil testing labs have been strengthened, 9 mobile labs and 47 mini labs have also been setup by the department. The Government of India has launched a new scheme based on which the sample of soil shall be drawn on GPS basis. During the year 2019-20, 18,725 soil samples shall be analysed.  Soil testing service has also been included under H.P. Govt.Public Service Act, 2011 in which the soil health cards are being made available to the Farmers through online service.
Prakritik Kheti Khushal Kisan Yojna under Zero Budget Natural farming:
The State Government has launched new scheme "Prakritik Kheti Khushal Kisan Yojna" in the State. The Government intends to encourage "Zero Budget Natural Farming", so as to bring down the cost of cultivation. The use of chemical fertilizers and chemical pesticides will be   discouraged. The budget provided for pesticides/ insecticides to the department of Agriculture and Horticulture will be used for providing bio-pesticides and bioinsecticides. A budget provision of ₹19.25 crore has been kept for 2019-20.
Fertilizer Consumption and Subsidy:
Fertilizer is a critical input, which helps in increasing the production to a great extent. The level of fertilizer consumption in 1985-86 was 23,664 tonnes, which has increased to 57,555 MT in 2018-19. In order to promote balanced use of chemical fertilizers, a subsidy of `1,000 per MT on complex
fertilizers have been allowed, use of water soluble fertilizers is promoted in a big way for which subsidy has been allowed to an extent of 25 percent of cost. Subsidy is being provided under the Plan schemes. About 51,500 MT of fertilizers in terms of nutrients are proposed to be distributed during 2019-20.
Agriculture Credit:
Institutional credit is being extensively disbursed but there is scope to increase the same particularly in respect of the crops for which insurance cover is available. Providing better access to institutional credit for small and marginal farmers and other weaker sections to enable them to adopt modern technology and improved agricultural practices has been one of the major objectives of the Government. The banking sector prepares crop specific credit plans and the credit flow
is monitored urgently in the meetings of the State level Bankers Committee.
Crop Insurance Scheme:
The state government has introduced this scheme from Rabi, 1999-2000 season. Now Pradhan
Mantri Fasal Bima Yojna (PMFBY) has been launched in the state from Kharif, 2016 season as per the administrative approval and operational guidelines issued by the Department of Agriculture, Ministry of Agriculture, Government of India. In this insurance scheme, Maize and Paddy crops have been covered during Kharif season. The different stages of risk leading to crop loss due to delayed sowing, post harvest losses, localized calamities and losses to standing crops (from sowing
to harvest) have been covered under this new scheme. The scheme is compulsory to loanee farmers availing Seasonal Agricultural Operational (SAO) crop loans for the insurable crops from the Banks and Primary Agricultural Co-operative Societies (PACs) and optional for the Non loanee farmers. Under PMFBY, claims beyond 350 percent of premium collected or percentage of claims to sum insured exceeds 35 percent whichever is higher at the national level, of all the companies combined, shall be paid by center and state equally.Under Pradhan Mantrai Fasal Bima yogna, total No. of
2,70,772 farmers have been covered in Kharif 2018 and Rabi, 2018-19 seasons under PMFBY. A budget provision of ₹7.00 crores has been made for the year 2019-20 which is utilized for the
payment of state share of premium subsidy. The Government of India, Ministry of Agriculture has launched another Crop Insurance Scheme from Kharif, 2016 season called "Restructured Weather Based Crop Insurance Scheme. (R-WBCIS) The scheme intends to provide insurance protection to the cultivators against natural calamities which are deemed to adversely affect the Kharif crops during its cultivation period.
Seed Certification Programme:
Agro-climatic conditions in the state are quite conducive for seed production. In order to maintain the quality of the seeds and also ensure higher prices of seeds to the growers, seed certification programme has been given due emphasis. Himachal Pradesh state Seed Certification Agency
registers growers in different parts of the State for seed production and certification of their produce.
Agriculture Marketing:
For the regulation of agricultural produce in the State, Himachal Pradesh Agricultural/ Horticulture Produce Marketing Act, 2005 has been enforced. Under the Act, Himachal Pradesh Marketing Board has been established. Himachal Pradesh has been divided into ten notified market areas. Its main objective is to safeguard the interest of the farming community. The regulated markets established in different parts of the State are providing useful services
to the farmers. A modernised market complex at Solan is functional for marketing of agricultural produce, besides construction of market yards in different area. At present 10 market committees are functioning and 58 markets have been made functional. Market information is being disseminated through different media i.e. AIR, Doordarshan, print media and through net to farmers.
Tea Development:
Total area under tea is 2,311 hectares with a production level of 8.77 lakh Kgs. achieved in 2018-19.
small and marginal farmers are provided agriculture inputs on 50 percent subsidy.
Soil and Water Conservation: 
Due to topographical factors the soil is subject to splash, sheet and gully erosion resulting into
degradation of the soil. Besides this, there is biotic pressure on the land. To curb this menace, particularly on the agriculture lands, the department is implementing two soil and water
conservation schemes under state sector. The schemes are:-
Soil Conservation Works.
Water conservation and development.
Water conservation and minor irrigation programme has been accorded priority in order to boost agriculture production. The department has prepared a plan to harvest rain water by constructing
tanks, ponds, check-dams and storage structures. Besides this, low lifting water devices and efficient irrigation system through sprinklers are also being popularized. In these projects, major
thrust would be on soil and water conservation and creation of employment opportunities at farm  level.
Mukhya Mantri Nutan Polyhouse Yojna:
In order to achieve faster and more inclusive growth in agriculture sector, government of Himachal
Pradesh has started "Mukhya Mantri Nutan Polyhouse Yojna amounting to ₹. 78.59 lakh has been approved by the Govt. and submitted to NABARD for funding under RIDF-XXV.
Rashtriya Krishi Vikas Yojna (RKVY):
Rashtriya Krishi Vikas Yojna –RAFTAAR was initiated in 2007 as an umbrella scheme for ensuring
holistic development of agriculture and allied sector.The scheme was implemented as an Additional Central Assistance (100%) from GOI upto 2014-15.The funding pattern has been altere in the ratio of 90:10 for North Eastern/Himalayan States from 2015-16 onward.Now RKVY has been revamped
as RKVY-RAFTAAR-Remunerative Approaches for Agriculture and Allied sector Rejuvenation for the remaining period of the Fourteenth Finance Commission. The main objectives of the
scheme are as under:
1. To strengthen the farmers efforts through creation of required pre and post-harvest agri infrastructure that increases access to quality inputs, storage, market facilities etc.and enables
farmers to make informed choices.
2. To provides flexibility and autonomy to states in the process of planning and executing Agriculture and allied sector schemes.
3. To promote value chain addition linked production models that will help farmers increase their
income as well as encourage production/productivity.
4. To mitigate risk of farmers with  focus on additional income generation activities-like integrated farming, mushroom cultivation, bee keeping, aromatic plant cultivation, floriculture etc.
5. To attend national priorities through several sub schemes
6. To empower youth through skill development, innovation and agri-enterpreneurship based agri
business models that attract them to agriculture.
The Government of India has allocated ₹ 24.10 crore in favour of Himachal Pradesh under Normal RKVY for the year 2019-20 as central share 10% of (90%) and with matching State share ₹.2.68 crore, the total allocation for the year 2019-20 is ₹ 26.78 crore.
National Mission on Agricultural Extension and Technology (NMAET):
National Mission on Agricultural Extension and Technology (NMAET) has been launched to make the extension system farmer-driven and farmer arrangement of technology dissemination. NMAET has been divided into four sub-missions.
Sub Mission on Agriculture Extension (SAME).
Sub Mission on Seed and Planting Material (SMSP).
Sub Mission on Agriculture Machanization (SMAM).
Sub Mission on Plant Protection and Plant Quarantine (SMPP).
It is a centrally sponcered scheme and the component will be in the ratio of 90:10 centre and state share respectively. Under the scheme a budget provision of ₹ 33.00 crore has been made for the year 2019-20.
National Mission on Sustainable Agriculture (NMSA):
Sustainable agriculture productivity depends upon quality and availability of natural resources like  soil and water. Agricultural growth can be sustained by promoting conservation and sustainable use of these scarce natural resources through appropriate location specific measures. Thus, conservation of natural resources in conjunction with development of rain fed agriculture holds the key to meet burgeoning demand for food grain in the state. Towards this end, National Mission for Sustainable Agriculture (NMSA) has been formulated for enhancing agricultural productivity  especially in rain fed areas.
Main deliverables under this mission are:
Developing rain fed agriculture.
Natural resources management.
Enhancing water use efficiency.
Improving soil health.
Promoting conservation agriculture.
Under the scheme a budget provision of ₹24.48 crore has been made for the year 2019-20.
National Food Security Mission (NFSM):
The National Food Security Mission (NFSM) aims to enhance the production of rice, wheat and pulses. NFSM has been launched in the State from Rabi 2012 with two major components viz. NFSM-Rice and NFSM-Wheat.Under NFSM-Rice is in operation in three districts of state and
whereas NFSM-Wheat in nine district with 100 percent assistance from central government. The aim of missionis to increase production of rice and wheat through area expansion and productivity enhancement, restoring soil fertility and productivity, creativity employment opportunities and
enhancing level of farm economy in targeted districts. Under this scheme provision of `16.50 crore has been made for the year 2019-20.
Pradhan Mantri Krishi Sinchai Yojna:
In an attempt to improve the agricultural productivity, the government of India has started a new
scheme, viz. Pradhan Mantri Krishi Sinchai Yojna (PMKSY). Micro-irrigation projects ("Har Khet Ko Pani") and endto-end irrigation solutions will be the key focus of this scheme. "The major
objective of the PMKSY is to achieve convergence of investments in irrigation  at the field level, expand cultivable area under assured irrigation, improve onfarm water use efficiency to reduce
wastage of water, enhance adoption of precision-irrigation and other watersaving technologies". Under this scheme a budget provision of `22.00 crore has been proposed for the year 2019-20 under state plan.
Efficient Irrigation through Micro-Irrigation Scheme:
For efficient system of irrigation, the government has launched a scheme named 'Efficient Irrigation through Micro-Irrigation Systems' with an outlay of `154.00 crore over a period of 4 years starting from 2015-16 to 2018-19. Through this project 8,500 hectare area will be brought under Drip/ Sprinkler Irrigation System benefitting 14,000 farmers. The subsidy @ 80 percent for the installation of sprinkler and drip irrigation sytem would be provided to the farmers. A budget
provision of `25.00 crore has been made for this component for the year 2019-20.
Uttam Chara Utpadan Yojna:
With a view to increase fodder production in the state, the state government has launched a  cheme; 'Uttam Chaara Utpadan Yojna for fodder development by bringing an area of 25,000 hectare under fodder production. Quality seed of fodder grasses, cuttings, and seedings of improved fodder varieties is supplied on subsidized rates to the farmers. Subsidy on Chaff Cutters is available to the SC/ ST and BPL farmers. A provision of `5.60 crore has been made for year 2019-20 under this scheme.
Mukhya Mantri Khet Sanrakshan Yojna:
Monkey and wild life menance causes huge loss to crops annually. Present practice of crop protection by manual guarding does not ensure 100 percent crop. Threfore, government of Himachal Pradesh has introduced a scheme "Mukhya Mantri khet Sanrakhshan Yojna". Under this
scheme, 80 percent subsidy is provided. The fence is with the help of solar power. Current in the fence around the farms will be sufficient to keep away the stray animals, wild animals and monkeys from the farms. Under this scheme ₹ 35.00 crore has been provided for the year 2019-20. About 2000 hectares cultivated land will be fenced/ protected from wild/ stary animals and monkeys menace under this scheme.
Mukhya MantriI Kisaan Evam Khetihar Mazdoor Jeevan Surakhsha Yojna:
With a view to provide Insurance cover to the farmers and agricultural labourers in the event of sustaining injury or death due to operation of farm machinery, the state government has launched a scheme called; 'Mukhyamantri Kisaan evam Khetihar Mazdoor Jeevan Surakhsha in 2015-16.
In case of the death and permanent disability, compensation of ₹1.5 lakh and in case of partial disabilities ₹ 50,000 is provided to the affected farmers.
Lift Irrigation and Borewell Scheme:
In most parts of the state, water has to be lifted for irrigation purpose. As an incentive to the farmers, government has decided to grant 50 per cent subsidy for construction of Lift Irrigation Schemes and installation of Bore-Wells by individual or group of farmers for irrigation purposes. Under this scheme, financial assistance is available for construction of Low & medium lift irrigation systems, shallow wells, shallow bore wells, water storage tanks of different capacities, pumping
machinery and water conveyance pipes to individual farmers or a group of farmers. A budget provision of `9.91 crore has been kept for the year 2019- 20.
Saur Sinchayee Yojna:
State government has introduced a new scheme viz, "SAUR SINCHAYEE YOJNA" with a view to
provide assured irrigation to crops, enhance the production & productivity where electricity accessibility in remote areas is costly in comparison to Solar PV pumps. Under this scheme, 90 %
assistance will be provided to small / marginal farmers for the installation of solar pumping machinery on individual basis. 80 % assistance is provided to medium / big farmers for the installation of solar pumping machinery on individual basis. 100 percent assistance is provided if minimum five farmers opted for installation of solar pumping machinery on community basis. Under this scheme, 5,850 agriculture solar pumping sets will be made available to the farmers. The total outlay for this scheme is ₹200 crore for next Five years. A budget provision to the tune of
₹30.00 crore has been kept for the year 2019-20.
Jal Se Krishi Ko Bal Yojna:
With a view to provide water for irrigation, government has launched a new scheme "जल सेकृ मि को
बल". Under this scheme check dams and ponds will be constructed. Farmers can use this water for irrigation purpose after construction of small lifting schemes or flow irrigation schemes on individual basis. The total outlay for this scheme is ₹ 250.00 crore for next five years. A budget provision of ₹25.00 crore was kept for this for 2019-20. Under this scheme, 100 percent expenditure would be borne by the Government for implementation of community based small water saving scheme.
Read also: Administrative reforms for effective public service delivery in Himachal Pradesh – HPAS Mains