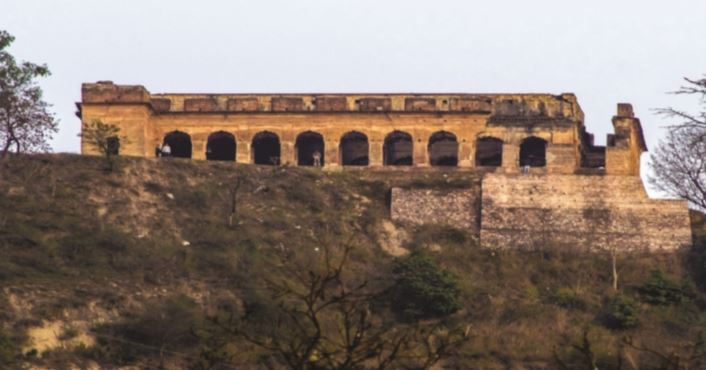 Sujanpur bears its name from "Sajjanpur" which means the town of honest and gentle people.
The word "Tira" was prefixed later when Maharaja Sansar Chand Katoch moved his capital from Kangra to this place and built a fort at the top of the hill called "Tira".
Tira Sujanpur was a refuge for Sansar Chand, a great ruler and patron of Pahari miniature painting of Kangra region, from 1806 till his death in 1824.
Presently a town of Tira Sujanpur is headquartering a tehsil known by its name in the district of Hamirpur.
The history of Hamirpur is intimately associated with Katoch dynasty which ruled the area between Ravi and Satluj known as Trigarta.
The roots of the Katoch dynasty dates back to the period of Mahabharta war between Kaurvas and Pandvas where its ruler Susharma Chand fought on the side of Kaurvas.
Hamir Chand who ruled the then Kangra State from 1700 AD to 1740 AD built a fort at Hamirpur and the present Hamirpur derives its name after this ruler.
During the regime of Abhay Chand Katoch Tira Sujanpur flourished enormously in the field of business, education and arts and culture.
The lush green large ground in midst of the Tira Sujanpur town popularly known as Chaugan was created by him to train his soldiers for war.
Presently a part of the Chaugan is under the occupation of a Sainik School which is further carrying the tradition to shape the future soldiers of the country.
Panini, a noted scholar of his time referred the people of Trigarta kingdom as great warriors and fighters.
The traditions of those great people seems to have continued till today as thousands of people from this region are still serving the defence forces with distinction.
Not only the town of Tira Sujanpur but the district of Hamirpur as a whole has produced a galaxy of people in the field of science, technology, education, civil and defence services, business and politics.
Tira Sujanpur is well connected to all the prominent places of the state in all directions through road network.
The beautiful town of Tira Sujanpur in Hamirpur district is a place where tourists can spend their vacations with full of zeal and enthusiasm.
A Katoch ruler who had built a fort at Hamirpur and Nadaun, also within easy reach from Tira Sujanpur, harbour rich cultural heritage of the region.
At Nadaun are remains of Raja Sansar Chand's palace and at Hamirpur, a fort.
Famed Kangra miniature paintings decorate walls of Narbadeshwar and Gauri Shankar temples at Tira Sujanpur.
All these monuments are under the protection of the Archaeological Survey of India.
International level Holi Fair of Tira Sujanpur is famous in all over the country.