Interview by HP General Studies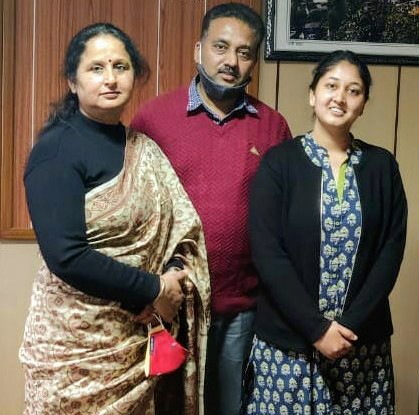 Candidate Profile:
| | |
| --- | --- |
| Name | AKANKSHA SHARMA |
| Rank in HAS | 5TH |
| Roll No | 3000137 |
| Age | 25 |
| Marital Status | Unmarried |
| Total Attempts in HAS | 3 |
| Optional Subject | Botany |
| Schooling Medium | English |
| College Medium | English |
| Medium Chosen for Mains Answers | English |
| Medium Chosen for Interview | English |
| Hometown/City | Mandi |
| Work Experience if any | 4 months in Excise and Taxation Department as ETI |
| Details of other competitive exams, including success and failures | Cleared CDS twice, Cleared NET-JRF, Secured 10th rank in HP Allied Examination. |
| Details of coaching/mock tests/postal material for this exam (if used) | Prelims test series by HP General studies and mains test series by Civils Tap. |
| Services preference | HPAS>BDO>DFSC>DEO |
Education:
| | |
| --- | --- |
| %age in class 10 | CGPA 10 |
| %age in class 12 | 89.6% |
| Graduation course and %age | BSc(H) Botany 93.4% |
| Name of college, city and passing out year | Hansraj College, Delhi University, 2016 |
| Post-Graduation | MSc Botany from Delhi University, 2018 |
| Any other course | None |
| Hobbies and extra-curricular achievement | Reading fiction and Self-help books, Meditation, Watching Movies. |
Introduction:
Ques: Tell us something about yourself, your family, when and why did you enter in this field of competitive exams?
An:. My name is Akanksha Sharma. I belong to Mandi town. I have done my schooling from DAV Mandi. I have done my graduation and post-graduation from Hansraj college, Delhi University. I entered into this field because I realized that the job profile of a civil servant is quite dynamic and it will provide me ample scope for bringing positive changes in people's lives. Moreover, during my college days, I got to know about the services and Examination more clearly. Then I just got into it and gave everything to clear the Examination.
About Family: I have five members in my family. My grandmother is the shining light of our family. My father is a civil engineer (Executive Engineer BSNL). My mother is a government school teacher. My younger brother is currently pursuing his B.Tech from SRM University, Chennai.
Ques: Typical day in your online life?
Whatsapp/Telegram: Not a Social media person. A little Whatsapp to remain in touch with close friends.
Online Study Websites/Apps: Used online sites like Insights on India, GK Today, HP General Studies, Vision IAS for preparation and resource material.
Ques: What is your style of preparation and notes making?
Ans: I am an old school and a very methodological person. I used to make dedicated hand written notes for all the subjects. I used to refer to only my notes during the last revision before Pre and Mains. I think reading limited sources multiple times, making notes and revision is the key to crack this examination.
Prelims (Paper-1):
| | |
| --- | --- |
| Topic | Booklist/Strategy |
| Ancient History | Old NCERT textbook by RS Sharma, Tamil Nadu Board class 11 history text book (Vol 1). |
| Medieval History | Tamil Nadu board class 11 history text book (Vol 2). |
| Modern History | A brief History of Modern India (Spectrum by Rajiv Ahir) |
| Art & Culture | An Introduction to Indian art and culture (NCERT, class 11), NIOS Art and culture notes. |
| Polity (Theory + Current) | Lakshmikant, for current Insights on India modules, newspaper. |
| Economy (Theory + Current) | NCERT 11 and 12, Budget, Economic Survey, Insights on India modules |
| Science (Theory + Current) | Insights on India modules |
| Environment (Theory + Current) | Shankar IAS book and Insights on India modules. |
| Geography of India | NCERT (class 9 – 12) |
| Physical Geography | NCERT (Physical Geography), GC Leong |
| Geography of World | Atlas and geography lectures by mrunal.org |
| Current Affairs | Newspapers and Insights on India current affair modules. |
| Himachal GK | The Wonderland Himachal Pradesh (Jagmohan Balokhra) |
| Himachal Pradesh Current Affairs | Newspaper, H.P. Budget and economic survey |
Prelims (Paper-2):
| | |
| --- | --- |
| Topic | Booklist/Strategy |
| Reasoning | I used to solve previous year question papers for this part. I did not refer any specific book for this. |
| English |           -do- |
| Maths |           -do- |
| Communication |           -do- |
Ques: Did you attend any 'mock tests'? Do you think they're necessary for success?
Ans: Yes, I used to give mock tests before prelims and mains. They are very helpful. They help in simulating the examination like environment and also help in accessing one's level of preparation. Use mock tests as a base material to minimize your mistakes during real examination.
Ques: Approximate no. of attempted answers vs. correct answers. in Prelims:
| | | | |
| --- | --- | --- | --- |
| | Attempted questions | Correct | Official Score |
| GS | 82 | 64 | 114.00 |
| Aptitude | 65 | 53 | 100.67 |
Mains: Compulsory language Paper:
Ques: Other observations / tips / comments on the length / difficulty level of compulsory language papers?
Ans: Language papers are quite difficult. They should not be ignored at all and should be prepared well. Do solve previous year language papers and work on your weak points. Do read Hindi and English newspaper to enhance vocabulary and have a better command on language.
Mains: Essay Paper:
Ques: How did you prepare for the essay paper?
Ans. I did not do any special preparation. But I prepared an inventory of good quotes and thoughts. These come handy while writing essay and also enhance the content. Do write 5-10 essays before mains exam.
Ques: Which essays did you write and what key points did you include in it?
Ans.
Role and significance of Indian Culture and Literary Heritage on Indian education system.
Worldwide Scarcity of Water Resources.
Mains: General Studies (Paper-1):
| | |
| --- | --- |
| Topic/Unit | How did you prepare/Booklist |
| History perspective of Indian Culture heritage | NIOS Art and culture notes (as per mains syllabus) |
| World History | Vision IAS module on World History. |
| History of Himachal | The Wonderland (Jagmohan Balokhra) |
| Disaster Management | As per syllabus (topic wise – Google, You tube etc.) |
| Indian Geography | NCERT (9th to 12th) |
| Geography of Himachal Pradesh | The Wonderland (Jagmohan Balokhra) |
| Indian Society | Topic wise as per syllabus, Sociology NCERT 11 and 12. |
| Ethics/Gandhian Thoughts | Topic wise online search |
| Society and Culture of HP | The Wonderland (Jagmohan Balokhra) |
Mains: General Studies (Paper-2):
Mains: General Studies (Paper-3):
| | |
| --- | --- |
| Topic/Unit | How did you prepare/Booklist |
| Indian Economy | NCERT (11 and12), Insights on India module for current. |
| Schemes and Important Institutions of the World | Vision IAS Module |
| Economy of HP | H.P. Economic survey, Budget. |
| Science and Technology | Topic Wise Internet Search, Vision IAS module on science and technology. |
| Energy Sector of India | Topic Wise Internet Search. |
| Science and Technology/IT/Biodiversity in HP | Topic Wise Internet Search. |
| Environment Science | Shankar IAS (Environment) |
| Agriculture and Horticulture | Tamil Nadu Agriculture University Notes. |
| Tourism Sector in HP | H.P. Economic Survey. |
Ques: How was your experience with the 'fixed space' answer sheet?
Ans. Helps to streamline the answer in a fixed area. Is surely a constrain on exceeding word limit.
Ques: Did you write answers in bullet points or in paragraphs? Some players were claiming that they wrote entire paper in bullet points, so it doesn't matter whether examiner is asking 'examine, comment, discuss or xyz'. Simply write in bullets and points.
Ans. Writing answers in points is always helpful in conveying the message in a presentable format. But I personally wrote answers in paragraphs as well for few answers of GS2. The content is what matters the most. Above all the demand of the question should be addressed. For e.g. If one is asked to critically analyze than please do so without fail.
Ques: Did you follow the "introduction-body-conclusion" format? Because some mains-qualified candidates claim they simply wrote the points they could recall within the time, instead of bothering with proper introduction and conclusion.
Ans. I strictly followed the "introduction-body-conclusion" format. The conclusion should end on a positive note with a meaningful way forward.
Ques: I don't like asking following rudimentary questions, but these are the most frequently asked questions by new aspirants.
Did you use highlighter/sketch-pen in your answers? – Ans Never.
Did you draw any diagram in any paper? – Ans Yes, very frequently in almost all GS papers and optional as well.
If yes, did you draw diagram with pen/pencil? – Ans. Pen
Did you use ruler? – Ans No
Did you write with Blue or Black pen? – Ans Blue pen mostly, used Black to write headings in essay and Optional.
Mains: Optional Subject
Ques: What's your optional subject and why did you chose it and not something else?
Ans. My optional was Botany because I am a Post graduate in Botany.
Ques: If a new player wants to pick your subject, would you advice for it or against it?
Ans. Pick Botany only if you have an academic background of Biological Sciences.
Ques: Essential book/resource list for the optional you have read:
Ans. For 5 years of my Graduation and Post-graduation I have studied Botany so I had a huge resource base of my college notes, research papers and standard Botany text books.
Books Referred:
Ques: How much of internet-research / current affairs is necessary for this optional? OR can one simply rely on the books and be done with this subject?
Ans. None.
Ques: How many months did it take to finish the core optional syllabus?
Ans. 4-5 Months.
Ques: How many days/ weeks before the exam, you started answer writing practice?
Ans. 3-4 months before the exam.
Ques: Do you maintain self-notes for revision of optional? In which format- electronic or paper?
Ques:. I prepared hand written notes for the entire optional Syllabus.
Ques: Your observation about the difficultly level of 2020 mains vs previous papers. And what precautions / rectifications are necessary in the future strategy for given optional subject?
Ans. The optional Botany this year was quite tough. But follow the syllabus word to word and solve previous year question paper to ace the subject.
Before the Interview:
Ques: How did you prepare for the interview for college grad, hobbies, place of origin, and current affairs at national and international level?
Ans. I maintained a diary and made notes for each and every topic listed above.
Ques: Did you attend any mock interviews by coaching classes? How were they similar / different than official interview? Do you believe it is necessary to attend such mock interviews?
Ans. No
Ques: Describe the formal-dress worn by you in interview.
Ans. Kurta with a formal coat.
During the interview:
Ques: Who was the chairman of you interview board?
Ans. Maj Gen D.V.S. Rana
Ques: How long was the interview?
Ans. It continued for around 30-35 minutes.
Ques: Please narrate your entire interview- what questions did they ask and what did you reply and other pleasant or uncomfortable experiences during the interview.
Ans. The interview was the most interesting part of my journey through this exam. They tend to make you quite comfortable and you don't feel the stress. I was asked many situational and some factual questions. I was asked some Botany related questions as well. One of the board members asked me, why I am not pursuing research and why I want to join the Civil Services. There were some questions related to current issues in news, Indo China border issues and local culture of Himachal.
As far as I remember, I was asked about 25-30 questions. They are not assessing one's knowledge through interview, but rather it is a personality test. So just be true to yourself and be confident.
Ques: Was your interview on the expected lines of what you had prepared or did they ask you totally unexpected questions? Was it a stress interview, did they ask any uncomfortable questions? If yes, how did you handle it?
Ans. It was an enriching experience.
Your mark sheet:
| | |
| --- | --- |
| Subject | Marks Secured |
| Prelims (Paper-1) | 114.00 |
| Prelims (Paper-2) | 100.67 |
| Mains Subjects: |   |
| English | 73 |
| Hindi | 53 |
| Essay | 51 |
| General Studies -1 | 85 |
| General Studies -2 | 102 |
| General Studies -3 | 105 |
| Optional (P-1) | 72 |
| Optional (P-2) | 66 |
| Written Total | 481 |
| Interview | 120 |
| Final Score | 601 |
Career Backup Plan:
Ques: If you were not selected, what was your career backup plan?
Ans. I would have got into research.
Ques: When were you going to "execute" that backup plan? (E.g. after __ number of failed attempts/ after I cross __ age/ after dad retires/ after girlfriend/boyfriend dumps me Jetc.)
Ans. Never, it was just an assurance to remain sane.
Struggle of a Senior Player/Junior Player:
Ques: How did you survive through this mental prison of HAS and what're your words of wisdom to other senior players/Junior Players? If any specific inspirational incident(s), please share.
Ans. Just stay strong and believe in yourself. Try meditation to calm yourself and above all maintain a sense of humor. Laugh out loud on worst of your days and remain resilient.
Ques: What went wrong in your previous attempt? What changes did you make in this current attempt?
Ans. I was not able to clear the prelims. Practiced a lot of mock tests.
Struggle of a Working Professional:
Ques: If you're a working professional, share some tips on how to manage studies with job?
Ans. I was not working.
Grand Wisdom:
Ques: People know what books and syllabus points are to be prepared. But most of them lack consistency in their preparation. So, how do you keep study momentum going on? How do you fight against the mood swings and distractions?
Ans. Let the distractions come but don't be carried away by them. Experience each day as a new and fresh beginning. Be enthusiastic about life. If nothing works then take a cup of coffee, sit at a calm place and tune in to the best of the music.
I used to read the quotes of Rumi. I would like to sharesome of them:
"Stop acting so small. You are the universe in ecstatic motion."

"You were born with wings, why prefer to crawl through life?"

"Don't be satisfied with stories, how things have gone with others. Unfold your own myth."
Ques: Through this struggle and success, what have your learned? What is the wisdom of life and competition? What is your message to the new aspirants/veteran aspirants?
Ans. I think this test has taught me to accept failures and feel the gratitude for each passing day in your life.
Ques: Many hardworking candidates have failed in Mains/Interview of HAS2020. They're feeling cynical, hopeless and depressed- what is your message to them?
Ans. Life is lived in moments. Consider the failure as a moment in your life and let it pass. Dust off your apprehensions and give yourself a new start.
Credits: Family/Friends:
Ques: Behind every qualified candidate there are many people who stood by during those uncertain times when he/she was merely an 'aspirant'. Would you like to tell the world, who were those people in your case? Any specific incidence that you would like to share with the readers?
Ans. My family is my biggest support system. They have protected me from all kinds of stresses during my preparation and have always shown a guiding light. My brothers Raghav and Vaibhav were always there for me. And a special thanks to my loving and caring friend Anisha Arora.
Ques: You are well aware of the sacred rule of conducting interview of qualified candidates- the last question must be about self-marketing. So, Did you use www.hpgeneralstudies.com for your preparation and if yes, how did it help you? And you can even reply "No".

Ans. Yes, I did. The prelims test series of HP General studies was very helpful.
HP General Studies remarks:
Thank-you Ms. Akanksha Sharma for giving us your precious time. Hopefully, this interview will help thousands of aspirants who have been preparing for the HAS exam.
We wish you a great future ahead.
Stay updated with us:

Click here to join our Telegram Channel