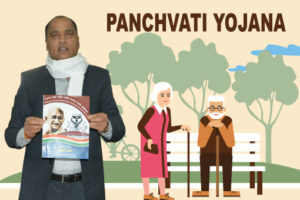 The holistic and inclusive schemes of the state government are ensuring welfare of every section of the society. The state government has always given top priority to senior citizens of the state and to facilitate them has started Panchavati scheme.
Under this scheme, parks and gardens with necessary facilities are being developed in each development block for senior citizens under MNREGA through Rural Development Department. Under this scheme, these parks are being developed for senior citizens on at least one bigha of land.
Keeping in mind the health requirements of senior citizens, these parks are being constructed under the convergence of MNREGA, Swachh Bharat Mission (Gramin) and 14th Finance Commission. Each park is being constructed with an estimated cost of Rs.8,75,000 but the construction cost can be increased depending on the geographical location of the area.
In these parks, ayurvedic, medicinal plants are being planted through the gram panchayats, along with recreational equipment, walking paths alongwith availability of other basic facilities for entertainment of the elderly. Apart from this, jogging treks, special places for yoga, meditation classes, toilet facilities and solar lights are also being provided in each park. The services of the technical wing of the Rural Development Department are being taken for construction works in these parks in rural areas. These parks are being maintained through the Gram Panchayats.
In the financial year 2020-21, with an expenditure of Rs. 965 lakh about 198 Panchavati parks were being constructed, whereas in the Financial Year 2021-22 about 217 locations were identified for construction of Panchavati parks in the state. 
As many as 97 panchvati parks would be constructed in Una District, 23 in Shimla District, 12 in Mandi District, eight in Kullu District, three in Lahaul-Spiti, four in Sirmaur District, seven in Solan District, 37 in Kangra District, six in Kinnaur District, 12 in Hamirpur District and four each in Bilaspur and Chamba districts. Presently the work of Panchavati Parks is in progress at 70 places with an expenditure of Rs. 157 lakh in the state.
Panchavati Upvan Bechar Ka Bagh, constructed in Gram Panchayat Mahipur of Development Block Nahan in District Sirmaur has become a center of attraction for people of all age groups. This Panchavati park is spread over 120 square meters and has a lawn, jogging track and separate play area for children with suitable seating area for the elderly. The park has also been fenced and slogans with messages of environmental protection are making people aware of environmental protection in the park.
The Panchavati scheme developed with the vision to facilitate senior citizens of the state, realizes the vision of rural development. The state government has always laid emphasis on rural-oriented policies, to ensure rapid development of rural areas of the state. Through these parks the physical, emotional and social needs of the elderly are being met and are being utilized well by the senior citizens of the state.
Read more: