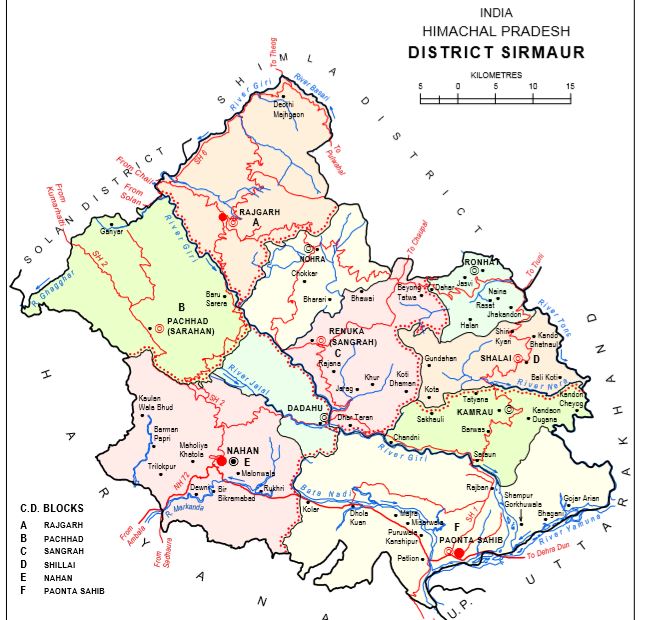 Size and Location:
The district lies in

outer Himalaya

(Shivaliks) except the "Dun valley" which is called "Kayar-Da-Dun".
Sirmaur district falls in the south-eastern parts of Himachal Pradesh which constitutes a part of the southern Himachal Pradesh of Himachal Pradesh Himalaya region.
The district is further sub-divided into four sub-micro regions of the Upper Sirmaur Forested Region, the Cis-Giri Region, Sirmaur Shiwalik, and Kiardun valley.
Sirmaur touches the Boundary of:
According to the Surveyor General of India, the district has a total area of 2,825 sq. km.
It has 7th position among districts in terms of area in the State.
It has a total number of 976 villages, of which 968 are inhabited.
Churdhar forms the boundary between Shimla and Sirmaur districts.
Trans-Giri region:
This region consists of  "Churdhar" popularly known as Chur Chandani -ki-Dhar is a famous peak in the district.
Other important Dhars are Taproli-Jadol Dhar, Nohra Dhar, Haripur Dhar, Dhudham Dhar, Kamrau Dhar, Dhar Nigali and Dhar Shillai are famous ranges of this region.
Sis-Giri region:
River Giri

divides

this region from the Trans Giri region.
In the western part of this region flows the river

Markanda

.
The flat valley of this region called

Kayar-Da-Dun

irrigated by river "

Bata

".
Sian Dhar and Dharthi are divided by river "Jalal".

Sain Dhar

stretches parallel to the Giri river from north-west to south-east direction and terminates on the left bank of the Giri river at Dadahu.

Dharti Dhar

runs parallel to Sain Dhar and continues along the boundary of this region towards the south-east, the north-eastern part of this region is relatively higher in elevation.
Jaitak Hills: At Jaitak Hills, 20 forts were constructed by Gurkhas, and the most important battle was fought between Gurkhas and Britishers in 1814-15.
Haripur Dhar:
Haripurdhar was earlier known as '

Dungbhangayani

'.
Formerly, this was the

summer capital

of the Sirmaur.
A fort was built on this range primarily to guard the state frontiers with neighboring state Jubbal.
River System in District Sirmaur
The main rivers of the district are Giri, Bata, Yamuna, Tons, Ghagghar, and Markanda. Only Bata, Ghagghar, and Markanda rivers rise in the district.
River Yamuna:  
It rises from the

Yamunotri

glacier

in Uttrakhand. It enters in Sirmaur at "

Khadar Majri

" and leaves the district at "

Tajewala

". It separates kayar-Da-Dun from Dehradun and forms a boundary line between Sirmaur and Uttrakhand.
The Yamuna has mythical relation to the sun. Tons, Giri, and Bata are its main tributary in Sirmaur.
River Giri:  
Giri is the

biggest

river

in the district, which is a tributary of river Yamuna.
It rises from

Kupar Peak

in Jubbal Tehsil of Shimla district.
Giri enters the Sirmaur district at the village

Mariog

from the north side.
At village "

Manduplasa

" this takes an east southerly direction and divides Sirmaur into two equal parts.
It merges with Yamuna river at

Rampura

Ghat

.
Jalal, Nait, Palor, Basari and Kawal are its main tributaries.
Pervi, Nait, Palor, and Jagat nalas are the

left bank tributaries

of River Giri.
Kamali Nala meets it on its

right bank.
River Jalal: Jalal river, an important tributary of the Giri river joins it on its right bank at Dadahu.
River Tons:  
This river rises from "

Yamunotri

" mountain and enters the district near

village Kot/Koti

and separates it from the Jaunsar region of Uttrakhand.

Baghal

and

Newali

or

Naira

are the two main tributaries of River Tons which originates in the east of Dhar Nigali. One more tributary is River Sainj.
Tons river also forms its

eastern boundary

and separates it from Uttrakhand.
The Markanda: It rises at "Baraban" in the hill of Katasan pass below a temple of Katasan Devi. It leaves the region at Kala Amb and enters into Haryana.
River Bata: It rises from "Siori Spring" in the Dharthi range. It divides Kayar-Da-Dun into two equal parts. It merges with River Yamuna river at Bata Mandi.
River Nera: Nera river forms the boundary of Kamrau sub-tehsil and Shilai tehsil.
The Ghaggar: It rises near "Lawasa" in the Sirmaur district and leaves the district at Prit Nagar to enter Haryana state.
Lakes in District Sirmaur
Renuka Lake: It is the only lake in the Sirmaur district associated with Renuka Devi mother of Parshu Ram. Drinking water in the district is obtained from natural streams and spring Shivpuri Spring and Nahar Sabar springs. It is situated close to Dadahu.