Drug Menace
Drug abuse– refers to the illicit drugs, non-medicinal use of several substances which includes cannabis, opium, heroin, cocaine. According to the recent report 2020, 3.2% of the Himachal Pradesh population use charas, ganja which is above average.
Causes of drug abuse-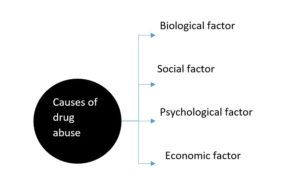 Biological factor-
Family history and genetic susceptibility
Personality disorder or medical disorder
Reinforcing effect of drugs
Social factor-
Peer pressure
Easy availability of alcohol and drugs
Romanticization of drugs by social media
Lack of social and familial support
A national survey by the Ministry of social justice empowerment found that 29% of drug abuse are illiterates.
Psychological factor-
Poor stress management
Lack of care in modern families
Economic factors-
Poverty and unemployment
Work stress and financial worries
Consequences of drug abuse-
Anti-social activities in society have been resulting in drug menace-
Increasing school and college dropout rate
Domestic violence
Theft and snatching activities
Enhance crime rate
Encourage rehabilitation services
Health-related problems
Drug abuse is the fastest way to spread HIV through sharing of needles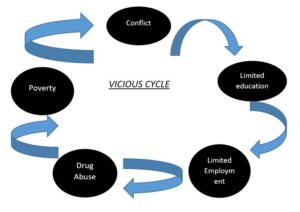 Drug Trafficking-  refers to global illicit trade of drugs involving cultivation, manufacturing, distribution of substances.
Steps taken by HP government to curb drug menace/ trafficking-
HP government has inaugurated a Drug addiction center (DAC) at New Shimla
'Nasha Nivaran' mobile app – anyone can register a complaint against the drug dealer through the mobile app.
'Jan Andolan' campaign- is a collective mass movement of people, government officials, NGO, SHG to create awareness among the people regarding the ill-effects of drug abuse.
'Narcotic cell' constituted in the intelligence wing to check cultivation, smuggling, use of narcotic drugs.
Detect mechanism to drug menace/trafficking-
Conduct joint police operation and police patrolling (b/w HP, Punjab, Haryana) across the inter-state as well as inter-district.
With the help of local informers i.e. Mahila Mandal, Yuvak Mandal, SHG, NGO can determine drug peddlers.
Use of technology like drones, GIS, CCTV, fingerprints.
With the help of sniffer dogs & drug detection squads.
Destruction of illicit crops such as cannabis, opium to cut down the supply of drug abuse.
Challenges of drug trafficking in HP-
Border of HP connect with Punjab, JK- These states have become a market for drug supplying from the golden crescent (Afghanistan, Pakistan).
Being a tourist hotspot- Drug supplying network from the golden triangle, Israel has also become active in Kullu, Kinnaur, Shimla, Mandi region.
Foreign African students- some foreign African students study in HP college, institutions are too indulged in drug peddlers' activities.
Poor law and order situation- especially in inter-district as well as interstates borders which increases the case of drug menace.
Cyber-crime
Cybercrime– is a crime that involves computers and networks. The computer may be used to commit a crime such as stealing identities, cyberbullying, child pornography, ATM card fraud, online fraud, data breach, etc.
Sector/Field- Although banking and telecommunication are the most attacked sector but health care, manufacturing, education sector have too faced a significant number of cyber-attack.
Type of cyber-attack-
Phishing- It is type of fraud that involves personal information such as customer id, credit/debit card number, CVV number using e-mail & website.
Vishing- Type of fraud which involves stealing personal information such like net banking, ATM pin, OTT, CVV number through mobile phone.
Malware- A kind of malicious software that is designed to cause damage to single computer, server or computer network.
Example- spyware, ransomware virus, Trojans etc.
Child pornography ( child sexually abusive material)- refers to a material containing sexual images in any form, of a child who is abused or sexually exploited
Step taken by HP government to combat cyber-crime-
HP launches 'state cyber-crime police station' in Shimla district to deal with high tech cyber criminals.
Himachal Pradesh develop 'cyber lab' for speedy investigation, analysis of voice recording, computer files, digital data.
Himachal Pradesh launches awareness campaign in school & college to educate the students regarding cyber laws.
'Cyber Swachhta Kendra'( Malware analysis center) is part of the government of digital India initiative to create a secure cyber space by detecting malware infection.
IT policy act 2000– The following act lists down  as offences-
Tampering with computer source documents
Hacking with computer system
Act of cyber-terrorism i.e. intention of threating the unity, integrity, sovereignty, security of state and nation.
Crime and criminal tracking network & systems (CCTNS)-
Himachal Pradesh link its police posts in various district with 'Crime and criminal tracking network & systems' (CCTNS).
To bring best technical support under one roof at the centre for cyber security.
Challenges in cyber security-
Lack of cyber security specialists and expertise – dependency on foreign players for cyber security tools.
Inadequate proper security infrastructure devices to combat cyber-attack.
Lack of cyber awareness among people regarding cyber-crime.
Increased use of mobile technology and internet by people.
External challenges-
Such as growing influence of China's investment on telecom, start up in India which can make easy to getting personal information of people and deliver to third party.
Increased use of cyber-space by terrorist to get information of confidential program, plan, secrets both state and national government.
Read also: