E-Governance– Electronic governance is defined as the application of information and communication technology for providing government services, exchange of information, transactions, integration of existing services and information portal.
IT policy has been formulated in 2001 in Himachal Pradesh with a view to promote entrepreneurship, spread digital technology, improve social equity and justice through information technology and increase its contribution to the state domestic product.
The department of information technology (DOIT) was created in January, 2004 to ensure the process of development of IT in the state with following objective which are following-
Improvement in the quality of every aspect of human life
To encourage investment in IT sector
To facilitate the establishment of IT Institutes
Improve the quality of IT education
Emergence of a competitive society
Use IT tools to ensure a simple, moral, responsive and transparent (SMART)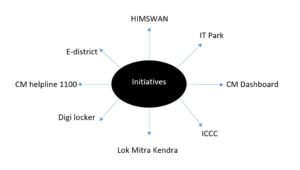 Initiatives taken by state government-
The state government has taken various initiative to the growth of IT industry in the state which are following-
HIMSWAN–
IT department of HP has created secure network called HIMSWAN (Himachal state wide area network).
It provides secured network connectivity to all the state government department till block level.
It provides efficient electronic delivery of
Government to government (G2G)- Interaction between various government entities
Government to citizen (G2C)- Interaction between government and citizens
Government to business (G2B) – It enables the business community to interact with government.
Government to employees (G2E)- Interaction between the government and its employees.
HIMSWAN is providing high-speed connectivity, video services, voice data to all departments.
Himachal online Seva (e-district) portal-
It aims to provide citizen centric services electronically in an integrated portal
E-district portal is integrated with Lok Mitra Kendras (LMK) to provide important electronic service which will reduce the number of citizen visits to government office.
CM Dashboard-
Himachal Pradesh taken an initiative towards good governance.
It provides up-to date information of several schemes on a real time basis.
It provides single ICT platform to cover all the departments and all deputy commissioner in order to integrate all authorities on a single platform.
IT Park-
Software technology parks of India (STPI) is being set up in Shimla and Dharamshala, IT park waknaghat.
It enhance the skill development for local youth.
IT enhance the fair employment opportunities.
It attracts and promote IT investment in the state.
Mukyha mantra seva sanklap helpline 1100-
It is public grievance redressal helpline to redress the issues and problem faced by the folks residing in HP.
It bridges the communication gap between the folks and state government.
It imparts information about government scheme to the people.
Integrated command and control centre (ICCC)-
High tech command and control centre is to be set up in smart city i.e. Shimla, Dharamshala.
It aims to provide useful information of several citizen services through 'one city one app'.
Services to be included are parking system, water and sewerage, land data acquisition, smart lighting system.
Lok Mitra Kendra (LMK)-
Common service centre popularly known as lokmitra Kendra project in HP
Provide online services, government information, schemes to citizen at the panchayat level.
Create employment generation by opening up common service centre throughout the private sector.
Services to be included are registration for pension schemes, e-shram card, HRTC/railway booking, Himachal domicile, Caste and agriculturist certificates, availability of all government forms.
Role of IT in governance
E-Governance– Electronic governance is defined as the application of information and communication technology for providing government services, exchange of information, transactions, integration of existing services and information portal.
IT has brought significant changes in governance which are following-
Decentralization of administration- Technology is becoming a critical aspects in plugging the governance deficiency and make administration easier.
Example- common service centre at panchayat level, HP online seva (e-district) portal, e-courts, e-Panchayat for effective working of PRI.
E-services- has brought state closer to their services with the concept of services at the doorstep.
Example- e-filling of IT returns, availability of government forms, online services of death, birth & other certificate.
Implementing good governance-  e-administration such as Computerization of land record, health, e-vidhya portal for students, him-pragti portal for review the implementation of projects, e-office mission mode project including e-file management so on.
Promote citizen participation- IT has been facilitate platform where all sections of society can participate in governance of the state.
Example- My GOV, CM portal, CM dashboard portal
Public grievance redressal- Technology is critical aspects in redressal the issues and problem of folk and bridge the communication the gap between people and government.
Example- Mukhya mantra seva sanklap helpline number 1100
Improve urban governance- Technology helps in collecting data of waste collection & other data, e-transaction of various bill, feedback from citizen, impart various service through SMS.
Example- e-district portal, integrated command and control centre, cctv cameras- reduce the crime rate
Transparency and accountability- Technology helps in making Simple, moral, responsive, transparent (SMART) governance through website, information portal, one city one app and increased access to information.
Issues related to e-governance-
Economic-
Infrastructure- Lack of basic infrastructure facilities such as internet, computer, electricity.
Cost- Basic infrastructure of e-governance require high public expenditure
Social-
Huge gap between users and non-users of e-govt. services.
The digital divide takes form in rich-poor, male-female, urban-rural etc. segment of population.
Lack of awareness among people about e-governance.
No provision for use of local language in e-governance.
Technical-
Privacy and security- Recent cases such as data leak, personal information leak, hacking of government website etc. has threatened to e-governance.
Lack of skills among employees, official etc. regarding use of software, app, portal, upgradation of data.
Read also: