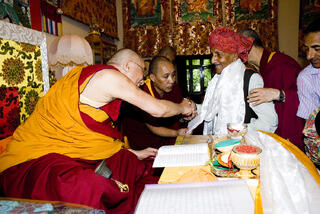 Subedar Piara Singh died on June 18, 2011, at Takoli village in district Una at the age of 106. His wife Hansa Devi had died two years back at Dharamsala at the age of 101. After the death of his partner, Piara Singh was not keeping good health.
The Couple was living at Barol near Dharamsala with their eldest son Bishambhar Singh Rana.. The couple was married on May -23, 1924. A family of 81 members, this couple had seen five generations.
The couple, who claimed to be the oldest married surviving couple of the world, had attempted to enter into an agreement with the Guinness Records through their eldest son on July 25, 2007, but it was not accepted due to the apathy of the Guinness World Records.
The Dalai Lama had also sought their blessings for his long life as per the Tibetan traditions at a special function was organised on his birthday at Mcleodganj in 2007.
Piara Singh had joined the British Indian Army in 1930. During his stay in the Army, he toured the whole world. When Britain entered into World War II, while fighting against Germany in 1942 in the Cherim Hills in Sudan, he received seven bullets in different parts of his body but survived.
Strict discipline, simple living, and vegetarian food were the keys to their longevity.
Piara Singh, after retiring in 1942 on medical grounds with a pension of just Rs 8, was getting over Rs 12,000 per month. He was getting a 100 percent enhanced pension given by the Indian Defence authorities to the Living Centenarian Soldiers.
Stay updated with us:

Click here to join our Telegram Channel